By Amy Rowley
Philanthropy comes in many forms – writing a check to a non-profit organization, raising funds from friends and family for a charity run, or volunteering time on a local board of directors, assisting an organization with its growth and development.
Now a new way of thinking about philanthropy is emerging.  Venture Philanthropy is a fresh form of assistance.  Entrepreneurial social enterprises have access to not only financial support but also business skills from respected professionals.
Using a model similar to venture capital, a venture philanthropist finds someone providing a social good on a small scale that has the potential to grow bigger.  The philanthropist provides money and expertise.
"In America, we have a history of sharing successes with others.  Historically, philanthropists have given dollars or hosted fundraising events.  Now the movement is really about philanthropists sharing expertise along with dollars," says Northwest Venture Philanthropy's co-founder, Liz Davis.
Davis continues that philanthropists in this new model of giving are looking for measurable results.  "These are individuals with a strong business background.  They want to see a return on the investment, both for their money and time," she says.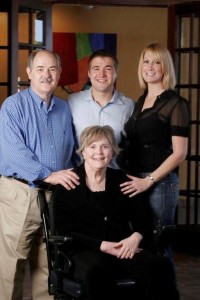 Davis started Northwest Venture Philanthropy with her father, Dr. Jerry Barney about a year ago.  "Typically, venture philanthropists such as Bill Gates are focused on global goals, such as eradicating malaria," says Barney.
"It's not common for venture philanthropy to be situated in a community like ours.  I wanted to show that we can attract venture philanthropy here, in Thurston County, and create a model that can be instituted other places," he continues.
"We're taking a different approach," adds Davis.  "We are seeking to make an impact on a larger, system level within the microcosm of Thurston County."
As Northwest Venture Philanthropy, the father/daughter duo has attracted financial resources and also notable political and business leaders to their board of directors.  "We are looking for individuals that want to help guide the strategic direction of our initiative to reduce adverse childhood experiences in Thurston County," says Davis.
"Ultimately, we want to see adverse childhood experiences reduced by 10% in the next ten years," comments Davis when asked about the organization's goals.  "We want every child to grow up in a safe environment.  The data tells us that when kids are safe, they are healthier, more productive members of society and have less chance of abusing their own children."
Davis and Barney are shifting the funding paradigm.  "Social service non-profits and people that serve children are doing amazing work every single day.  We can't expect a few people to fix all of our social problems," shares Davis.
Davis notes that there is already a tremendous amount of collaboration between agencies that work on reducing child abuse and neglect.  "If Northwest Venture Philanthropists can do some of the behind the scenes process work so that these thought leaders can focus on the effort, then we will see the best thinking and strategy coming together," explains Davis.
"Instead of putting energy into fundraising, we're hoping that agencies can instead problem solve the issue by collaborating," says Barney.
While the specific social problem or solution may not be replicable in other communities, Davis and Barney's goal is to take the model and process and repeat it elsewhere.  "The venture philanthropy vision is founded in business best practices, but now it's the soft side about improving lives," adds Davis.
To learn more about Northwest Venture Philanthropy, click here.