Submitted by Leadership Thurston County
Leadership Thurston County (LTC) and the Thurston County Chamber Foundation are pleased to welcome the 36 members of the Class of 2014.
Mike Babauta, Boys & Girls Clubs of Thurston County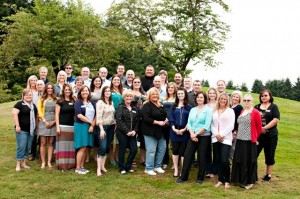 Andrea Ballard, Expecting Change
Wayne Ballew, Puget Sound Energy
Jessie Bensley, Port of Olympia
Alisha Blain, Thurston County Chamber
Dennis Bloom, Intercity Transit
Tim Braniff, Thurston County Sheriff's Office
Jan Cahill, Port of Olympia
Kim Combs, Olympia Downtown Association
Liz Davis, Junior League of Olympia
Gayla Duerr, TwinStar Credit Union
Wade Duffy, City of Lacey
Meg Dwyer, Saint Martin's University
Nick Eisenmann, Capitol City Press
Meghan Feuk, LOTT Clean Water Alliance
Jessica Forsman, Capital Medical Center
Wayne Graham, Thurston County Prosecuting Attorney's Office
Bonnie Herrington, City of Olympia
Roger Horn, City of Olympia Planning Commission
Kasandra Jaquez, Anchor Bank
Sandra Kaiser, The Evergreen State College
Robbi Kesler, Confederated Tribes of the Chehalis Reservation
Paul Larsen, The Crisis Clinic of Thurston & Mason Counties
Donnie Miller, GCI Ad Agency
Kathy Pickernell, Lucky Eagle Casino
Carlos Quiles, City of Tumwater
Jessica Rice, Express Employment Professionals
Karla Robertson, Columbia Bank
Laurie Schindler, Morningside
Amber Smith, LOTT Clean Water Alliance
Heather Stafford Smith, Intercity Transit
Ann Sweeney, Red Lion Hotel of Olympia
Aram Wheeler, Heritage Bank
Caleb White, South Puget Sound Habitat for Humanity Stores
Kristy Wolf, City of Tumwater
Ramsey Zimmerman, Thurston Economic Development Council
An experience-based program, LTC develops informed, connected and committed civic leaders. The class runs from September through June. Participants spend a day a month with decision-makers exploring local issues as well as leadership challenges and opportunities.
Since 1994, over 500 graduates from businesses, public agencies and non-profit organizations have completed the course. LTC is a program of the Thurston County Chamber Foundation, a 501 (c) (3) educational, non-profit organization. For information, go to www.LeadThurstonCounty.com or call 360.357.8515.