By Alyssa Ramsfield
As a soon-to-be first time mom, I've been learning a lot about what daily life will be like with a newborn. I've been bombarded with words of wisdom from family members, friends, and even had the pleasure of receiving tips from complete strangers. While I attempt to take all of this information in, I started thinking about the possible activities my little girl and I will be able to do together, getting us active and out of the house during maternity leave.
Knowing that sleep deprivation will be setting in soon, I ventured out across the county with a clear mind, new stroller, and a borrowed 13-month-old child from a friend to find the best places to take a walk with a stroller as a new mom.
Before I go into detail about my favorite spots, there were elements that I was specifically looking for: paved walkways, free parking, bathrooms, and extra activities. I also wanted to focus on places that aren't very crowded in case it happens to be a day where hair and makeup are not at the top of my "to do" list (which I've heard from many new moms can be nearly every day).
Rainier Vista Community Park – 5475 45th Ave SE Lacey, WA
This 46-acre park is located in Lacey and includes a wide variety of activities. Let's start with parking. There are plenty of spaces to accommodate first time moms who need two spots. The first spot is for the car while the second spot gives ample room to pull out the massive, Cadillac of strollers, and open every car door to access the baby and diaper bag.
Once the stroller is set up and the baby is secured, it's time to enjoy what the park has to offer. This includes two walking loops. Loop A is 7/10 of a mile while Loop B is 1 mile. Both are paved and include bathrooms, trash cans, and benches for a quick break. Rainier Vista also boasts open play areas, playground structures, and picnic shelters.
Regional Athletic Complex – 8345 Steilacoom Rd. Lacey, WA
Many of us are familiar with this park for its premier sports fields and views of Mt. Rainier, but I never realized that it also has two miles of paved walking trails. The trails cover the entire grounds and consist of easy, flat areas along with steep hills for those who need a challenge.
Along with the impressive trails, this park also has bathrooms, parking, play areas, and concession stands. "We come to walk here at least twice a week," explained one mother walking her double stroller through the park. "It's a great place to get out and is close to a lot of neighborhoods."
Tumwater Historical Park – 777 Simmons Rd. SW Tumwater, WA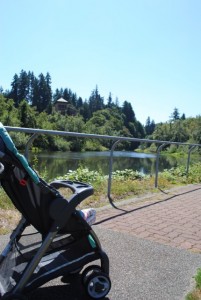 This was the favorite for my 13-month-old test baby. The walking trails are not paved, but are made up of stone. This led to a bumpy ride that had the baby giggling the whole way through the park. There were also a gaggle of geese and ducks for her viewing pleasure.
Play areas, bathrooms, and benches are available in this 17-acre park. It also includes walkways with snippets of information about Tumwater's rich history. This is the perfect walk for a fulfilling learning and viewing experience for both mom and baby.
Chehalis-Western Trail – Trailheads throughout Thurston County
The Chehalis-Western Trail has numerous trailhead facilities to start your walk. Parking, bathrooms, and picnic facilities are available at the Chambers Lake Boat Launch, Scenic Overlook at Chamber Lake, Yelm Highway Pedestrian Overpass, Fir Tree Road, and 67th Avenue.
Basically, if you live in Thurston County, you can find a place to get started on these miles of trails. The trail has widely paved areas that make walking with a group of moms effortless.
Thurston County has so many impressive choices for active moms and their children. I can't wait to take my little one out and about to see all of the trails our beautiful area has to offer.