By Mary Ellen Psaltis

I heard rain on a drum, a lovely rhythmic tapping. But there was no rain or drum in sight; I was in a field. A female emu was conversing and I was enchanted. Backacher's Emu Ranch is a treasure in Thurston County.
What began long ago in Australia is now being carried on within a five-acre farm in Olympia. Jim and Myra Glick have been raising emus and producing top of the line products since 1992. Jim sells their skin care products inside the Olympia Farmers Market.
The Glicks may have retired from their long-term careers with the state and military, but they are fully engaged in the emu life. Myra thought it would be a good idea for Jim to have something to do after he retired. Good thing it has turned out that "it's the kind of work we like to do."
They breed birds, use the oils for exquisite skin care and also process the meat for burgers and steaks. Part of their five acres is penned off by separate breeding areas – each with its own 'emaloo,' a plastic igloo for emus. There you will find Abner and Daisy Mae, Pebbles and Bam-Bam, George and Gracie, Bonnie and Clyde, and Curly and Lil. I would have a hard time telling them apart, but both Jim and Myra know their voices and distinctive markings. I am sure I would with time. After all, Pebbles is 21 and has been a fine layer all her life.
Myra explained to me that the birds are impressively sensitive. One bird laid her head on the shoulder of a visitor who was having a bad day. Other times, the birds have celebrated good news – apparently they can dance and make noise! They are affectionate in their own way, but beware of their toenails – talons might be a better word. They can slash quickly and deeply. All were on calm behavior during my visit.
"Basically you can use everything on the bird," Myra told me. Historically, people have blown eggs, filled them with water and buried the eggs for later use. The meat is low in fat (the birds store their fat in other parts of their bodies) and high in nutrients. The oil is made into skin, hair and body care products and the feathers are used for decorations.
The egg-laying season is from November/December through April.  Females lay about one egg every three days. One egg will feed all twelve grandchildren as part of a family breakfast.
Pure emu oil is a natural treatment for arthritis, burns (from the sun or from chemicals), rosacea, eczema, acne, and psoriasis. It also is great to keep your skin supple. Both Jim and Myra use the skin care every day.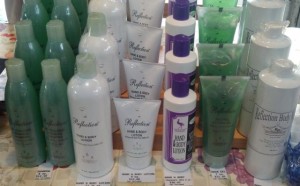 Here are some of the available products sold by Backacher's Emu Ranch.
Hand and body lotion
Lip conditioner
Moisturizing body wash
Acne cream
Shampoo
Conditioner
Soap
Special creams for aches and pains
Dietary supplements
For more information about raising emus, check out the American Emu Association or the Washington State Emu Association.
Visit the Backacher's Emu Ranch at the Olympia Farmers Market or by calling 360.491.2349.
Eat Well – Be Well