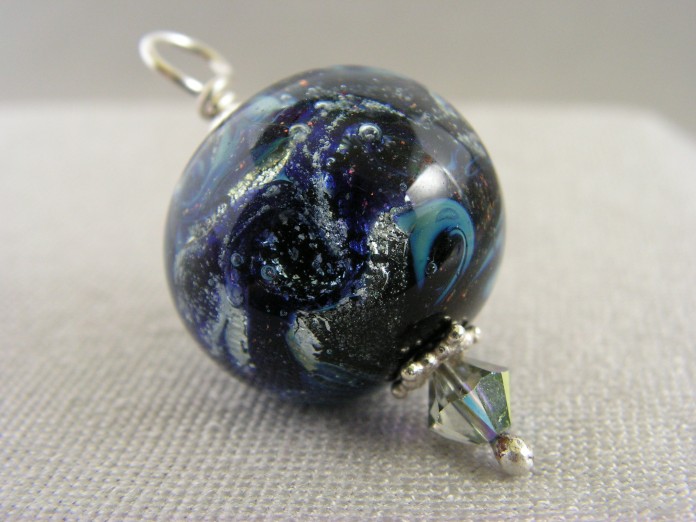 Submitted By Christine Hansen
Carl Sagan wrote, "The nitrogen in our DNA, the calcium in our teeth, the iron in our blood, the carbon in our apple pies were made in the interiors of collapsing stars. We are made of starstuff."
My greatest privilege is to combine starstuff – cremated remains – with molten glass to create exceptional keepsakes in memory of those who have crossed over. I delight in making thoughtfully detailed lampwork glass focal beads, but my passion is for creating memorial beads, hearts, and ornaments. It is an honor to share my compassion and artistic abilities with others, in order to uplift and heal.
The enchantment with glass and art started at an early age for me. A multi-media artist from childhood, I finally realized my lifelong dream of working with hot glass in 2007 and began making beads, marbles, and pendants. I co-wrote Making Mixed Media Art Charms & Jewelry with Peggy Krzyzewski, published in 2010 by Kalmbach Books.
My work with memorial art glass began when one of my most enthusiastic patrons, Chris Nooney, asked if I was interested in making memorial beads. I'd already been considering this, but knew I needed practice incorporating ashes, and didn't have any ashes with which to work. She graciously sent me ashes from her greyhound Rhea, who'd recently crossed over.
After thorough research, I worked up the courage to give it a try. I was nervous and hesitant because this is sacred stuff, and I absolutely wanted to get it right.
I started Rhea's first bead, and now every memorial bead, by centering myself and focusing on who I'm working with. If my client has shared a photo or a few notes about their beloved, I review that as
well. The whole process is truly sacred for me – this is not just another pretty bead – this is a symbol of the love and connection between two souls.
"Chris' work is unique and offers a special gift to those who have lost a loved one. She is sensitive, caring and her talent is outstanding. My glass piece means the world to me, keeping my beloved close," says Nooney.
When I work, I always sense love, but frequently, more specific energy comes forth as well. One dog was quite the prankster (even with his bead!), while another adored his human beyond imagination. I cried while I made the bead combining a pack of dogs, the combined love these pups had for their human was so overwhelming.
Color choice and style of the bead is up to the client. I offer a variety of designs from which my clients may choose, as well as a completely custom design-your-own option. My clients enjoy the ability to select a color that holds special meaning for them. One of my clients wanted her Galaxy Swirl bead to be blue, because her mother used to point out the constellations when they were camping. Another requested dark green, for the color on her border collie's harness.
Many of the colors I use are special, one-time-only colors – available briefly, then never again. I used to hoard these colors, not wanting to "waste" them on mundane beads, but it feels right to use them on memorial beads.
"I love my memorial bead," says Lesa Pickett. "Chris uses her creativity and a bundle of patience in working to create the perfect memorial bead for each of her customers. The work of art beautifully displays her tremendous care in making sure each individual bead is completely loved and cherished by the owner."
Creating memorial beads is challenging, as glass and ashes aren't naturally compatible materials. Too much ash can crack the bead, so I use a small amount of the tiniest particles possible – less than 1/8 teaspoon. The ashes must be protected by a layer of glass, and can't be overheated, or they bubble excessively within the glass. After the ashes are safely applied and encased, I'm able to finish shaping and decorating the bead.
Once a bead is complete, it goes immediately into my digitally-controlled kiln for annealing. The annealing process slowly cools the glass down and allows the molecules to line up properly for structural integrity. This takes about twelve hours. After annealing, I clean the bead with a diamond reamer, and it is finished, unless my client has requested sterling silver wirework, turning the bead into a pendant.
My "starstuff" memorial art glass sustains connections of love. This satisfies my heart. My compassion and artistic abilities provide comfort and ease sorrow. This satisfies my soul.
For more information, visit www.christinehansen.com and www.christinehansenglass.etsy.com. Contact me at chris@christinehansen.com.