By Tom Rohrer

Running is more than just a sport.
It's an exercise routine, a mode of relaxation and a time to put things in perspective and think.
Since taking up cross country in high school nearly forty years ago, Olympia resident Gary Cooper has maintained love affair with long distance running, lasting four decades.  Now, he has passed down his passion to his seven year old son.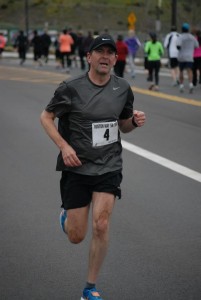 The son of a high school wrestling coach in Indiana, Cooper started running cross country as a way to stay in shape for his father's team in the winter.
Quickly, Cooper realized he had an equal passion for cross country and has been running ever since.
Now 53, Cooper is a member of the Barron Park Striders Master's Team and continues to run at an extremely high level.
On June 27, the 1996 Seattle and Capitol City Marathon champion posted the tenth best 3200-meter outdoor time during the summer season.  He ran a time of 11:28.52 at a Barron Park Striders event at LBA Park in Olympia..
"I didn't really know it was being recorded and honestly I feel like I could've run it twenty to thirty seconds faster," said Cooper. "I'm past my prime, but I still feel good, I still feel fit for my age."
Cooper joined up with the Barron Park Striders after his son decided to join the club's youth program, where he will be instructed by longtime coach Drew Stevick.
While Cooper is now part of a club, it's the sport's individual aspect that he enjoys so much.
"Running for me, it's an incredibly peaceful sport and something you can do by yourself," said Cooper, who works for the City of Olympia. "It's like a form of meditation, getting out, setting your own pace and getting in a groove. I don't run to get in shape, I get in shape to run.  That's an end in itself."
Cooper came from Indiana to the West Coast to pursue his education, and after completing graduate school at UC Davis, his fascination of the country's left side took over completely.
He moved to Olympia in 1988, and soon thereafter began entering competitive distance races, including marathons.  His run in the mid-to-late 1990s is impressive.  He coupled his first place finishes in Seattle and the Capitol City Marathon with four consecutive second place finishes at the Capitol City Marathon in the later end of the decade.
"That was my prime, really when I was running my best times," said Cooper. "It was a fun time to compete.  The (victories) are very humbling, but you feel very proud."
However, his competitive spirit was not confined in the Pacific Northwest.  Cooper competed in the famed Chicago Marathon and the 100th Boston Marathon in 1996.  Taking part in such prestigious events is something Cooper will never forget.
"Competing in the big events is special in part because you train hard for months to get there," said Cooper.  "There is so much history in Boston and the 100th anniversary generated a lot of hype and big crowds.  It's just a more historic feeling at a race like that."
These days, Cooper runs in two marathons per year and also rides with the Capitol City Bicycle Club on Tuesdays and Thursdays during the summer.
Over the course of his running career, Cooper trained and forged friendships with some of the best runners in the country for his age group.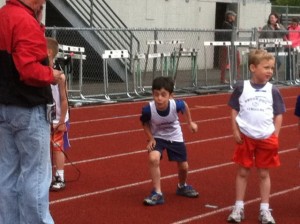 "Bob Brennan is my age, someone who I train with and he won the 50-and-over national title last year in the marathon," said Cooper.  "Phil Jasperson, he's someone I've raced with for 20 years. There are so many strong runners out there."
While long distance running has a following in the Thurston County area, Cooper notices the opposite when he returns to Indiana.
"I'll never see anybody running (in Elwood, IN) and really people want to give me a ride because they're confused about what I'm doing," said Cooper. "Here, you see hundreds of people running around Capitol Lake during lunch.  I think the clubs like (Barron Park Striders), Guerrilla Running Club, those help.  It's more of a natural occurrence and people are more exposed to it here."
Cooper shared a cool moment with on the race course earlier this summer.
"The day of my (3200 time) was a day my son went out and ran in all the different events," said Cooper.  "And of course, he stepped up to the line and started that 3200 time (he did not finish the race).  It felt fantastic.  I've been running for a lifetime and all of a sudden my son is running with me."
It looks like, yet again, the sport has run from one generation to the next.
For more information on the Barron Park Striders, visit their website.