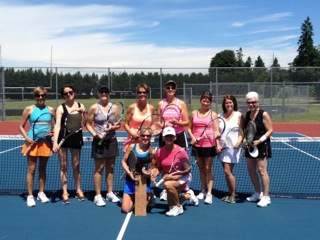 By Lisa Herrick

A group of amateur women tennis players are proving it's never too late to win a championship.  The Valleycats, a women's tennis team from the Tumwater Valley Athletic Club, are comprised of more than a dozen local women including captains Sheila Roy and Denise Hardcastle and standout player Stacey Nelson. The Valleycats recently won the United States Tennis Association (USTA) Southwest Washington Championship.
Soon the team will be hitting the courts in Portland to compete in the Pacific Northwest Championships against teams from a four state area including Oregon, Washington, Idaho and Alaska.  Then just a couple of weeks later they are headed to Yakima to compete in the 40+ division. The USTA League is organized so that adult recreational tennis players throughout the country can compete against players of similar age and ability levels.  The Valleycats will be competing at the 3.0 level in the age group of 18+ in Portland and in the 40+ age group in Yakima.  If the Valleycats win either of their Sectional Playoffs they will advance to the USTA National Championships.
Stacey Nelson has been the unstoppable #1 singles player for the Valleycats.  The PE and Enrichment teacher at Griffin School for the past 27 years, Stacey is a formidable opponent on the courts boasting a season record of 16-2.  Stacey says, "I really enjoy the competitiveness and challenge of playing different people. But  I especially like the team aspect where all of us women are playing for the same goal.  It is so rewarding to play with a group of people who can all support one another, and if someone is having an off day, then the others rally around and give encouragement. We may play our courts individually, but we all work to encourage each other. I also like the physical and mental aspects of the game that change daily depending on my conditioning and mental awareness versus that of the person I am playing. The great thing about sports is that it all happens in real time and you can't predict the future, you can only be in the moment and play to the best of your ability at that time."
Sheila Roy is captain for the Valleycats 18+ over team while Denise Hardcastle captains the Valleycat 40+ team. About five years ago, Sheila signed up for a one week summer tennis class at Tumwater Valley and says, "After starting, I couldn't stop! Now we, as a team, are so excited to have finally achieved our goal of making it to sectionals! Part of the fun is practicing together and the anticipation of achieving our next goal. We're always striving to make it to the next level." Hmmm…..could that be a national championship in the making? It does seem that captain Sheila is positioning the team to go all the way!
Denise Hardcastle, whose life off the court is as co-owner of Tumwater Automotive and Tumwater Auto Spa, says, "I have been to sectionals with my husband and had so much fun as a spectator. I can't wait to go as a competitor!" Brett Hardcastle's team placed third in last year's Men's USTA National Championship.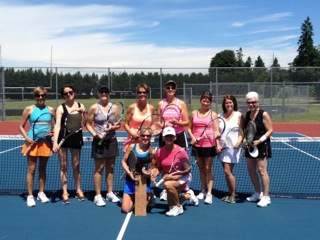 In fact, Stacey, Sheila and Denise and two other teammates (Janie Davis & Lisa Elshoff) also play on a mixed doubles team mostly made up of spouses that will compete in the Pacific Northwest Mixed Doubles Sectionals in September.  I suppose you can hardly go wrong playing with your spouse in a sport where the game starts by calling out "love."  Yet these women seem to be spreading the love with their winning touch whether playing with their husbands, regardless of the age division and no matter if playing on the singles or doubles court.  This group of women will be competing at sectional playoffs on three different teams, which they contribute to their focus on having fun and setting goals.
As part of the goal to continually improve, captain Denise contacted long time tennis coach John Campbell to help the Valleycats prepare for sectionals. John Campbell, who recently opened Capitol City Tennis and Athletic Center, not only guided the team in tennis strategy and skill building but expertly advised the team on how to mentally compete at the championship level. The Valleycats are taking their well honed tennis game and mental toughness to their upcoming playoffs.
In the coming weeks you might see these women practicing on the various outdoor tennis courts throughout our community and if so please give a shout out for the Valleycats as you pass by!