Submitted by Studio West Dance Academy
Merde. There it is. No, it's not a typo. It turns out that this word, one that if you said in French class would have gotten you into trouble, when uttered back stage is completely ok. In fact everyone's doing it. Why? Well…you wouldn't want to say 'break a leg!' to a dancer, right? So the story goes that back in the day in France the success of a show was measured by the size of the audience. That makes sense. And the audience arrived in carriages. That also makes sense. And as the carriages waited for the well-to-do passengers to alight, the horses…yes. So the more merde, the merrier. Thus in the dancing world 'Merde!' is good luck.
Graduating seniors Callie Nissing and Nicole Carson have heard more than their share of 'merde!' over the years as dancers at Olympia's Studio West Dance Academy. As two incredibly talented ballerinas, they have collectively danced these principle roles: Tiger Lily, Arabian, Summer Fairy, Prayer, Dew Drop, Tinkerbell, Clara, Cinderella, Sugar Plum, Swanilda. Yet even with a list this long, each has a personal favorite that stretched them the most as a ballerina. "Definitely Sugar Plum. It is so precise and musical. Plus it was the first time I got to partner with Joey (professional dancer Joseph Jefferies) which was an incredible experience," said Carson.
For Nissing "playing the role of Dew Drop was a defining moment. I was especially nervous because I knew it was a step up that I had not expected to take so soon. I learned so much from this role, I became more independent and discovered more about myself in terms of how I dance and how I learn. I learned how to command a stage, and how to deal with fear."
Yet what about their beginnings? Both Callie and Nicole began dancing when they were three years old. Looking back at the younger dancers they see today at Studio West, each has words of wisdom to share. "You are the only you in the world, so use your dancing or whatever passions you have, to give the uniquely, never before created you to the world," said Carson. "Instead of trying to think when you dance, simply dance.  Just try breathing and trust your body, simply dance and enjoy, don't worry. It is so worth the journey," reflecting Nissing.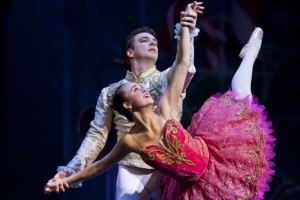 They have been with Studio West Dance Academy for years, and Nissing explained why: "It is my second home.  It is a place I can express myself, find and practice being my entire self. The program reaches so many aspects of life, that I believe as kids it is vital to our personal development and education. Here we learn about life, to never give up, understand people and emotions, how to express yourself, respect yourself and others, discipline, all in a loving and artistic way. And of course the technicality and training we get due to the amazing teachers we have."
For both ballerinas, the lessons of dance take them well beyond the classrooms and stages. Carson pointed out that dance has taught her to be disciplined and to always give her best effort. "I am a perfectionist, but I have learned that when I am giving my best, my all, my whole heart and soul into what I'm doing, then any step I might mess up… those steps don't make or break my performance, any performance is a good one if my whole heart is in it."
Nissing echoed these sentiments in her own voice. "Through dance I have learned how to express myself in a way that sometimes is the only way possible, to be confident… I am capable of more than I had ever thought possible, that if I work hard enough I am capable of achieving great things."
Where will their pointe shoes be next year? Carson will be majoring in Dance and Elementary Education at Southern Methodist University, and after graduating intends to teach elementary school as well as dance. Nissing will be attending the University of Washington, hoping to dance either at school or with a neighboring studio. She plans to study Entrepreneurship and Spanish. Beyond that, Nissing's goal is to create change in the world through dance. "One day after my education, [I want to] start a company or work with an organization that allows kids in inner cities or rough communities to have the opportunity to dance and or practice all types of art, because I believe it is truly powerful and everyone should be allowed to despite their background or financial struggle."
Adieu. This one is just fine to use in French class. Farewell. But not good-bye. For while they may be graduating and leaving the ranks of dancers at Studio West, they will be back- to guide, to teach, to inspire other dancers. And so Studio West Dance Academy wishes Merdi & Adieu to seniors Callie Nissing and Nicole Carson.
1025 Black Lake Blvd
Olympia, WA 98502
360.956.9378