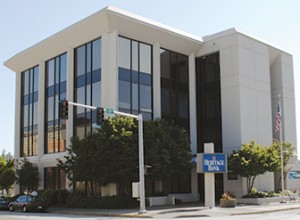 On a bustling street corner in downtown Olympia sits the headquarters and local branch of Heritage Bank. At the corner of 5th Avenue and Columbia Street, Heritage Bank operates a true community bank.
With 28 branches in the Pacific Northwest,  customers enjoy full-service banking with the convenience of many online services.
The bank has grown considerably since its beginning in 1927. Celebrating more than 85 years of service, Heritage Bank operates five branches in Thurston County.
As a community bank, Heritage Bank seeks deposits from local customers and turns around to make loans to individuals and businesses who have local ties in the community.
Along with lending, Heritage Bank offers a complete array of business and personal banking tools. The bank designs and creates new products such as Remote Deposit, online financial management tools, and Merchant Services with its customers and their financial goals in mind.
In 2012, Heritage Bank was honored as the "Top Place to Work" in the Large Company category by the Business Examiner. Heritage Bank was also a finalist for "Washington's Best Workplaces" by the Puget Sound Business Journal.
In Thurston County, Heritage Bank employs about 100 people. Marketing Officer, Shaun Carson, believes it's the bank's employees who make it a stand-out choice.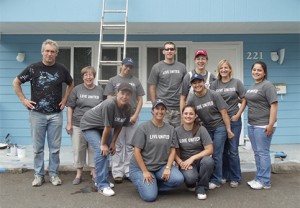 "We focus on being a community bank and providing world-class experiences for our customers," says Carson who will soon be celebrating his tenth year of employment with Heritage.
"We are fortunate to have a quality team of employees, who serve our customers and communities with excellence. These awards resulted from a culture all of us embrace, believe in and live every day," said Heritage Bank President and CEO, Brian Vance.
According to Vance, Heritage Bank has cultivated a work environment focused on customer service, teamwork, strong communication and career opportunities.
Along with their workplace accolades, Heritage Bank has been a long-time community supporter. You can spot the bank's logo on a variety of community events including United Way, Habitat for Humanity, Big Brothers Big Sisters, Harlequin Productions and The Washington Center for Performing Arts. The list of non-profit organizations and community events receiving support from Heritage Bank continues much longer.
Heritage Bank is also tied into the community's higher education resources. The bank provided financial support for Saint Martin's University's new engineering building and is an ongoing donor to the school's recreation center.
Heritage Bank continues to grow and is adding branches in Puyallup as a result of its recent acquisition of Valley Bank. The Tumwater branch is relocating to 850 Trosper Road SW, with a brand new facility. The biggest fix will be to ease the traffic congestion and make the location more accessible.
As Heritage Bank looks forward to the next chapter in its growth, one thing remains consistent – building strong relationship with the local community brings everyone up.
Stop by a local Thurston County office or visit Heritage Bank online at www.HeritageBankNW.com.