By Tom Rohrer

What drives people to run great distances?  Is it to support a cause, bond with a friend, or improve overall physical health?
There certainly was a wide array of all causes at Sunday's 2013 Capital City Marathon in Olympia.  Along with the 26.2 marathon, the running event featured both a half marathon and five-mile race.
Conditions were ideal for distance running.   Overcast skies provided a crispness in the May air.  No rain fell on participant's heads. According to estimates from Tom Jensen, the Vice President of the Capital City Marathon Association (CCMA), around 1,400 individuals competed in the half marathon, 600 more ran the five-mile division, and roughly 325 took on the task of completing the legendary distance of the full marathon.
While experienced veterans like Jesse and Jenny Stevick are used to competing (and winning) in the event, some individuals were taking their first swing at an official distance event, and seemed excited for the challenge.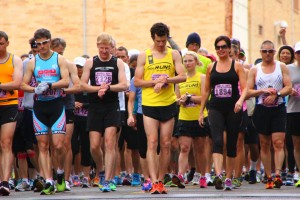 "It's something we've been looking forward to," said five-mile participant Casey Sobol, who, along with his wife Kim (half marathon) were running in their first structured distance race ever.  "The training brings you closer together, and the cause we're running for, it makes you feel even better about taking something like this on."
Sobol, a firefighter for the McLane Fire Department, was part of a 30-person group running for Friends of Mia (supported by Fit Life Studio, Guerilla Running and Impact Fitness, LLC).  The running group helped raise over $30,000 that will go directly to the Seattle Children's Hospital.  For 18 weeks, the group of runners were instructed by certified trainers (who were volunteering) to prepare for the event.   Lani Benavente, leading Friends of Mia along with her partner Casey Deligeannis, was pleased by the turnout and the support from the community.
"$30,000 was our goal and we will be exceeding that. It's a special day for us and we're thankful for the support shown by the group and again the community," Benavente said.
Bodymechanics School of Myotherapy and Massage provided racers with treatment for fatigued muscles and ailing bodies. The BSOMAM has been providing services at the Capital City Marathon from its inception, allowing students to earn experience and establish relationships within the community.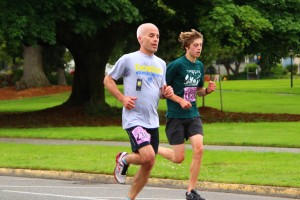 "It's great practice for the (students) because it makes them talk to the community and helps them get past that uncomfortable stage," said Wayne Johnson, an instructor at the BSOMAM.  "Plus, they see how muscles react under extreme exertion and fatigue, and it supports a great event.  This community is really special."
While it may be the first time some of the BSOMAM students see the rigors of a distance race up close in person, it wasn't for many of the participants running, including 80 year old couple Richard and Barbara Olafolson, both of whom have attended or participated in the event since 1985.
The Olafolson's have been traveling the country and the world to participate in 5K and shorter running events, visiting locations such as China, Arizona, Wyoming and Utah along the way.
The Olympia citizens estimated that some years they traveled to up to 50 races in a year (around one per week), and Richard still runs around five times a week.  Due to a medical condition, Barbara no longer can join her husband in participation, and offers her support from the sidewalk.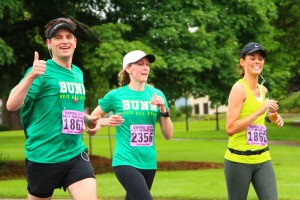 "It's more challenging supporting someone in the race than actually racing," Barbara Olafolson said. "You're worried how they're doing, what their time is, how they'll finish."
Richard was thankful for his wife support.  "It means a lot having her here and watching, it's a passion of ours and we enjoy sharing it together," said Richard Olafolson.
Undertaking a distance event is much easier with the support of loved ones.
"Training together is part of the whole appeal to me," said Sobol.  "It can bring you closer together and help you both work towards a common goal."
The work never seems to stop for the race organizers, who we're already beginning the early planning stages for the 2014 event rather than reflecting on the success of this year's race.
"Once this is over, we will begin talking about next year, talk about what went well, what didn't, what we can improve on," said Jensen. "It's a year round process, and if that's what it takes, that's what it takes."
Spoken like a true distance running enthusiast.
For additional photos, click here.