By Tom Rohrer
To say that Jesse and Jenny Stevick are a couple that enjoys running is an understatement.
In fact, running may have been part of the equation that led to the two getting married…..quite possibly the main factor.
The two former collegiate distance runners met early on during their time at Whitworth University, and have been together ever since.
"A girl in the hall I lived on and one of Jesse's good friends both said 'you're perfect for each other', and this was my very first day in the dorm," Jenny Stevick said. "We almost immediately started dating and I'm just thankful he's the guy they were saying I was perfect for."
Now, over a decade later, Jesse is an Olympia High School science teacher and the head coach for both the Oly boys cross country and track teams, the very school he and his four other siblings starred at before eventually becoming collegiate athletes.
Jesse's father, Drew, joins him on the OHS track and field coaching staff.  Drew, known locally as one of the foremost authorities on track and field, also leads the Barron Park Striders.  Jesse's younger brother Casey, a standout decathlete during his time at Azusa Pacific University also coaches.  Jenny is a part-time assistant coach for the girls cross country and track and field teams.  She coaches under Cris Violette who was Jesse's head cross country coach during his time competing for OHS.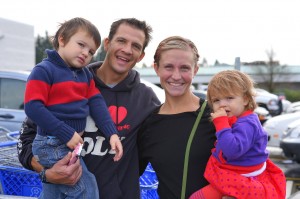 In his first season coaching, Jesse had the opportunity to coach his younger sister Cassidy.  She throws the javelin as current member of the track and field team at -surprise- Whitworth University.
The experience of coaching with family and loved ones has been a rewarding and bonding experience for all the Stevicks.
"It's been super fun and really rewarding for the kids in that we all have that experience in the sport, and I competed here myself," said Jesse, a six time winner in the Capital City Marathon.  "Just getting to coach these kids, we feel thoroughly blessed.   It's so fun, having (the family) around coaching and also having Jenny be a part of it is awesome."
"I could use a lot of adjectives to describe it but it's been wonderful," said Drew Stevick, a standout track and field athlete at Whitworth who was at one point invited to the U.S. Olympic trials in javelin. "Seeing and being a part of these experiences, there are very few opportunities like this for a dad."
"It's really fun and a neat chance to get with Jesse and spend time with him," said Jenny Stevick, who ran at Black Hills High School and is a two time winner of the Capital City Marathon. "To be out there at the same time and cheer for the same kids at meets is just a fun experience."
Free time is harder to come by for Jesse and Jenny these days, as they're now parents to four-year-old son Wesley and daughter Gemma, who recently turned two.
While the two parents will never pressure their children to become involved in running and athletics, they likely won't have to.  Jenny continues to run 70 – 80 miles per week while pushing both children in the stroller.  Wesley runs with his parents a quarter of a mile to get to church from their neighborhood.
"I mean, I will never pressure them at all, but it's a healthy activity, and one I think they will just enjoy naturally from their time growing up," said Jesse, who noted his father constructed adjustable hurdles for Wesley on his second birthday.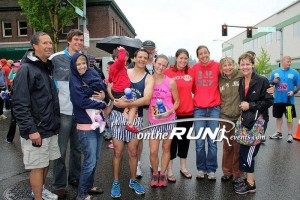 "I think (the kids) enjoy it, even though we may have thought it was child abuse because they were in the stroller so much," Jenny said with a laugh.  "Gemma is still young, but Wesley is now excited about being active, and it's been great to see that as he's gotten older. They're learning to be content without a lot of stimulants which is something rare these days and something we're thankful for."
Those miles of training paid off for Jenny and Jesse last May, as they won the women's and men's Capital City Marathon races respectively.  This was Jenny's second title after taking 2011 off for the birth of Gemma.  The win in 2012 was Jesse's sixth, which is now the all-time record in the event's history, a victory made even sweeter because of Jenny's triumph.
"Really it was somewhat unexpected, but it was definitely special to win it in the same year and I know that once I finished, I was just waiting to see if she could pull it out," Jesse noted.
"We really wanted to both win last year," Jenny added. "It was just so fun, to hear he had won once I finished the race."
It was also a special moment for Drew.
"It was a great day for us to follow them around and cheer them on," Drew Stevick said of last year's marathon. "Running, it's a family thing for them and the whole family and for them to have that success and such a great relationship was and is very fun."
The work ethic Jesse continues to put forth in teaching, coaching and running comes in part from the example his father set.  He knows his father has had a similar impact on other track and field athletes in the community.
"For me, he's been a huge inspiration for everything I've done," Jesse said. "The standards he has set, I'm still striving for them, and that is in part because of me wanting to achieve and work hard.  I saw and continue to see him do the same."
"When I look at most of the high caliber athletes and those that go on to compete at the state meet, most have had their beginnings in the sport with my dad and his program," Jesse added.
The elder Stevick sees a similar impact on the Olympia High athletes that compete under his son.
"He works hard, and what's really neat is to see his attitude become contagious with the OHS runners," Drew Stevick said. "And all five of my kids are like that.  They're super kids and I feel extremely honored to be their dad."
Jesse feels a similar honor in the fact that he gets to live close to his family in an area that he loves.
"Having been across the country, I know that the Pacific Northwest has the best climate overall, and also, I think the family aspect is another huge plus for us," Jesse Stevick said. "We get to run a half mile to my parent's house.  My older sister, younger brother and his wife and Jenny's parents still live in the area. When you stop and think about it, we feel so blessed to be a part of this community."
Just as the Olympia community is blessed to have people like the Stevicks.