By Anne Larsen

In running, it doesn't matter whether you come in first, in the middle of the pack, or last. You can say 'I have finished.' There is a lot of satisfaction in that.
If you were to ask Maria Rogers about her first experience running 26.2 miles she would laugh, grab you by the shoulders, look you straight in the eye and say "it was horrible! My mantra throughout the miles was 'I'm never doing this again – EVER!'" Oh yes, and like those before her and the legions of runners to come, she would curse the marathon, berate the marathon, and after an ice bath and some space, sign up for the next marathon.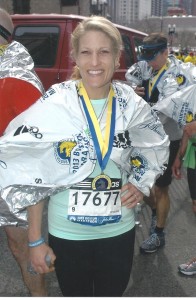 Flash forward four years, countless miles, and every high and low in between and Maria is an accomplished runner recently crossing the finish line at the Boston Marathon and continually signing up for the next running adventure.
Now I've met some fast runners in my time – shorty shorts, big watches, ripped legs, and tons and tons of track workouts under their belts. To be fast you must train hard. To be a "great runner" is something completely different. Maria is a great runner. What's the difference you may ask?
Fast vs. Great
A fast runner will talk and talk about how fast they are – rattling off 400 split times, 5k PR's and this week's tempo pace.  A great runner will ask you about your running and encourage you along the way.
A fast runner assumes that everyone understands which way to run around a track, what distances are run in a cross country meet, and can easily quote Prefontaine at the drop of a hat. A great runner will invite you to run with their running group – which always ends in coffee.
A fast runner will scoff at the very idea of doing any running event "for fun." A great runner will run for fun and does so often.
Maria is a great runner, who is also pretty darn fast!
Get off the Couch Already
There is an old running adage that goes something like this – "No matter how slow you go, you are still lapping everybody on the couch." So what needs to happen? Step-by-step you need to push yourself out there. Most people start running because they are looking for a certain result – lose baby weight, quit smoking, or maybe just feel better.  Results are the initial motivation to propel you out the door and hit the streets or treadmill.
In 2007 Maria started "covertly" running – and I know the type, I was once a covert runner myself. Convinced that she wasn't really a runner, Maria would log in miles around her home by herself, but soon enough she would pin on her first race number. Fellow "great" runner Brian Evans found out Maria was running. For all who know Brian, his nature is to bring out the best in everyone. He gave her a running plan, and the day that Maria announced "I ran 6 miles today!" Brian told her she was ready for the event.
Along with a few others, they signed up for the Las Vegas Rock'n'Roll Half Marathon. It was a great choice for a newbie runner – awesome race expo, people watching, and gear buying! Maria remembers that she "felt like a rockstar" and was hooked. This running thing was fun! "I started to think that I could do this, be a runner. It might be a cool thing," she says in reflection. Maria was becoming much more comfortable in her running skin.
Conquering the Marathon
"It's very hard in the beginning to understand that the whole idea is not to beat the other runners. Eventually you learn that the competition is against the little voice inside you that wants you to quit." Dr. George Sheenan
After her initial marathon experience at the 2009 Seattle Rock'n'Roll, in which she did indeed finish, but was cursing like a sailor at the end of it, Maria continued to run alone – for a while. Maria and I agree wholeheartedly that once you finally muster up the courage to run with a group you'll be a much happier and most likely faster runner.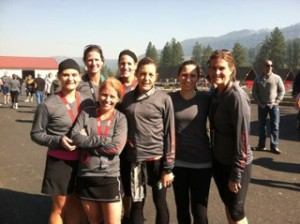 Along with her running friends, she signed up for the 2011 Eugene Marathon and decided that she really wanted to train for the race to break 4 hours. Lining up at the race start, it was a picture perfect marathon day. The skies were clear, her legs trained, with a few marathons under her belts and good friends at the race start. Perfect race conditions! For the first 18 miles she ran with her friends, and then, feeling good, she started to pick up the pace and "pick-off pony tails." The miles zipped by and crossing the finish line she not only achieved her goal of a sub 4 hour marathon, but she did it in 3:50!
Running with a group changed everything. She joined the Capital City Marathon Training Group and started running longer and longer distances for fun! She had planned to run Eugene again, riding high from the amazing experience the year before, but life and it's craziness happens, so she lined up for the Capital City Marathon.  She was "secretly" trying to qualify for the Boston Marathon. Guided by her running mantra "run your own race" she strategically placed herself between a pace team and started the race off at a comfortable pace.
Maria is a lion. She is the queen of starting steady and slow, then crushing folks on the hills and finish! I was pacing that year and was able to spend the first 8 or so miles with Maria. I knew she had it in her. When she broke out of the pack and pushed ahead I told her I didn't want to see her again. She was ready to qualify for Boston. I did see her ponytail a few times throughout the remaining 18 miles, but our group never caught her. For those who've run the Capital City Full or Half Marathon, the hill going up 22nd can be a grinder. But not for Maria. "I hit the big hill on 22nd and I knew I was going to be ok. Hills are my thing," she said.
The spectators and friends along the final 2 miles carry runners across the finish line on Capital Way. Maria finished in 3:41! Get ready Boston!
Boston Marathon 2013
Maria made it to Boston. I saw her post on Facebook with her bib number and Boston swag. So proud! I loved hearing that Maria was going to run Boston, and then I loved hearing that Maria was safe in Boston.  Maria had a bad race day in Boston. She got sick a few times, her legs and mind were tired. But she pushed on. Yes, she was the crazy runner lady that talks to herself (outloud!). She did not quit, she pushed through and finished the Boston Marathon 11 minutes before the first bomb went off.
She is home, safe and sound, and in typical Maria style ready to lace up her shoes to run with her "girls," volunteer at the Capital City Marathon (look for her on the corner of Henderson and Eskridge), and encourage the next "covert" runner to join her in a run.
Great runners like Maria never give up. In fact they pay it forward – great runners like Maria, they give back. Maria has long since lost her baby weight (initial reason), but she keeps running. Why? Because Maria knows that your greatest runs don't need to be Boston qualifiers or personal records. Great runs are moments, snapshots in time that remind us how wonderful life is.
Join Maria and myself and volunteer this year at the Capital City Marathon! Or, pin on a race number and get out there and participate in the 5 mile, half marathon or full marathon.
For more information on the Capital City Marathon, click here.