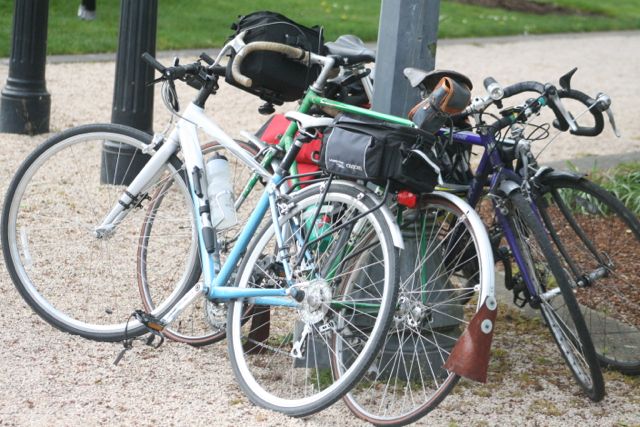 By Tom Rohrer

During our time, we each have the ability to live a full, active life, while still being environmentally mindful of our impact on the planet.
Olympia has always celebrated this essential balance for health, and thanks to a host of community events, area citizens have the opportunity for a positive personal and global impact.
There could be no event more appropriate for expressing this goal than the Earth Day Market Ride coordinated by Intercity Transit.  It's the seventh consecutive year of the ride, which serves as the perfect segue for the annual Intercity Transit's Thurston County Bicycle Commuter Contest (BCC).  Bicycle commuters use the Earth Day Market Ride (held on April 21) to kick-off the contest.  Mother Nature has also helped facilitate a great start to the bicycle commuter contest with unseasonably warm, sunny days.
"It's been fun to see (the Earth Day Ride) grow and there really isn't a better day for (such an event)," said Linda Weaver, who generated the idea for the Earth Day Ride in 2007.  "We've seen an increase in participation every year, and you see it in the Bicycle Commuter Contest as well."
Individuals and large groups alike participated in the ride, and were able to use the miles they peddled toward the contest total.  Riders in some cases were led by event volunteers from their neighborhoods to the meeting spot at Heritage Fountain.  This created a perfect opportunity for those not experienced in riding in traffic to learn the ways of the road.  Following the meeting at the fountain, the group rode together through downtown to the Olympia Farmers Market.
"Standing around the fountain, seeing everyone come in with different groups, that's fun, and it's an event that will likely keep growing," Weaver said.
While cycling obviously requires physical exertion, the challenge of riding in traffics can often appear daunting, a misconception area cyclist are trying to dispel.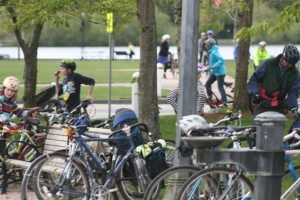 "I think that's what people are most hesitant about when starting out," said Scott Edwards, who is the captain of the Washington State Department of Enterprise Services team in the BCC.  "I received advice from a (Washington State Patrol) friend.  He advised that when I'm on my bike, I'm like a vehicle.   I take the whole lane like a vehicle, when I go down Fourth Avenue and Capitol Way on my commute. I have plenty of room, it's safe and I don't get boxed in on the right like I used to."
The volunteer leaders during the Earth Day Ride did a great job of clearing up misconceptions.
"I heard from many people how the ride was much easier, much less of a challenge than they thought it would be," said Weaver, who is the team captain for the Social Cyclists in the BCC.  "To squash those (misconceptions), that's a big step towards more cycling awareness.  You still have to be mindful and fully attentive while riding, especially in an area like downtown Olympia, but it's not as hard of a transition as people think."
Edwards, who does not use an automobile, estimates he rides around 400 miles a month, which includes travel time for both business and pleasure.  After living in Arkansas, Edwards relocated to the Pacific Northwest in 2004.  He has been on his bicycle ever since his car was totaled in 2009.   Luckily for him, Olympia is an area where cycling is not only accepted, but encouraged.
"You won't find a contest like this in many other places in the country," Edwards said. "There definitely is that culture of acceptance for bicycling, and what is really amazing is that it could still expand to reach other people.  I don't think everyone realizes how quickly you can get to areas around here on your bicycle.  That's what I try to tell people – the pros of cycling to work away the cons.  It can change your life in so many ways."
Weaver, who began commuting by bike when she first participated in the BCC eleven years ago, still encourages others to take the cycling plunge.
"My children, who are now young adults, are bicycle commuters," Weaver said. "Just being in the cycling community, you can see it catching on more, and a lot of that is because of things like the Earth Day Ride and the Bicycle Commuter Contest.  At the same time, there is a lot of positive word of mouth going around.  People who commute on bikes save money and are in better shape.  Those positive aspects have a way of spreading quickly."
Awareness can spread even quicker at gatherings like the Earth Day Ride.
"That was the perfect example, because you have people with a common interest getting together in a social setting while being friendly," Weaver said. "I think to an extent it represented everything that is right with the cycling community in this area, and just how great of an activity it is."
For more information on Intercity Transit's Thurston County Bicycle Commuter Contest, visit http://thurstonbcc.blogspot.com/.