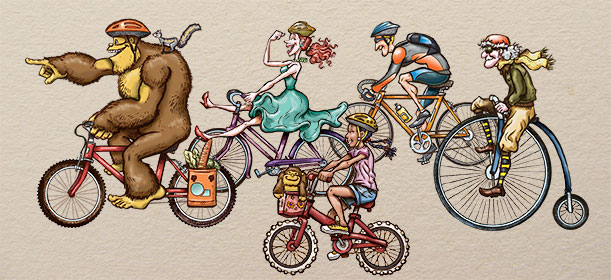 The goal is simple – help people find more energy efficient travel options.
"As a regional transportation planning organization, we are focused on coordinating transportation for the long term," explains Thurston Regional Planning Council (TRPC) Senior Planner Paul Brewster.
TRPC thinks of roads and bridges like other agencies manage water or other natural resources.  "We do not have an endless capacity so we must manage our resources as efficiently as possible," says Brewster.
"One way to add capacity to the (transportation) system is to reduce the demand," adds TRPC Senior Planner Karen Parkhurst.  "Trying a different way to travel just one day a week can make a huge difference – at the individual, family and community levels."
The benefits of fewer cars on the road are obvious – less road congestion, reduced air pollution, and more money in your pocket.  Choosing a different way to travel can also create a more sustainable community and healthier lifestyle.
"The goal of ThurstonHereToThere is to provide a single resource for South Puget Sound residents to find practical, affordable transportation alternatives to driving alone," describes Brewster.
Local bike maps, a bus trip planner, contact information for school district transportation coordinators, vanpool options, and support for individuals with disabilities are just a few examples of detailed information you can find on the website.
Using a grant from the US Department of Energy, the Regional Council built the website as a public outreach tool concurrent with other efforts.
Avoiding Driving Alone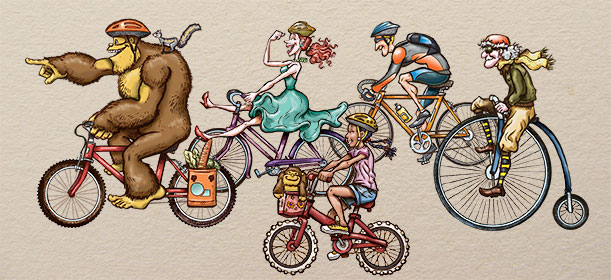 Using ThurstonHereToThere, TRPC hopes that people will make fewer daily trips via car – instead walking, biking or hopping on the bus for some errands, commutes, and trips.
Parkhurst stresses that folks should consider carpooling for both environmental impacts and cost savings.  "It's easy.  Many families don't even realize that they are 'officially' carpooling when they travel to work with their spouse," adds Parkhurst.
TRPC also manages the state-mandated Commute Trip Reduction Program on behalf of the cities of Lacey, Olympia, Tumwater and Thurston County.  In that role, they reach into the workforce and educate travel coordinators such as Victoria Harold-Carter who works for a Washington State agency based in Tumwater.  Over 160 state employees work at her location and she frequently uses ThurstonHereToThere to answer coworkers' questions about how to use bus services to get in or out of Thurston County.
Take the Travel Challenge – Rewarding Commuters Who Share The Ride
If positive environmental impacts and extra money in your pocket are not enough of an incentive, TRPC is adding prizes to the mix.  Through the month of May, join the Here to There Travel Challenge. You can enter weekly, assuming you make at least one trip using an alternative mode of transportation.  One quick qualifier – you must either begin or end the trip in Tumwater, Tenino, Yelm, Bucoda or Rainier.
Carpool rather than driving alone.  Take the bus to the grocery store.  Go to the game with another family.  Ride to work with your neighbor.  Complete your errand via bike.  Just find some way to cut a "drive alone" trip out of your schedule.
Each week one commuter will win $40 of bus passes from Intercity Transit or the equivalent in a gift card to a local bike shop.
Harold-Carter is promoting the contest to her state coworkers as well as sharing information about the concurrent Thurston County Bicycle Commuter Contest sponsored by Intercity Transit.
"It's a comprehensive site with lots of information.  I especially like details on where to go for walks and how to get to different bike stores," adds Harold-Carter.
"We want to be clear that we don't expect people to change all their travel behaviors –   just try something different one day a week," shares Parkhurst.  "Once you find how easy it is, you may want to do it more often."
To learn more about alternatives to driving alone, visit www.thurstonheretothere.org.