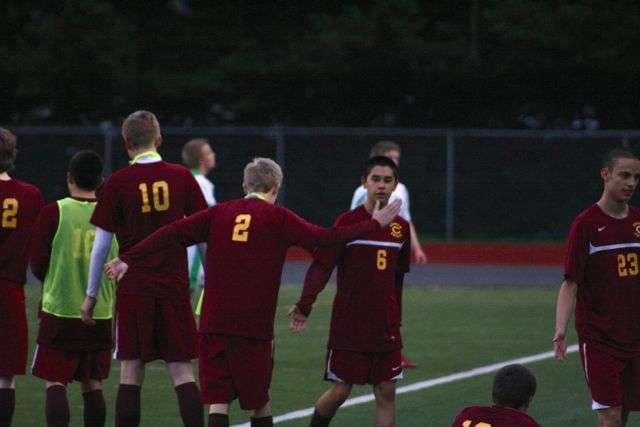 By Tom Rohrer

Wins follow when a team starts with a determined mindset and maintains the ability to have fun.
This has been the case for the Capital High School boys soccer team so far this season.  The Cougars, who were the 3A Narrows League Champions a year ago, are now tied for second place in their first year within the 2A Evergreen League.
The Cougars have been able to remain on course for the district playoffs despite the fact that they only returned three starters.  Last year's team was knocked out in the first round of the 3A State Playoffs by Mount Vernon High School.
Sitting with a 5-2 record in league play, Capital has a slew of impressive wins on their resume, including a 3-2 overtime victory over Aberdeen, who at that point was the number one 2A team in the state.
With only four games to go in the regular season, which includes a finale match against Aberdeen, CHS coach Kyle Jones is happy with his team's performance to this point of the season, and believes they have the potential to play even better.
"I've been very impressed with the guys all year, and it's a team that knows they still have the opportunity to accomplish a lot," Jones said. "At this point of the season, it's all about hitting our stride going into (the District) tournament, and if we can get in that groove, there's an opportunity for us to be successful."
Among the 18 players on the CHS roster, only four (Tyler Sharp, Benedikt Thurnher, David Bunge and Daniel Garcia-Martin) are seniors, with the majority of the team comprised of juniors and four other underclassman.  This reliance on young players in key positions has not phased the Cougars, nor their always positive coach.
"The younger guys have been great," said junior forward Nick Boatright.  "I've been impressed with how hard they work and they're only getting better."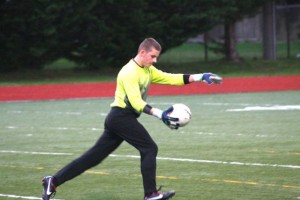 "For a group of kids this age to be playing as much as they are and as well as they have, it's impressive," Jones said.
That's not to say that Jones doesn't rely on his upperclassman.  Along with Boatright, who Jones describes as another coach on the field, the Cougars are paced by, among others, junior midfielders Kellen O'Neil and Aidan Klemmer.
"Nick really controls the group and is such a calming presence and Kellen, like Nick, has that great ability to distribute.  He also has the leg to score right outside the 18 yard line," said Jones.  "With those two in the midfield, things really open up for Aiden Klemmer. I would say he's our most dangerous player……he's so hard-nosed and tough to defend."
"I really like to take advantage of throw-ins and stoppages, just to talk to the guys," Boatright said. "Most of the time on the field, if I see something, I let everyone know."
The Cougars rely on the mid-fielders to control the neutral zone and consistently retain possession of the ball.  When the time is right, Jones wants his team to attack the defense and capitalize on scoring opportunities.
"I think we really want to be a possession team, keep the ball as much as possible, and then attack at the right times," Jones said. "This is what we need to keep working on during our remaining regular season games."
Each league game presented the Cougars with the challenge of unfamiliarity.  While they now play against local schools, such as Tumwater, Black Hills and River Ridge, the Cougars had to transition to a new, and arguably, tougher league.
"From what I've seen it's a lot more competitive," Jones said. "And I think the kids enjoy that, and enjoy that consistent challenge."
A challenging schedule can wear a team down, especially a younger one.  But the Cougars, thanks to their high level of team camaraderie, go into each game with a focused, yet loose attitude.
"It's nice to be a on a team where it's not all serious all the time, but we still can get focused," O'Neil said. "We're good at balancing that, not getting too into the soccer part, having fun, but still playing hard."
"Our kids are very coachable, tight knit, and I think everyone fills an individual role," Jones added.
Despite the team's high spirits and strong play at this point of the season, the members from last year's team know how quickly a season can end, and are looking for redemption in this year's postseason.
"You always want to play well, but we want a chance to make up for what happened last year," O'Neil said about the extra motivation provided by the season ending loss to Mount Vernon.  "We want some revenge for getting knocked out early."
Regardless of this seasons outcome, Jones is happy to be in charge of such a deep and talented program, and his positive attitude has rubbed off on his players.
"He is always looking for the positive thing, encouraging us, telling us what we need to be successful," Boatright said. "He's fun to play for."
"I just like where our program is at as a whole.  Our JV team is playing great right now, and I think a lot of those guys could start on some varsity teams," Jones said. "Top to bottom, it's just a great, coachable group of guys who play the game the right way."