Luxe for Style is located in a historic stone building, tucked under a navy awning on Washington Street in Downtown Olympia.  But once you walk through the door, the colorful and light-filled interior reflects the true essence of those you'll meet inside.
On the recommendation of a trusted friend, I walked through that door for the first time two years ago.  At that time, I was clinging to my very long hair, thinking that somehow, all that hair made me young.  Having passed 35 "several" years prior, it was time to chop it off.
Enter Luxe For Style's co-owner, Shannon Parker – my personal hair guru.  I asked her to make my hair reflect me…fun, happy, easy.  She had a vision immediately and her capable hands, and sharp scissors, transformed my look and how I felt, that day.   I may have also picked up some cute earrings at the check-out to compliment my new style, but with the affordable prices on their stylish wares, it was an easy splurge.   And out the door I went, feeling fantastic about the "new" me.
My experience isn't unique among Luxe for Style clients, no matter which stylist they see.
Noemi Walston, Megan Healy and Parker founded their salon on the principle that it should be a comfortable, fun, and relaxed space where clients want to come – where they feel connected.   This philosophy, along with the top-notch skills of the six stylists and one receptionist on staff at Luxe, keep customers coming back again and again.   "It's all about our connection to our clients.  We love people and we create friendships with our clients.  We look forward to catching up when they are here," shares Parker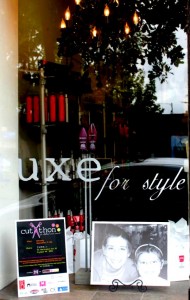 And valuing friendship is how Luxe For Style came to be.  The three owners worked together for years in another salon before striking out on their own.  The women were close friends, both inside and outside of work.  The idea of a new salon grew over time and owning it together appealed to the trio.   Sharing the immense workload and responsibilities of a small, local business was important for these three working moms.
In 2009, Luxe For Style opened its doors and has been growing steadily as a local favorite in the competitive Olympia salon scene.  Earning a Second Place win in the 2012 Best of the South Sound competition has been a highlight, as well as solid validation for the hard work, skills and dedication of the seven amazing women working at Luxe for Style.
The atmosphere in the salon is fantastic, from the amazing chandeliers in the front window and sleek black couches to the fun accessories priced perfectly for a gift for yourself or a friend.  The salon is expansive and bright and has two levels with an open balcony overlooking the lobby.  It's not uncommon to hear the staff calling to each other over the rail, helping each other as needed or just sharing a laugh.  It's real.  They really do like each other, what they do and where they do it.
Luxe For Style is a full service salon offering cuts, color, highlighting, and special event styling.  They also carry Mirabella makeup and love to create a complete look.  Facial waxing, brow tinting and gorgeous hair extensions are also available.  A full profile of their products can be found on their website.   And of course they have fantastic accessories – watches, jewelry, and beautiful scarves.  "Megan and I love to shop," shares Parker, "and now I get to do it for work!"
At Luxe, you can simply get a terrific cut or create a whole new look for yourself.  Walston shares, "For us, it's really about bringing out who you are.  Hair is just the start of it.  Your hair is so personal – it shows what your lifestyle is like, what your day to day journey is.  We can help define that."
And Healy agrees.  "It's not Luxe for Hair," she laughs.  "It's Luxe for Style – we create the whole look and that's why we have accessories and makeup as well.  People love to be pampered and we love to create that whole look for them."
When asked if they work with clients for prom or weddings, the owners smile and share, "Of course – we love prom day. Making the girls look their best is so much fun."   Weddings are also a favorite.  Sharing in a milestone with clients is part of the connection the owners cherish and they are happy to travel, creating your wedding look on-site.  However, book your appointments for these big events well in advance as the Luxe team is in demand!
While they love making their clients look and feel terrific, the owners are also dedicated to giving back to their community.  Three years ago, Walston approached her co-owners with an idea to raise money for childhood cancer through a Cut-A-Thon.  They loved the idea and in September of 2010 the first event was held, raising funds for Friends of Mia and Rhema's Reality – foundations providing financial support to local families affected by childhood cancer.
In the first year, the Cut-A-Thon was a terrific success with all proceeds from the days' cuts going directly to the cause.  Since then, other downtown businesses such as Archibald Sisters, 5th Ave Sandwich Shop, Red Door Interiors, and many more have pledged a percentage of their daily sales to the fundraiser.  Other salons are joining in this year as well.
Connection to their community is fostered through other events as well.  Luxe For Style will participate in the Spring Arts Walk again this year, hosting a local artist as well as creating their famous "Living Mannequins" in their store windows.  These models, sporting avant-garde looks are a favorite among Arts Walk participants.
Luxe also sponsors "Blow Dry Boot Camp" twice a year.  Held on a Thursday night, friends gather for food, drinks, and tips on how to use their own tools, brought from home, to create gorgeous salon styles.  Tickets go FAST, so watch their Facebook Page for upcoming dates.
For me, getting my haircut is like a mini-vacation. And I want to take that vacation with people who are relaxed, having fun, and are going to make me feel terrific about myself.  Luxe for Style is a trip I'll book over and over again.
Luxe For Style
410 Washington Street SE
Olympia, WA 98501
360-754-1600