By Tom Rohrer

What activity combines team camaraderie, an outdoor setting and a challenging, yet low impact, full body workout?
The answer is rowing, and thanks to the Olympia Area Rowing, interested adults have an opportunity to learn (or re-learn) the sport's basics and get out on the water.
Registration is now open for both the Learn to Scull and Learn to Sweep adult rowing courses offered by OAR, a prime opportunity for individuals looking for a rewarding physical activity, in a friendly and structured environment.
When sculling each rower handles two oars in sturdy aero boats called shells.  Shells can hold one, two or four rowers.  The Learn to Scull class takes place over four sessions.  Sweep rowing requires four or eight individuals to each handle one oar while being directed by a coxswain.  The Learn to Sweep class includes seven sessions.
Both of the rowing disciplines have their assorted benefits and may appeal to different people.
"Part of the thing with sculling is that you can go out anytime you want and do it by yourself, and that's appealing to some people.  People can also like the balance of having the two oars," said OAR member Joan Cullen, who describes herself as a 'moonlighting sculler'. "Then the sweep class has that team feel to it.  I personally enjoy both."
Accountability is certainly a required trait in the courses, especially in the sweep class.  The sport builds unity and trust for those participating.
"It's a great workout and also a great social experience, that keeps you accountable," said Brittany Yunker, who rowed for Seattle Pacific University. "If I was just running and it was raining, I could say I'll just go tomorrow and put it off. If I sign-up to row and seven other people do as well, its hurts everybody if I don't show up. I like that kind of responsibility."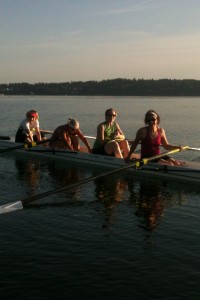 Yunker, who now participates in the OAR's Master's program, took a refresher course two years ago to get back in the groove of the sport she loves.  Once she's out on the water, she is reminded how much rowing means to her.
"I always say, would I rather be on the treadmill or running by myself, or be out on the water, seeing the bay up close?" Yunker said. "It's an easy decision."
While Yunker was an experienced rower prior to her participation in an OAR class, a majority of individuals who have undertaken the class are novices within the sport.  During the first session of each class, instructors go over safety precautions, how to handle and carry a boat and what to do in case the boat flips (or other safety scenarios).  Then, students are instructed on rowing techniques.  Those skills are put to use on an on-land rowing machine.   On the first night of sculling class, the participants are taken to the Valley Athletic Club, where a boat is put in the water and flipped (with the novice rowers on board) so that the class can learn how to handle the situation before heading out on the choppier waters of the Puget Sound.
Following the necessary safety instructions, the classes continue with a focus on technique and gradually offer advanced instructions.
"It's just like any course or starting any new sport," said Gretchen Van Dusen, a member of OAR since 2001.  "Everything gets more advanced and challenging and in reality, more fun and enjoyable."
While rowing is a challenging sport that requires physical exertion, the classes offered by OAR are not designed for seasoned veterans of the sport.
"For a lot of people, the only rowers they've seen have been in the Olympics or their college roommate that got up at 5 am five days a week," Van Dusen said. "These classes bring together adults that want to stay physically active, work hard, but still enjoy themselves and take part in the social aspect."
Unlike other full body workouts, rowing is relatively gentle on the body, and does not put stressful impact on joints.
"I was a runner for years, which eventually hurt my knees to the point I couldn't do it anymore," said Cullen, whose daughter Helen Kramer was a member of  University of Washington crew team.  "Rowing, it's a hard workout, but it's gentle on the body and is a great full body workout."
The fitness aspect is certainly appealing to those involved in the sport, but it may be the scenic sites in Olympia that is most enjoyable.
"I hear from our rowers that being on the water, seeing birds and seals, is their favorite part of rowing," Van Dusen said. "I can certainly understand that."
To learn more about the sweep rowing class, click here.  For information about the sculling class, visit this page.   Classes continue throughout the summer.  Olympia Area Rowing noted they're looking for coxswains to participate the program.  More info can be found here.