By Tom Rohrer

Baseball, like all other sports, is an extremely simple game, and yet, at the same time, is extremely complicated.
A pitcher throws the ball to the catcher, the batter swings, and a result happens, whether it's a strike or a hit.
However, there are many other factors going on at each moment – what type of pitch was thrown, how far is the base runner leading off first base, what gap is opened up by an outfielder shift?
The amount of information continually processed is staggering, and, in most situations, doesn't allow for thoughts involving life outside the diamond to creep in.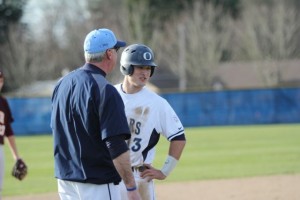 This is not the case for the 2013 Olympia High School baseball team, the school's first team not led (on the field) by Coach Todd McDougall since 1993.
McDougall was diagnosed with a brain tumor in December and has been undergoing extreme treatment ever since, leaving the OHS baseball team in the hands of longtime assistant, and former head coach, Greg Creighton.   Creighton will serve as interim coach this season, with the title of head coach still belonging to McDougall.
As five time defending 4A Narrows League champions, Olympia appears to have all the necessary talent required to make a run at another league title and deep into the playoffs.  However, they must cope with their coach's illness together, one day and game at a time.
"We can't fill Todd's shoes, and we're not Todd unfortunately," Creighton said during a OHS practice last week. "One of the things we talk about is what Coach McDougall would do in this situation, because he knows what he wanted and the kids always responded to that."
"It's obviously a sad situation, but it's something that the team can rally around and gives us a driving force," said senior outfielder Joey Knight. "We have the goal of winning the state championship, winning for us and coach."
Knight is one of six returning first or second team All Narrows League performers for OHS, including seniors Gabe Padukiewicz, Cameron Frost, Leo Valenti and Michael Fairchild and junior Leif Hansen.  This experienced talent base gives Creighton a lot of optimism heading forward in 2013.  The Bears must stay focused in order to make a deep playoff run, something they did not accomplish last year.
"Historically, we do really well in the league, and when we get to the South Puget Sound League (for postseason play) we struggle," Creighton said. "We played Puyallup and Emerald Ridge already, and we can see, we're not quite there yet.  And that's good, we can make improvements and work to get there."
"I think we're getting there," Valenti said. "Playing those games already is huge for our development, and we still have that potential to grow."
Having such a balanced roster with high level collegiate talent (Frost is committed to play for Washington State University next year) gives the Bears confidence.  They know that on any given day, it could be any player that comes up with a clutch hit, a big catch or a heads up play running the bases.
"It's tremendous to know that if I can't get the job done, I've got a host of guys behind me that can," Knight said.
"This team is just filled with guys with baseball knowledge and talent," said Fairchild.  "Everyone knows the game, and having that confidence in each other is half the battle."
Across all sports, Olympia High School has a reputation for high level performance, which can go to an athlete's head and lead to uninspired performance.  This is not the case for the Bears baseball team, as Creighton knows the squad is willing to put in the work to live up to that high standard.
"Some kids come in and think 'hey we're Olympia, we'll be ok', and they don't put in the work," Creighton said. "There is a tradition, and it has to be earned every year.  The guys on this team, they have an inner drive to be the best they can be."
Already equipped with a strong inner drive, it appears the Bears will have extra motivation all year long, as the game will give them the therapeutic opportunity to play for their ailing coach all season long.
"I think the whole thing is showing what this team is all about, how we care for each other," said Hansen.
"We're like a family," Fairchild added.  "It's nice to get out and play, and that gets your mind away from everything somewhat, but you'll always care about the well-being of someone in your family.  We're just trying to play the best we can, as hard as we can, because we know that's what coach wants."
For more information on the Olympia High School baseball team and how to help coach McDougall in his fight against cancer, click here.