By Tom Rohrer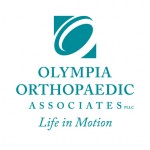 Team chemistry + talent + work ethic = a successful team.
The Olympia High School Drill team places a check mark in each category when they participate in this weekend's 2013 WIAA Dance/Drill Championships in the Pom category.
Headed to Yakima's Sun Dome, Saturday's performance will be the first time back for OHS since 2011.
Coaches and OHS drill team alumni, Tosha Vay and Chelsea Peterson maintain a high sense of pride in their team.  Both coaches are in their second year leading the team.
"It's crazy to think about, because when we went here, there wasn't a district (tournament) and no state championship to qualify for," Vay said.
"We love this school, and have grown to love this group of girls," said Peterson.  "
We are just as excited as them to make it this far."
The excitement is the byproduct of months of hard work for the Bears team, which began practicing in the summer prior to the start of the school year.  The Pom category requires concentration and a high level of physical fitness.
According to the WIAA official website, the Pom category is designed to "emphasize the visual impact of the Poms," and that "the focus on Poms is primary in choreograph."
The coaches believe the event to be almost a contradiction in it's style.
"Your body, especially your arms, have to be stiff, rigid and precise with the movements," said Peterson.  "But at the same time, you have to make it look effortless.  And then of course, you have to have everything memorized exactly.  For those who call this an activity, not a sport, they don't realize how tough physically (drill team) is."
Thanks to extreme training sessions (and of course, lots of practice) the OHS team is now physically able to perform their routine.  Along the way, the team became closer.
"I think it's what really brought us together," said Brittani Bible, a junior and team captain. "You put in all that work, and you go through a lot of challenges together, and really, you come out of them together.  This team is so close, it's like a bunch of sisters."
Bible is the only member of the current OHS team who has been to the state championships.  While she didn't participate in the routine (she traveled with the team to Yakima in 2011), Bible knows what to expect and has passed that knowledge on to her teammates.
"It's big, that's all I tell the girls," Bible said. "It's a big stage, lots of people.  But it's an exciting time, not a time to get nervous."
The team is comprised of mostly freshmen and sophomores, which can be a blessing or a curse for any coach.  On one hand, they have several more years on the team; on the other, they do not necessarily have all the appropriate experience.
That's where the leadership from Bible, and her two co-captains, Maila Feleti and Sarah Mills comes in.
"Like every dancer, you will  get nervous, that's part of it," said Feleti.  "But I tell everyone, we're all nervous, and we're in this together."
"You try to just tell the girls to have fun," Mills said. "That's what it should be about."
"This sport is all about being in the moment," Peterson said. "It's all about the here and now and rising to the present time."
One individual on the OHS dance team will have quite a moment at the championships, as she qualified for the 'Drill Down' competition, which involves an official "caller" giving out instructions on certain moves the participants have to perform on the spot.  Contestants will be judged on their ability to perform the correct movements in a timely fashion.
Ellie Yoho, a sophomore, is one of the top thirty qualifiers at the 4A level who will participate in the event, and is looking forward to the individual challenge.
"It is a little weird. I'm used to having my team, but it's just a great feeling to represent my school," Yoho said. "But honestly, I wouldn't be here without my coaches."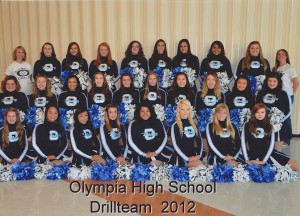 Yoho's appreciation for her coaches is a common trait on the OHS team, as they've brought up the competitive level and the camaraderie of the team.
"I call them my second moms," said Mills. "They're both married, have kids, jobs, and they still make time to be here.  Really they're an inspiration on how to live the rest of my life."
"Wow what can I say about them," Bible said. "They're the best, plain and simple."
To be the best in the state, the team will have to put forth their best performance of the year, a task that both dancers and coaches think is very likely.
"I think we can do very well, I know the girls are ready for the moment," Vay said. "It's not too big for them."
"As a senior, the only senior, I want to leave a legacy on this team and an impression for the years to come," Feleti said.  "This is the time to do that."