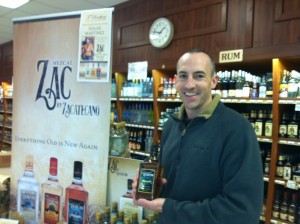 In a five minute chat with Andy Thielen, I was educated about tequila.  I learned that the distilled beverage from the blue agave plant, must be made in the western Mexican state of Jalisco.  It's primarily produced in the area surrounding the city of Tequila which is about 40 miles northwest of Guadalajara.
Any similar liquor produced outside this area may not be labeled tequila and is instead called mezcal.
Mexican farmers plant, tend and harvest the agave plant in a manual system largely unchanged by modern farm machinery.  Harvesters, called jimadores, have intimate knowledge that has been passed down from generation to generation.
But Andy Thielen, co-owner of T Brothers Liquor and Wine Lodge, wants to talk about one specific brand of tequila – El Zacatecano (or affectionately known as ZAC Mezcal).
Sports enthusiasts and tequila connoisseurs alike – take notice.
On Saturday, March 23, fans (of both baseball and tequila) will flock to T Brothers for a chance to meet retired Seattle Mariners super star Edgar Martinez.
The 7-time All-Star will be signing bottles of his own tequila – ZAC Mezcal.
Martinez and hair salon mogul, Gene Juarez, are investors in the Mexican liquor.  "The liquor has been around for over 100 years," explains Thielen.  "Martinez and Juarez were instrumental in bringing it to the United States."
ZAC Mezcal is produced in three varieties: blanco, reposado, and anejo.  The blanco has been aged for less than two months while the reposado has been aged for more than two months.  The premium variety is the anejo which ages for at least a year, getting darker as it sits in the casks and according to Thielen, improving in taste.
Martinez's ZAC Mezcal is almost as famous as he is.  At the 2010 San Francisco World Spirits Competition, the anejo earned a Double Gold first place prize.
T Brothers invites customers to purchase a bottle of ZAC Mezcal for Martinez to sign.  "Bring the kids with you," encourages Thielen.  "Martinez will sign your bottle.  We'll take pictures and you can chat with him."
While there are no promises of signing baseball memorabilia, Thielen stresses that it's an event suitable for the whole family.
Thielen is enthusiastic about Martinez's visit to Olympia to promote his liquor.  "Only a handful of liquor stores and restaurants in Washington and California have this opportunity," states Thielen.
Swing by T Brothers on Saturday, March 23 from 4:00 – 6:00 pm.
T Brothers Liquor and Wine Lodge
417 Plum St
Olympia, WA 98501
360.539.7978