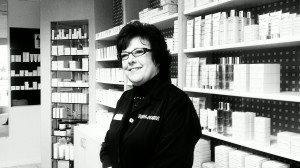 It is a new year and many of us have set goals of spending less, working out a little more, maintaining a healthier diet, and perhaps even updating our appearance with the help of cosmetics and skin care products at an Olympia day spa. We also want to achieve these lofty goals in a way that supports local businesses and with products made in the United States.
Sure, we can spend less, eat local foods, and perhaps work out at a locally owned gym, but cosmetics? No way! Well, at least that is what I thought before I talked to Madelin White, owner of Lacey-based Merle Norman Cosmetics, Wigs, and Day Spa. She quickly set me straight.
Founded in 1931 by a chemist, the product line is hypo-allergenic and not tested on animals. Each storefront, including Madelin's, is locally owned and operated. Product manufacturing takes place in Los Angeles. So, buy Merle Norman Cosmetics, Wigs, and Day Spa Cosmetics and you support a local business and product produced in the United States. How is that for achieving your New Year's resolutions!
A Thurston County Business for 39 Years
Madelin and her father started the business 39 years ago. Her father survived The Great Depression and insisted that there were only two businesses that would survive economic downturns: taverns and beauty shops. They did not want to own a tavern, so decided that a business that sold beauty products or services was their best bet. "We decided on Merle Norman Cosmetics, Wigs, and Day Spa because I have horrible allergies, and it was the first product that I could use," she said.
Since opening the store it has survived seven recessions. Today her business continues to be strong, even during the recent downturn, due in part to the excellent service that she provides. "This is how I built the business and why it continues strong to this day. I have clients that have been with me for 39 years. I often help those client's grandchildren as well. My clients have become part of my family," said Madelin.
Madelin is also very active in the community. Every month Madelin teaches a class for cancer patients called Look Good, Feel Better. "I try to help them learn how to camouflage for issues that result from cancer treatment. We try and get them to have a good time during a hard time," she said.
Madelin is the President of the Board for Family Education and Support Services. She is also Vice President of the Lacey Chamber of Commerce and serves as Past President on the Board of Directors for Washington Retail Association. Madelin also knows how to have fun. "I jumped out of a plane last year. My parachute didn't open, so I had to use the alternate parachute. I  have jumped off cliffs. I am a goofy person and I have fun in life," she said. This approach to life is also present at Merle Norman Cosmetics, Wigs, and Day Spa. She creates a fun atmosphere for her clients and her staff.
Trends in Beauty: Admitting We Need Help & Men are Getting in on Skin Care
Beauty trends change every year, and Madelin said there are two that have emerged in the last few years. The first is that people realize they need to take better care of their skin. Boomers are trying to reverse sun damage, but young people are also working hard to take care of what they have. This just wasn't as important ten years ago.
More people also come into the shop asking the staff to help them copy a look that they find on the Internet. The staff is very capable of creating a copycat look, but they prefer a different approach. "When people come in asking to mimic a look we prefer to help them find their own look, a style that is unique to them," said Erika, an esthetician at Merle Norman Cosmetics, Wigs, and Day Spa.
Men are also becoming more aware of the benefits of great skin care product and regimen. "I have a State Senator who comes in every year to stock up on his skin care products. The other guys usually just ask their wives to pick up the product when they come in for themselves," she said.
Not Just Skin Care
Clients also enjoy that Merle Norman Cosmetics, Wigs, and Day Spa is a full-service salon. There are hair stylists on staff, as well as estheticians for waxing and facials as well as manicures and pedicures.
Wigs sales comprise a large portion of Madelin's business. Many clients are going through chemotherapy, but a new trend is wigs for the businesswoman who travels a lot. Woman love wigs because there is no styling involved. Wigs are also a great way to try a new hair style or different color when you don't want to change your own hair.
Five Things to Know about Lacey-Based Merle Norman Cosmetics, Wigs, and Day Spa:
Locally owned.
Made in the United States
Never tested on animals
Full service salon, including hair, make-up, skin care, manicures, pedicures, waxing and wigs.
Test-drive the product and experience great service when you come in for a free

make-over

. This is the best way to make sure you'll enjoy the product for years to come.
Merle Norman Cosmetics, Wigs and Day Spa
801 Sleater Kinney Rd SE, Suite 4
Lacey, WA 98503
360.491.4911