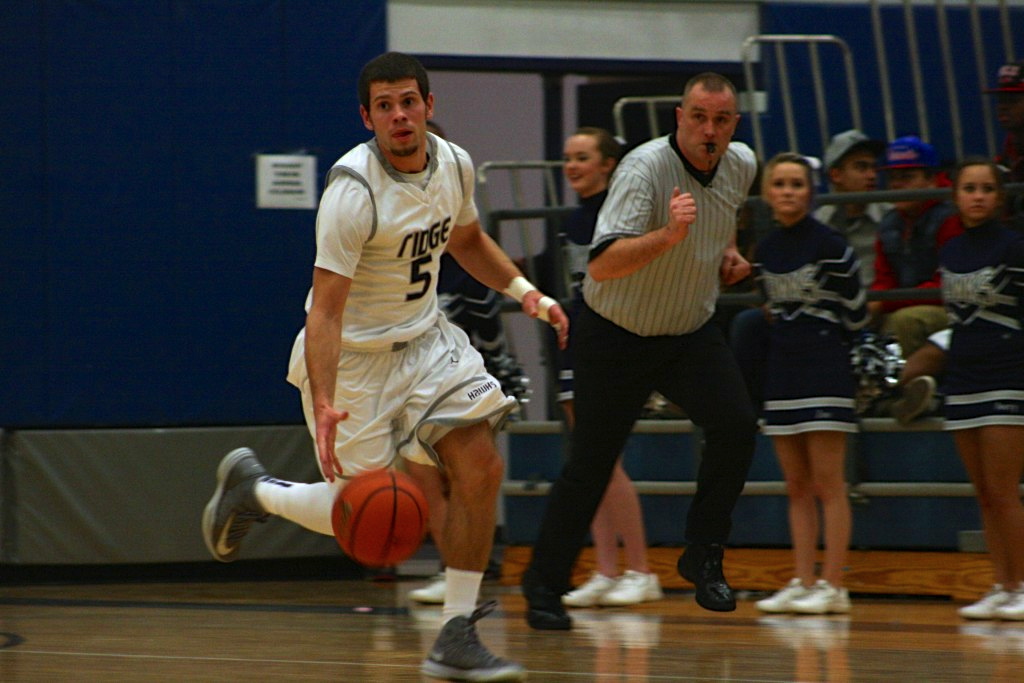 By Tom Rohrer

Amidst the chaos inside the Washougal High School gymnasium, the River Ridge High School boy's basketball team remained calm under pressure.
The Hawks, winner of 12 straight games prior to the first round matchup against the Panthers in the 2A District IV basketball tournament last weekend, were able to pull together in the difficult environment and eek out a 54-51 victory.
"There was one point in the game where we were at a timeout and I told the guys to look around and that it doesn't get any better than this," said Hawks first year head coach John Barbee.  "I said that we were in enemy territory but it doesn't get better than this.  What a great environment to play in and our guys really stepped up and made plays."
The Hawks parlayed that victory into a win over league foe W.F. West on Wednesday, Feb. 13, defeating the Bearcats 46-39.  Now, River Ridge will take on Mark Morris High School on Friday, Feb. 15, at 8 p.m. at Saint Martin's University for the district title.  By making the championship game, the Hawks will automatically move on to the regional round of the 2A state playoffs.
Maybe the biggest play of that victory at Washougal was by spectacular senior Brad Wallace, who hit a three pointer with less than two seconds left to give the Hawks the victory.  Wallace is the 2A Evergreen Conference Player of the Year and enjoyed playing in the hostile environment.  Barbee is happy that he has the opportunity to coach such a player.
"The atmosphere was crazy, you couldn't even hear a play called, and we had to come together as a team," Wallace said.  "Winning that game means a lot, means that we can go anywhere and win."
"I've been coaching for 18 years and 'Brad Wallace's' don't come along very often," Barbee said. "And he does everything. If he needs to score, he will score. He can pass, rebound, defend, and is just an all- around player."
While he is the main focus of opposing defenses, the Hawks are clearly more than just Wallace, as evident by their 13 game winning streak and their 15-6 overall record.  However, things were not always going so smoothly, and at one point the Hawks were 2-6 with a 0-3 record in league.
Following tough losses to W.F. West, Capital and Centralia respectively in mid-December, the Hawks began their run, winning two non-league games over the holiday break over Hazen and Mt. Tahoma.  In Barbee's opinion, the success in late December was the beginning of the Hawks coming together more as a team.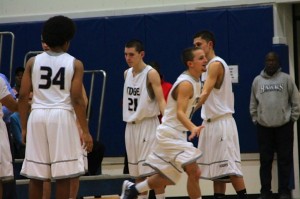 "I really think games over Christmas break were the key," Barbee said. "Now I think trust and the guys trusting a first year coach who got the job late has improved.  Obviously winning helps, but just the all-around buy-in attitude has helped."
"The first three games, the trust wasn't there," Wallace said.  "We were able to bring it together, and now we have lots of confidence."
The Hawks, considered a short team by high school standards, rely on their speed and athleticism to make things difficult on their opponents.  Defensively, River Ridge applies high pressure defense on the post, which is spearheaded by sophomore post Austin Parker and senior do-everything Wesley Coats.  Parker uses his length and terrific jumping ability to provide a presence in the lane, while Coats, at 6'2″, uses his strength to scrap with taller opponents.
"One of the keys in our defense is our ability to defend the post.  Austin Parker is obviously a big strong, athletic player but we're pretty small, and a guy like Wesley Coats who is 6'2″ is guarding guys 6'5″ and 6'6″," Barbee said. "Those guys are our catalyst defensively."
"I focus on defense and make sure we keep the ball out of the post, and if there are any middle drives, I'll be there to help," Parker said.
"I think we all have to work together.  It's not just on me or anyone else and when we play as a team, that's when we're great," Coats said.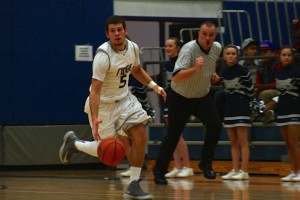 Offensively the Hawks look for any opportunity to run and get easy baskets in transition.
"We like to pressure the other team because we like to play fast and that gets us easy baskets," Wallace said.  "We're probably one of the most athletic teams around, and we need to use that to our advantage."
"I always tell our teammates to run the court because we've got that ability and that's our strength," Coats said.
In the postseason however, the game is known to slow down considerably and Barbee believes his team has improved its execution enough to keep their winning streak going.
"I think we're running a lot more plays now," Barbee said. "We still have the element of surprise and haven't shown all our cards so to speak."
Barbee and his coaching staff, which includes Nate Menefee, the former all-state guard at Timberline High School who later became an NAIA All-American while playing for the Evergreen State College under Barbee, have earned the trust and admiration of the team.
"I mean they're amazing, and I think we have the best coaching staff," Coats said. "They're constantly pushing us, making us work to get better and take a lot of pride in getting to know us.  It's like a family."
Against bigger teams down the road in the playoffs, the Hawks will need to focus on controlling the pace of the game and the paint.
"It all plays out to who is bigger in the post," Parker said. "We just need to take care of our business."