By Tom Rohrer

Rod Thomas, the head girls basketball coach at Northwest Christian High School, cannot find enough words to describe the dynamic play of two of his best players.
"They always seem to know where each other will be on the floor, no matter what," Thomas said. "Sometimes, it's almost spooky how easy they make it look."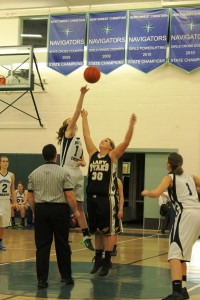 Thomas is describing the play of sisters Emily and Megan VanMarter, who together have helped push the Navigators to an appearance in the 2B district playoffs following a 10-7 campaign in the regular season.
Emily, a junior, and Megan, a sophomore, are in their second season playing together on the Navigators varsity team.  The sisters are joined by their father Travis, an assistant coach for the team.
So far this season, the two sisters and their coach are noticing the improvements in their game.
"Both have improved confidence in their shooting, and to be a good shooter, that's the most important thing," Thomas said.
"When I first started playing, I wasn't very aggressive and was still a little shy," Megan VanMarter said. "Now I feel I'm a lot more aggressive in all aspects."
"I've noticed my shooting has gotten considerably better and the key is the hours and hours my dad worked with me," Emily VanMarter said. "When I first started shooting, I didn't have any form and my father would have me work on that and go through thousands of shots."
For some athletes, playing under their parent would be an unwanted tribulation.  However, the pressure that stems from their father has helped mold them into better players and people.  Thomas noted that Travis VanMarter was a great coach to work with, and his two daughters said that he's been a volunteer or assistant coach on all of their teams growing up.
"It's intense for each of us because we not only impress him as a coach, but as a dad, and you want to make your dad proud with everything you do," said Emily VanMarter.  "It does add a little more pressure, but it's a good pressure, and it's something we really are enjoying."
When the pressure increases during a game, Coach Thomas knows that he can rely on the two sisters.
"With both Megan and Emily, when the pressure time of the game comes, I rely on them to go with the flow of the game and make plays," Thomas said. "It's a huge luxury to have."
With only eight players on the roster, the VanMarter's must take on multiples roles and play various positions each game.  As the season has gone on, the level of play in the two has increased, which in turn has led to more wins for the Navigators.
"They are the most versatile girls I have on the team and really, they play every position other than point guard, and even Emily has done that," Thomas said. "They have really stepped up, and it's a testament to their skill because it's not easy to play all those positions.
"I've noticed we've been scoring more, rebounding more and things like that, and really, I think it's because we want to win and help our teammates so much and that we will do whatever it take," Megan VanMarter said.
During Navigator games, it's not uncommon for the crowd to be oohed and ahhh'd by the two sisters, something both players and coach are surprised with as well.
"Probably the thing I enjoy most is just the way a lot of people are amazed by a play we make together," Emily VanMarter said.  "Sometimes we'll do things we won't even expect that no one would really notice. That's my favorite part, doing things almost instinctively."
"It's great to see how much they respect each other all the time," Thomas said. "There's not that sibling rivalry and they're literally having fun playing together. It's fun having them on the team and you do hear the crowd and the fans talk about them a lot."
Like all siblings, the VanMarter's have some competiveness between each other, something that has helped push both of them to become better players (through thousands of driveway one-on-one games), and brought them closer as sisters.
"We've always just played together and always tried to compete against each other," Megan VanMarter said. "The first year (as a freshmen) I felt more competitive against her and needed to prove myself more.  That was hard, but I realized we're teammates and that we can accomplish great things together."
"Honestly, she will always be my sister first and I will always be her biggest fan. I'm sure she would say the same things about me," Emily VanMarter said.  "But as sisters, we were able to push each other, which in turn helped us improve our weaknesses."
Thomas has noticed those weaknesses decrease over the last few years, and in turn, has noticed an increase in leadership from the two.   The influence of the two has helped the Navigators maintain a high level of sportsmanship and team morale.
"Honestly, they're both such high character kids, as is the rest of the team," Thomas said.  "This is a real bonded team, and the girls make sure that it stays that way.  I've had coaches and fans from other schools compliment our girls on their sportsmanship and attitude.  As a coach, there is nothing better than that."
While the individual accolades and statistics will keep coming to the VanMarter sisters, they remain focused on the upcoming playoff tournaments.
"We just want to win and that comes from playing hard," Megan VanMarter said.
"I think the attitude is the same across the board for everyone, and that is playing together, and playing hard," Emily VanMarter said. "We are confident that if we do those things, we can be successful."
The Northwest Christian Girls Basketball team earned the number four seed in the district playoffs and will play their first District Tournament game on Wednesday, Feb. 6, against Toutle Lake at Montesano High School.