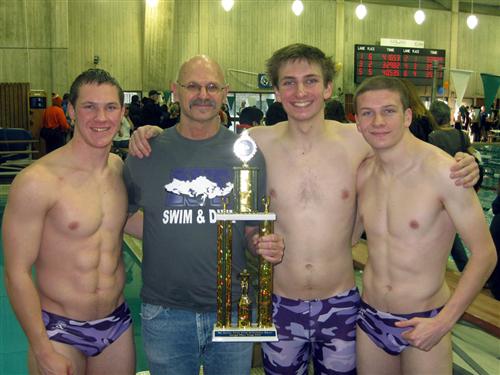 By Tom Rohrer

It appears that Jak Ayres has gone full circle.
Ayres is the longtime head coach of North Thurston High School's boys and girls swim teams.  His 1972 team captain, Mark Lynn, would go on to attend the United States Naval Academy in Annapolis, MD.  In 1975, Mark's brother Larry was the Ram's team captain, and led North Thurston to the state championship.  Like his older brother, Larry chose to attend the Naval Academy.
Now, 40 years later, Ayres has another strong team captain bound for the Naval Academy, and a well-rounded team that could have an impact on the approaching district and state tournaments.
Seventeen individuals returned from last year's District Championship team, who finished 3rd at state in the 2A level.  Armed with 38 swimmers, and 3 divers, Ayres has his biggest team yet, and is confident in his athlete's ability to compete and win at the 3A level.  At the 3A Narrows League Championships this past weekend, the Rams won the team title by over 100 points, tallying 360 of their own.
Fifteen swimmers and divers qualified for individual events at the District 3 championship, which will be held at Hazen High School February 8 and 9.  With 27 consecutive victories in dual meets, and a host of experienced swimmers across the roster, Ayres has reason to display that confidence.
"It's been fun to watch them this year and the older guys throughout their careers here," Ayres said. "There is just a bunch of strength and power and a lot of leadership.  This senior class and the upperclassman are very dedicated and there are a bunch of guys who've stepped into leadership roles."
One of those seniors is Tyler Ridgeway, a standout baseball player for North Thurston, a team captain on the swim team and four time state participant.  After much deliberation, Ridgeway has made a decision to attend the United States Naval Academy next fall.  Despite the distractions of the application process, Ridgeway remains focused on his role on the swimming team.
"I'm really excited to (attend the United States Naval Academy).   I went to visit, fell in love with campus and what it represents and the opportunities it presents to me," said Ridgeway, who won the Narrows League title in the 100 fly.
"I like where we are at right now in the season," Ridgeway continued.  "We've been able to perform extremely well and this is an important part of the season.  No one seems to have lost their edge."
Ridgeway is a member of the Rams state qualifying 200 meter freestyle relay, where he is joined by fellow senior Scott Harn.  Joining the two as past state participants are seniors Nathan Anderson, Matthew Brickey and Brady Neeley,  and sophomores Connor Ridgeway, Tyler's younger brother and Naveed Johnson.  Senior diver Jordan Agtarap and junior Tanner Holmes both competed in the state diving meet last season.
Harn, who has also competed at the state meet before, has additionally qualified in the 50 meter freestyle, a hectic event that leaves little room for error.  "It's a crazy event and the important things are little things – the start, turns," Harn said. "You can't do pace fifties, you just have to do it as fast as you can."  Harn took first in the event at the league championships.
While the individual event has its benefits, the senior duo and their coach enjoy the team aspect of the relays.
"Relays are super exciting. It's fun to compete with the guys and fortunately, we have a great group of guys," Harn noted.
"Coach (Ayres) really stresses believing in ourselves and our teammates, and the relays, that is what it's all about," said Ridgeway, who competes with his brother on North Thurston's 200-meter medley relay.
"It's such an individual sport, and it requires personal drive to become successful," Ayres said. "But the relays, it's a team effort and I think the guys enjoy competing together."
Having a team full of talented and hard-working swimmers has pushed the state bound seniors to new heights.  The streak of dual meet victories adds even more motivation to win.
"We're all trying to race each other and get the best time," Harn said.  "It gives us more motivation and I don't know if we would be as fast if there were just a couple fast guys."
"I mean, the first meet against Olympia, when we were behind, we took everyone in the locker room to get fired up and we ended up winning," Ridgeway said. "I hate to lose more than I like to win and I think a lot of guys share that mindset."
In that December 6th  victory over Olympia, North Thurston defeated the Bears 93-90, by far the closet dual meets the Rams have been a part of this season.  Against the Bears, Ridgeway was part of the winning teams in both the 200-meter medley (with Harn) and the 200-meter freestyle, which Harn did not swim on that day.  In addition to Ridgeway's performance,  Harn was victorious in the 100-meter and 50-meter freestyle races.  The performance and leadership displayed by the two has been huge for the team.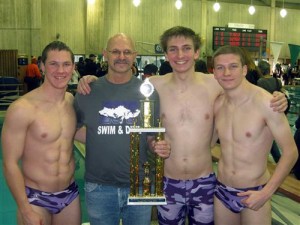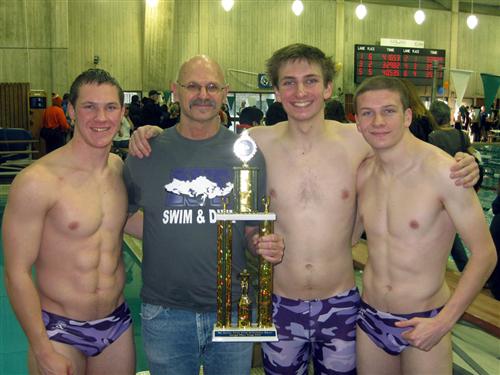 "They have both just gotten stronger, faster, more determined as they have gotten older," Ayres said.  "It motivates the other guys in their class and the younger guys on the team to keep pace."
While the two have accomplished a lot over the last four years, they both have their eye on the state meet, which will be held at the King County Aquatic Center in Federal Way, a world-wide renowned facility that has been the site for Olympic qualifying events.
"It's a totally different meet, because you have teams from all over the state and the pool is an Olympic pool," Harn said. "It's just an insane layout and you think about all the athletes that have competed there over the years."
"You can just feel the history walking around there and being able to swim in the same pool as champions, the best swimmers in the world, words can't even describe it," said Ridgeway.
Both Harn and Ridgeway have been able to ascend to the state meet thanks in large part to their coach.
"I feel like we have the best coach we could have and I cannot even imagine where we all would be without him," Ridgeway said.
"He stresses never giving up and he really has that influence over me and the rest of the guys," Harn said.
The North Thurston High School boys swimming team will compete in the district championships on Saturday, Feb. 8th at Hazen High School and the State Championship meet at the King County Aquatic Center on Friday, Feb. 15 and Saturday, Feb. 16.