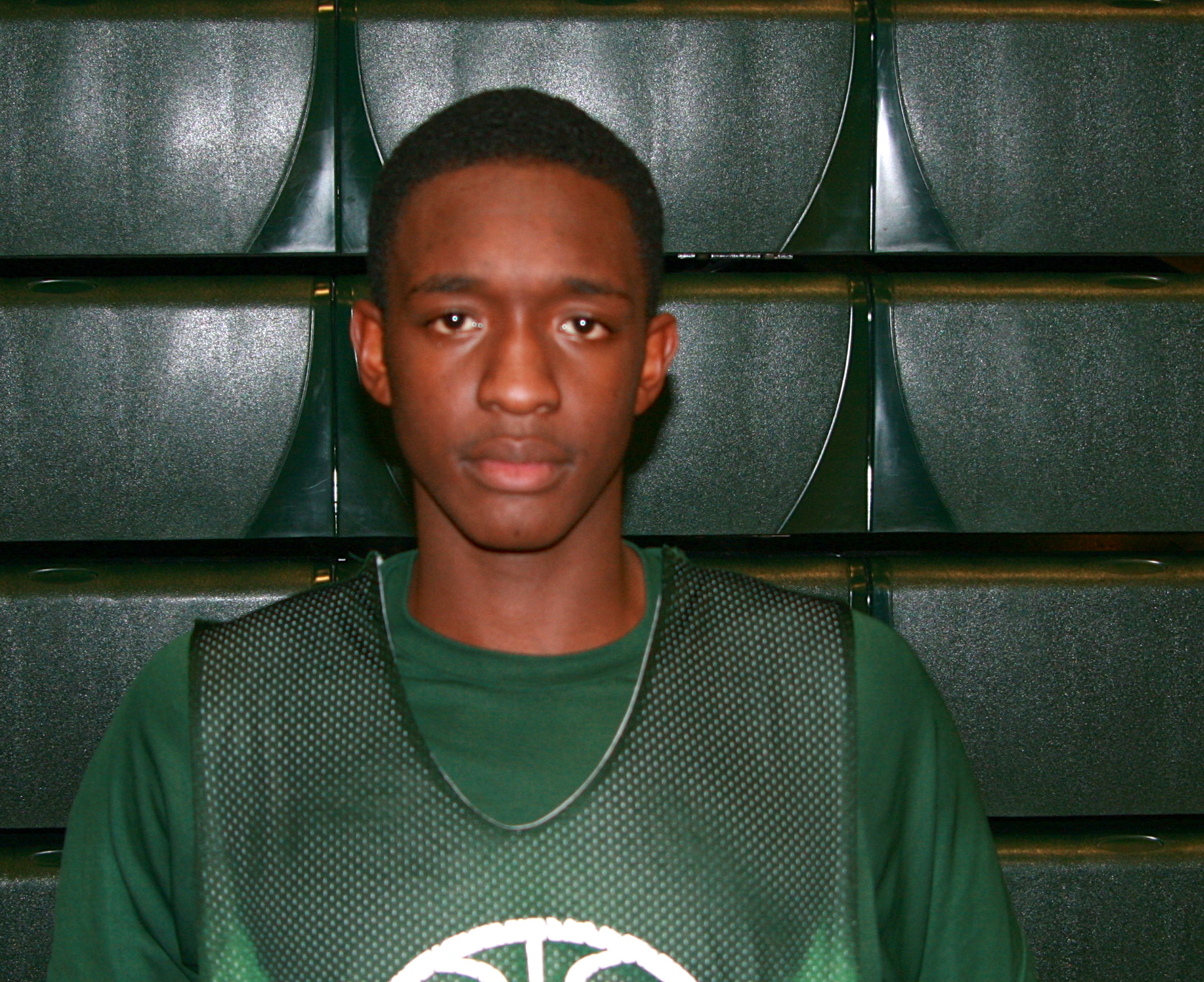 By Tom Rohrer
The Thurston County area has produced its fair share of high level male basketball players in the last two decades.
Former Olympia High School stars Mark Bigelow and Kelly Golob went on to play basketball at BYU and Northern Arizona respectively, while Capital's Mike Fey took his seven-foot frame to UCLA.  North Thurston's Colton Monti followed up his prolific high school career at Central Washington University and Clarence Trent, who played a season at River Ridge High School, currently is a forward for the Redhawks at Seattle University.
Who is next in line from Thurston County?  It may be Timberline High School junior Donaven Dorsey, a lengthy 6-foot-6 wing, who has received scholarship offers from in state powers, and continues to garner interest from other universities on the west coast.
"Washington State, Gonzaga, Oregon State all have offered me and Portland State was the first school to offer me a scholarship," Dorsey said following a Blazer practice this week. "(The University of Washington) actually offered me a couple of days ago.  It's exciting to get these offers, but at the same time, I feel like I need to keep working as hard as I have been and not settle."
While watching Dorsey practice, it becomes clear he never settles, as the more vocal upperclassman never takes a drill or workout off.
"When your most talented player is also the one who works the hardest and has a great attitude, that is such a blessing," said Timberline head coach Allen Thomas, who played at River Ridge High School in the late 90s. "The other guys see how hard he works and say to themselves, 'If he's working this hard, I should be too.'"
Thanks to extensive workouts on the court and in the weight room during the summer, Dorsey is now a much physically stronger player, allowing him to add to his already versatile skill set.  Playing with one of the best AAU teams during the spring and summer circuit doesn't hurt either.  Dorsey is a member of Portland's Team ICP (Inner City Players), a team that travels across the country for showcase tournaments that help players get recognition from college recruiters.  High-level AAU basketball is significantly different than the structured organization of high school play, but the transition between the two hasn't fazed Dorsey.
"The (AAU) style of play, it's a little more physical," said Dorsey, who says he's traveled to Las Vegas, Memphis and the Bay area, among many other locations, for tournaments and games. "High school, it's more organized, more sets.  You just have to adjust and play your game in order to help your teammates be the best they can be."
Teamwork and team play are main themes for Dorsey, as he credits his Blazer pupils for his success while he plays to make them better.
"Without my teammates, I wouldn't be the player I am and I have to return that favor," Dorsey said. "This is a great team and we lay everything out for one another.  To be a good player, you have to play on a good team, and to be on a good team, you have to play together."
During the practice ThurstonTalk.com attended, Dorsey was constantly encouraging players during the team's conditioning drills.  Vocal leadership is something Dorsey has made an effort in improving in.
"That's something I didn't have," Dorsey said.  "I think it's important to step up.  I'm a junior now, and that vocal leadership is something that helps everyone out.  We don't want to take a play off or a drill off and to do that, you need to push through it together.  This year, I talked to my dad and my coaches and they told me I needed to step up and become a leader.  It's something I've run with but I still need to work on it."
"He's made strides in that area," Allen said. "And that's important to us.  I've known him for awhile now and it's great to see that development."
Dorsey credits his success on and off the court in large part to the support of his parents and the lessons Allen has handed down.
"My parents are great role models and they have taught me a lot in terms of becoming a man and a good person with good morals," said Dorsey, whose favorite player is Kobe Bryant.  "Coach Allen, he's been there for me for awhile.  He told me I could become a great player when I was at Komachin Middle School and I didn't even believe him then.  There were times when I didn't even like basketball or didn't even want to play it and he was there to build me up."
Now on the cusp of his junior season, Dorsey, along with Allen, are happy with the current state of the team.
"I think we've got a chance to be a really good team," Dorsey said of the Blazers, who play in the 3A Narrows League.  "We'll play some good teams all year and we'll need to play hard every night.  Obviously it's early in the year, but I like where we are at and where we could be."
"As a program, we are in a good state right now," said Allen.  "Our other teams have young talent and the varsity team has a lot of experience to go along with that talent.  We need to just follow the process and play together and I think our goals will come with that."
As someone familiar with the talent level in the area, Allen thinks Dorsey can be the next player to represent Thurston County basketball on a big stage.
"He's a guy who has a chance to go to a very great program, a nationally recognizable program," Allen said. "The spotlight on him is only going to increase with time."
Having a talented player as hardworking and humble as Dorsey will benefit Timberline all season.
"I really like to distribute and get my teammates involved," Dorsey said. "But honestly, I just play how coach tells me to.  I just play my game, and try to do what I can do to give the team the best chance to win."