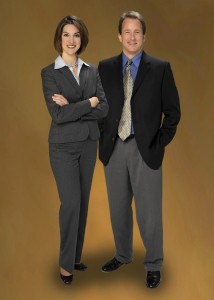 With over 25 years of experience in the industry, Jeff and Diane Pust are qualified to share insights on selecting real estate as a career.  The duo owns Van Dorm Realty, a second generation family-owned business based in West Olympia.
"I started hanging around the Van Dorm family when I was 17 years old and I remember thinking 'what any easy career,'" notes Jeff Pust.  "Now, I look at it this way 'the best real estate agents make it look easy' when it's really a very difficulty career."
Unfortunately, the odds are not in a newcomer's favor.  Pust reports that over 80% of new agents will not make it.
To be successful, Pust says that a new agent needs to think differently.  Here are his five tips to individuals considering becoming a real estate agent
1.  Think of this career as owning your own business.
Pust says that if you think of this as a job, it will be difficult to be motivated to succeed since no one is giving you direction on a daily basis.  "Think like a business person.  Develop a business plan and constantly evaluate the plan," notes Pust.
2.  Be motivated.
Pust indicates that successful real estate agents have drive and determination.  "Every day, they get up and do something productive.  They are focused and determined," says Pust.
3.  Have the financial resources to give yourself a chance to succeed.
"You are building your business and starting from zero income.  It will take time to get the income stream where you want it to be," comments Pust.  "You need to have savings or income from another source that can support you until your business takes off."  Pust adds that the first year in business can be quite unpredictable.
4.  Accept interruptions.
A real estate agent needs to be available to work nights and weekends.  "You never know when you will get a call," Pust says.  "While you will have the flexibility to do the things you like such as volunteer at your kid's school, you also need to be able to handle an interruption, shift gears, and manage your time."
5.  Be comfortable with people.
While it's not necessarily important that a new agent has prior sales experience, it is critical that you are comfortable meeting new people every day.  "The more people you engage with, the more successful you will be," summarizes Pust.  "You need to have the ability to connect with people and make friends."
Think you have what it takes?  Van Dorm Realty is always looking for new people.  Those who choose to sell homes for Van Dorm typically stay with the firm.  About 70 of the company's 90 team members have been with Van Dorm for more than 10 years.
"We have been around for over 30 years and have a nucleus of successful people," summarizes Pust.

Van Dorm Realty
1530 Black Lake Blvd SW, Suite F
Olympia, WA 98502
360.943.3800