By Amy Rowley

I arrived promptly, at the appointed time for our excursion.  I can disclose neither the location nor the name of my tour guide.  Not because she is in a Witness Protection Program or a concern over angry property owners, but because she cannot bear the thought of others finding her hidden stash.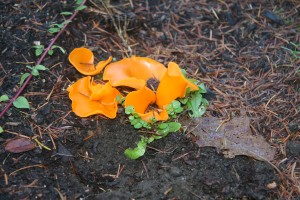 I have known my guide for years.  She is my trail blazer that I follow dutifully.  She built a chicken coop and one year later was in my back yard, consulting on our design.  A Master Gardener, she is my "go to" person for growing bountiful vegetables.  It seems only natural, then, that I capitalize on her mushroom foraging expertise.
We start in an urban woodland, with I-5 road noise in the background.  She grabs her worn field guide, "All That The Rain Promises" by David Arora and tucks it in her jacket pocket.
Disclaimer: My guide was very clear that a beginner should always head into the woods with an educated mushroom forager.  If you don't have a friend to call upon, contact the South Sound Mushroom Club which organizes workshops, mushroom hunts, and events.
Thurston County's weather patterns and wooded spaces create ample locations to find mushrooms.  In fact, the nation's preeminent expert on mushrooms, Paul Stamets of Fungi Perfecti, lives locally.
Initially, we were planning to search for chanterelles but she warns that the unusually dry summer and early fall weather appears to have created unfavorable conditions in her patches for the popular 'shroom.  We head out regardless.
"The key for beginners," she explains, "is to understand the habitat where mushrooms grow.  This gives you immediate clues to help you identify the mushroom."
I learn so much in just two hours.  Here is a summary of my new mushroom knowledge, moving me beyond the refrigerated case in the grocery store.
Mushrooms live in primarily two habitats – either in soil or attached to woody debris.  Often, you can find mushrooms in places where two habitats meet or alongside a road or trail.
The cap and stem, above ground, is actually the fruit of the mushroom.  Below ground is a windy network of mycelium.  These white strands crisscross to enrich the soil and offer mutually beneficial properties to other plants.
In Western Washington, many prized autumn mushrooms are found in forests comprised mainly of conifer and various hardwood trees.  Move on if big maple leaves cover the forest floor.
To identify a mushroom, first look under the cap.  Does the mushroom have gills or is it spongy?  Or neither of the above? Then, follow the flow chart in the recommended pocket guide, looking at traits such as the stem and coloring when bruised.  One mushroom stem, when snapped off, turned blue and the cap's underside browned right before our eyes.
To finalize identification, you may need to take a mushroom home to conduct a spore print.  Many mushrooms look alike but their spores can be the tell-all, in the end.  Remove the cap and place it, gill side down, on a piece of paper overnight.  Select white paper if you expect the spores to be dark or black paper if you anticipate seeing white spores.  The heat from your home will drop the spores and you can complete your identification.
Many benign edible mushrooms are easily confused by their toxic, look-alike cousins. A "safe and sane" personal creed for my friend is to always check with a trusted fungophile to get a definitive identification before ingesting.
Some foragers harvest with a knife and others gently twist and dislodge it from the ground.  My guide uses her pocketknife to trim off the dirty end to help keep her basket clean.  She keeps a watchful eye for similar discards which alert her that others may have found her secret patches.  And, she fills in the divot made by removing the mushroom so others don't know she's been through.
Mushrooms can be preserved by drying, canning, or freezing.  My guide cooks mushrooms down to remove the water and then freezes the tender pieces.  She saves the broth as well.
Her parting words – "never, ever eat a mushroom unless you are completely confident in its identification."
Today, we leave a beautiful patch of oyster mushrooms to mature for two more days.  She will return, harvest, and serve them to guests at a dinner party this weekend.  I'm confident that they will taste the care in each bite.
Thrifty Thurston highlights inexpensive family fun in Thurston County.  The weekly series focuses on family-friendly activities throughout our community.  If you have a suggestion for a post, send us a note at submit@thurstontalk.com.  For more events and to learn what's happening in Olympia and the surrounding area, click here.