By Stacy Fisher
A visit to see the wild chum salmon return to Kennedy Creek is a great way to celebrate the bounty of the season.  Our family has been visiting the Kennedy Creek Salmon Trail, a gem of a place, each Thanksgiving season since our kids were carried in backpacks.  Now they run down the trails, playing hide-and-seek, or Power Rangers (sigh).  But they do pause and sense that they are looking at a special event, and I know that they remember this science lesson more than most.
The Kennedy Creek Salmon Trail, located just outside Thurston County, on Highway 101 is a free educational trail to observe salmon migration in a natural habitat.  The half-mile trail is hosted by the South Puget Sound Salmon Enhancement Group (SPSSEG), Taylor Shellfish, and Mason Conservation District with generous support from the Squaxin Island Tribe.  It's a wonderful collaboration between public and private partners.  For additional information from SPSSEG about the trail, click here.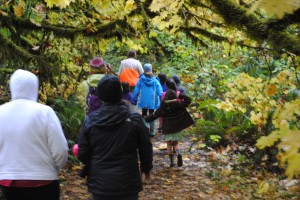 Each year, approximately 5,000 of us make our way to Kennedy Creek, about half of these visitors being local students.  Normally, we have a guest with us, someone visiting for the season… sometimes from as far away as Philadelphia or as close as Fife.  And everyone is equally in love with this place, and many have made it one of their new traditions too.
The Salmon Trail
Kennedy Creek Salmon Trail is almost entirely ADA accessible.  The interpretive trail is a low-impact trail system with signs and viewing platforms to watch wild chum salmon.  The trail meanders through a second growth lowland forest and has interpretive signs along the paths.  This easy trail is a wonderful and educational experience for all ages.  Keep your dogs at home, though.
Sure you'll need to bundle on the layers of fleece and rain gear when visiting the trail, but what are you going to do – stay inside all winter?  Oh no, heading out for a hike in November makes us appreciate the 60 degree sunny days in May when we all strip down to shorts and flip-flops.
There are great bridges, and spots to see the salmon, and the best viewing locations change daily based on where the salmon are.
Surrounded in Nature
"This is what a healthy stream looks like.  A lot of these watersheds are threatened because they don't look like this.  Kennedy Creek is a special place because it does have this wonderful healthy run that has been predictable for thousands of years" comments Lance Winecka, Executive Director for South Puget Sound Salmon Enhancement Group.
"Everyone has a relationship to the salmon, something that they can relate to," Lance Winecka continues.  The interpretative signs along to trail speak to the partnership the salmon has with the surrounding environment and other species.
There are about 50 volunteers each season that participate as docents.  These lovely individuals brave the weather and share their passion.  Each year I never fail to learn something new.  They are stationed throughout the trail, and operate underwater cameras and answer all the crazy questions my children, and I, come up with.
It is estimated that 30,000 to 40,000 salmon will return to their natural waters at Kennedy Creek.  You may have heard the ancient stories of being able to walk across rivers on the backs of the salmon, and at this creek, you can actually imagine it.  This is such a lovely outdoor excursion; it hits me in all the rights spots, educationally, environmentally…  Ultimately, though, I'm just a mom and the fish are coming home.  And for a mother at Thanksgiving, can there be anything more special to celebrate?
Kennedy Creek Salmon Trail Location and Hours
The Trail is located halfway between Olympia and Shelton off Highway 101.  If you are coming from Olympia, turn left on Old Olympic Highway between milepost 358 and 357.  If you are coming from Shelton, right on Old Olympic Highway at milepost 356.  From there, go approximately 3/4 of a mile to a gravel road. (Look for the Kennedy Creek Salmon Trail sign on your right).  Make a left onto the gravel road. Follow the road approximately 1/2 mile to the Trail parking lot.
Open weekends in November plus Veteran's Day and the day after Thanksgiving
10:00 am – 4:00 pm
The trail is also open to school groups on Monday through Friday through November 26.
Thrifty Thurston highlights inexpensive family fun in Thurston County.  The weekly series focuses on family-friendly activities throughout our community.  If you have a suggestion for a post, send us a note at submit@thurstontalk.com.  For more events and to learn what's happening in Olympia and the surrounding area, click here.