By Tom Rohrer

True success in high school athletics is achieved when student athletes have a balance both on the playing field and off it.
For the Northwest Christian High School boys and girls cross country teams, that balance is a requirement, and has led to continued success at the state level.
The Navigators have won a state-record six consecutive girls 2B state championships, the first school ever to do so in the state.
Not to be outdone, the NWCHS boys have won two state titles in the last five years, while qualifying for the state championship 12 consecutive
years, the second longest active streak in the state.

Five NWCHS runners have won individual state titles in the last decade, including Justin Holden, who runs for Corban University, and Lucas Graham, a freshman on the Cal Baptist University team.
Head coach Larry Weber, along with assistant coach Mike Michael, who ran for the University of Washington, uses a unique coaching style, which creates a plan for each individual runner, one that he credits for the program's sustained success.   Weber brings his own successful background to the table as well, as he is the all-time record holder in the Original Ultimate Runner Competition, which combines a 10 K, 400 meters, 100 meters, mile and marathon all in the same day.
"(We) just try to customize based on their skill level, their ability level, and you know, just their overall speed, and experience they have," Weber said in an interview with ThurstonTalk.com  "We try to design programs to help them reach their potential.  Personally, I think that's the best way to train them rather than give them the same workout all the time. We try to customize."
This year, Weber's coaching has continue to work, as the Navigators took home first place in the Pacific League Championships, which were held on Thursday, Oct. 18, at Ocosta High School in Westport.  In the varsity boys competition, NWCHS sophomore Brandon Stickney took first place with a time of 16:06, with junior Sam Beam taking second and senior Brandon Burch taking third in the 2.95 mile race.
On the girls side, the Navigators had the top four individual performers, led by senior Hailey Bredeson, who's time of 18:30 topped fellow senior Megan Teigen's second place effort.  Sophomore Anna Brooks took third, with senior Allison Sowers finishing a place behind.  Bredeson has waited patiently behind runners such as Weber's daughter Elizabeth (now running for Corban University) over the past few years, and Stickney hopes he can eventually overtake some of the school's past runners he has looked up to.
"It's exciting because in the past, Elizabeth, she always beat me every year but now she's graduated," Bredeson said. "So It's nice to finally be able to get first place because before I always got second to her.  And I just love my team and teammates, I'm so blessed to have them, and to have such great coaches, I was really proud of everyone."
"It's a good feeling. When I got done, I didn't feel like I was tired enough," Stickney said, "I think Lucas Graham  (is a great example of a successful runner).  And I look up to him as pretty much my statue as to what I need to follow and excel past."
Weber says his athletes respond to his style of coaching because they have seen how successful other athletes have been in the past, and that it saves room for improvement at the collegiate level.
"I think it's important not to burn out runners in high school and to keep the mileage low.  So not just physically, but also mentally, to stay engaged if you want to run in college and not do too much in the high school year, " Weber said. "I think it's helpful to build a tradition to see what's possible and to have those role models to look up to. For example, Lucas Graham, he was here last year and ran a 4:12 in the 1600 meter.  Just seeing that and being around that and seeing that bar that Lucas set…I think that's a benefit to have kids that have done that."
Being able to balance running along with academic and social obligations is something Weber requires, and believes that the well rounded approach helps the athletes for life.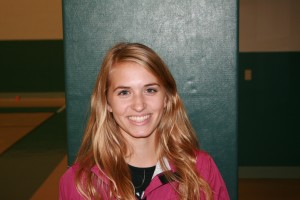 "They're only going to run for a period of time, even if they run in college," Weber said.  "And a lot of athletes, especially at the elite level, struggle with that when they leave college, they leave high school if they're an elite athlete … It's important to make sure….the kids are well balanced.  Not that they don't focus here…but it's important not to let running consume their whole life."
Running under a coach who has a proven track record, both in the personal and athletic development of his teams, has been a terrific experience for Bredeson.
"It's so nice having someone who genuinely cares about every single runner," said the senior, who is being recruited by a host of Division II universities.  "It's not just about winning or being successful.   He wants us to be successful with everything we do."
While coaching each student athlete brings joy to Weber, the opportunity to coach his daughter was a dream come true.
"There's nothing better in life than to be with your son or daughter and be a part of their life," Weber said.  "It's challenging sometimes separating the coach from the dad, but it was a great time of life and I wouldn't change the experience for anything in the world."
With another league title wrapped up, the Navigators can focus on the 2B state championships.  However, Weber is harboring expectations and using his trademark team by team, athlete by athlete approach.

"You've got to take each year differently," Weber said. "There's different teams, different kids on the team and we'll do our best to prepare."
For more information on the Northwest Christian High School cross country teams, click here.