By Jennifer Crain
Rows of bok choy, green onions and radish greens stretch across HJ Farms' 107 acres. Kum Lee, one of the farm's co-owners, kneels to pull a daikon radish from the earth. The mild roots are so common in Asian cuisines as to be compulsory – they're often pickled and they're sautéed, grated and diced into everything from condiments and salads to kimchis and stews. The roots, which can range from long and tapering, like giant white carrots, to oblong one-pound tubers, grow fervently under the care of Lee and her partner, B.J. Jin, and the eye of temperate Northwest skies.
The specialty radishes aren't the only things springing from the ground on the Rochester farm. Jin and Lee grow 17 varieties of vegetables common in Korean cuisine for Asian food markets that stretch along the I-5 corridor, from Alaska to Los Angeles. Some, such as spinach and green onions, are familiar to most North Americans. Others, such as sook got (also known as Japanese Mugwort), a spicy herb used in salads and to flavor dumplings and stir-fries, won't be nestled next to the basil in the produce department anytime soon. And that's the point. Lee and Jin grow produce that isn't otherwise available. The result is brisk business: the farm sends out six semi-trailers full of produce each week.
None of this was the case fourteen months ago. Last November, there wasn't a giant pile of rocks between the equipment shed and the fields at the abandoned dairy farm. The stones were in the earth along with fifteen years' worth of old plastic, vinyl and other garbage. The site's former dairy farm is long out of production. Neither of their two greenhouses stood. There wasn't a giant component cooler yet. And they hadn't moved B.J.'s hand-constructed produce washing tubs to the site. Only the house, collapsing buildings and a lot of rocky soil.
To prepare the land for vegetable starts that were scheduled for April planting, they had to race against the clock. Lee, Jin and crews of workers cleaned the land for four months, pulling rocks from the soil by hand and with tractors. They moved into the re-carpeted farmhouse, tore down deteriorated structures and constructed the two greenhouses.
One of the greenhouses – theirs are actually the low-tech, moveable versions referred to in the agricultural industry as "high tunnels" – was built through a partnership with the USDA's Natural Resources Conservation Service (NRCS). Jeff Swotek, who works in the Olympia field office, says the program provides farms with financial incentives, such as the high tunnels, which help extend the growing season.
The metal and plastic structure that shields the farm's Korean peppers from the dipping temperatures is one of the NRCS projects. It's balmy inside and the peppers are reacting as though they're warmed by a Southern California sun. Kum Lee picks one of the peppers, a short green pod that looks like a jalapeno. These are sweet, she says, and fetch a good price. Customers snatch them up to make pickled Korean peppers, steeping them in jars with ingredients such as garlic, vinegar and soy sauce. Lee snaps it in two and the smell of green bell pepper is released into the air.
For another three years, Jin and Lee will plant these or other heat-loving crops inside this structure, growing mature plants straight from the ground, rather than using it to house seeding tables. That's part of the agreement, Swotek says: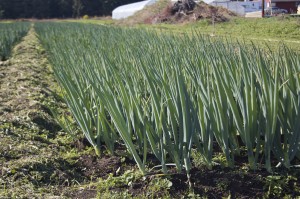 "It's a requirement of the program because we want people to see the benefits of an extended growing season. They'll be able to harvest for many months and continue to generate some income."
After four years is up, he says, the structure remains on the property and can be used however the farmer wishes.
Jin and Lee have been farming in Thurston County since 2004 when they started farming two pieces of land on their own in Puyallup and Nisqually. Prior to that, they helped Jin's parents on their farm.
Their experience and longtime connections with Asian food markets have built a level of trust between HJ Farms and their customers. Lee said it's common to receive notes of thanks along with payments, expressing gratitude for the beauty and high quality of their vegetables.
Jeff Swotek sees this personal connection as part of the farm's success, and that success as a piece of the emerging story of agriculture in Thurston County.
"Agriculture in this community is exploding in new and exciting ways," he says. "We have a limited number of lands available for farming with good soil. We'd love to see a very strong, viable working lands preservation program to ensure there's enough land for local farmers and good local food capacity."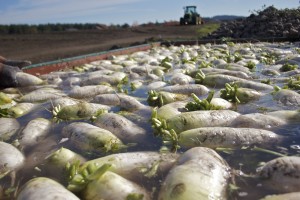 United States Department of Agriculture
Natural Resources Conservation Service
Olympia Field Office
1835 Black Lake Boulevard SW, Suite E
Olympia, WA 98512-5607
(360) 704-7740
All photos by the author.