Admittedly, we live on the west-side of town, which means that although Lacey and Tumwater are really not too far away, we normally run our errands and outings around Olympia.  This summer, however, with kite and picnic basket packed, my family and I set out to explore the parks of Lacey (yes, we are bold and fearless explorers).
Following is our listing of favorite picnic spots in Lacey.  They are all close to amenities, have wonderful vistas, room to roam, and provide that escape to outdoors…even if it's only a couple of miles down the road. 
Woodland Creek Community Park
6729 Pacific Avenue SE
Woodland Creek Community Park is a wonderful 72-acre park that was one of our top Lacey park destinations.  This may have topped my young boy's list, because of the fishing allowed in Long's Pond for the under-14 crowd.  More specifically, they loved that the over-14 crowd were NOT allowed to fish…more fish for them!  There is a wonderful trail walk/run, a great playground area, spacious fields, and the City of Lacey has plans for a nine-hole disc golf course in the near future.
You can tell that the City of Lacey has been giving this park some attention lately, and the community center and facilities are wonderful and convenient.  I must also note that the ice cream truck seems to pass by regularly as well (always worth a few extra points in our book).
This is the site of the Family Fish In, an annual event held in mid-April to promote youth fishing, in cooperation with the Washington State Dept. of Fish and Wildlife, 'Go Play Outside', Trout Unlimited and other angler organizations, and citizen volunteers.  National Trails Day is also celebrated at Woodland Creek Park in June with a volunteer trail maintenance project and organized walk.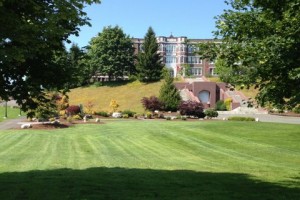 Saint Martin's Campus
5000 Abbey Way SE
One perfect afternoon was spent visiting one of the Huntamer Park (also a great venue) summer musical events, and meandering across the road into the Saint Martin's trail system and around the campus.  I have a special place in my heart for college campuses, as they seem to encourage a serene frame of mind and encourage a sense of exploration.
The beautiful architecture, mature trail system and the proximity to town makes the campus a wonderful destination.  The campus is a wonderful place to people watch, or escape into the life of a student if only for an afternoon.  This is an intimate place to ride a bike or explore on foot, with benches and an abbey open and encouraging you to take a moment for reflection.
One of my favorite spots on campus is on the grassy area to the left of the Grand Staircase to Old Main, close to the entrance of campus off of Pacific Avenue.  The parking is close-by and free of charge and the view of the campus is outstanding.  The Old Main is the oldest building on campus, constructed between 1913 and 1923 and provides all the charm and prestige that a college campus should portray.
Tolmie State Park
7730 61st Ave NE
The dirtiest and most adventurous park we visited in Lacey was Tolmie State Park.  First off, you must know that this state park requires an annual Discovery Pass or you can pay the day pass fee of $10.  This 105-acre marine day-use park on the Puget Sound is a destination that can be explored all-day long.  The park, located on Nisqually Beach, is heavily forested and offers day shelters, more than ample picnic tables plus grills, and shelter rentals for larger parties.
During low tides, you can explore the 1,800 feet of saltwater shoreline and we saw, in an afternoon, such a variety of life that we are encouraged to return for one of the guided tours offered throughout the year.
If you are so inclined, there is an underwater park for divers.  For the non-divers, pack a pair of binoculars and an extra pair of shoes.  The mud is deep enough in places to be considered a spa treatment, and if you leave with clean shoes you did not explore enough!
Did we miss your favorite Lacey spot?  We are always on the look-out for a great afternoon retreat; let us know where your favorite destination is!