Olympia's downtown Bayview Thriftway and Ralph's Thriftway stores have been offering delectable grocery goods galore for more than 60 years. Today, they continue to stock a wide variety of items produced by amazing local vendors; one-of-a-kind, highest-quality products you won't find in the big chain stores.
Buying local is much more than a trendy slogan; it helps strengthen the backbone for a thriving community in touch with its neighbors and its small business owners. Buying local means we all can continue to enjoy outstanding items grown, created, and crafted right here in Olympia.
Lynch Creek Farm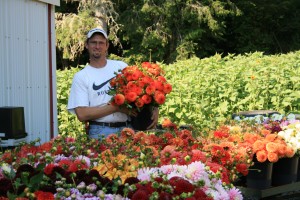 For Michelle Murphy, floral department manager at both Bayview and Ralph's Thriftway stores, buying dahlias directly from Andy Hunter's Lynch Creek Farm near Shelton means a superior product and the flexibility to drive to the farm to look at options in person.
"A lot of times I do go out to the farm and say, 'This is the one I want, this is the specific color,'" says Murphy. "They may have four or five varieties of pink, but if I need a specific color pink, they'll accommodate that and cut what I need specifically."
Buying directly from Lynch Creek Farm means Murphy is getting the freshest product possible.
"The flowers I have in the store were probably cut the day before," says Murphy, "versus a week or so earlier, then cold-stored and shipped over from South America, and then trucked over to a local wholesalers that we then buy them from."
Buying local is important to Murphy. "We want to support the local market," she says. "We'll support Washington farms every time we can."
Andy Hunter's parents started Lynch Creek Farm back in 1980 as a small hobby farm. "Basically it was a way to keep me and my brothers out of trouble and teach us about growing things and enjoying your hard work," Hunter says with a laugh.
After graduating from Washington State University with a degree in hotel and restaurant management, followed by a couple years working in the industry, Hunter began to think about returning to his roots, so to speak.
"I decided if I was going to work that hard, I'd work for myself instead," he says. "And I thought I'd continue with farming, because I did enjoy it."
It's a career path that's now literally strewn with thousands upon thousands of flowers.
"Our dahlia selection has grown to about 350 varieties," Hunter says. "We have about 20,000 dahlias in the ground right now."
The peak dahlia season is just on the horizon. "We'll be carrying by the bunch and we'll have buckets of them on the floor at Ralph's and in the cooler down in Bayview for people to just grab and go," says Murphy.
Kirsop Farm
Trevor DeWispelaere, produce manager at Bayview and Ralph's Thriftway, has long worked with Tumwater's Kirsop Farm to offer exceptional seasonal produce at both Olympia stores – from greens and bunched carrots to root vegetables and garlic.  "Pretty much everything," DeWispelaere says with a laugh.
"They're very fair people," he says of Kirsop Farm owners Genine Bradwin and Colin Barricklow, "We just work well together."
Working with the farm is easy, according to DeWispelaere, because the popular Olympia Farmers Market vendor has been doing this a long time – since 1996 – and everything is in line already, as far as the legalities of running a business and selling certified organic produce.
"A lot of times, other local vendors are just starting and they don't know how to pack it or ship it correctly," says DeWispelaere. "It's not just grow it, pick it, sell it – there's a lot that goes into it."
And the quality of Kirsop Farms produce is simply the best. "They just do a superior job," says DeWispelaere.
The Bearded Lady Food Company
Shelly Brown has been Bayview Thriftway's deli and bakery manager for nine years, so she knows divine baked goods.
When longtime Bayview Thriftway deli employee Melanie Shelton struck out on her own two years ago and opened downtown Olympia's The Bearded Lady Food Company with Jordan Marsicek, Brown knew she would soon be stocking some sensational new sweet things on the Bayview Thriftway shelves.
"We carry The Bearded Lady's vegan, gluten-free chocolate cheesecakes and a wide variety of their cupcakes, which are absolutely to die for," Brown says. "Even if you're not gluten-free or vegan, they're the cupcake to buy."
Bayview also sells the Bearded Lady's brownies, complete with peanut butter frosting and topped with peanuts.
Not all Bearded Lady products are gluten-free, though Brown raves that you can't tell the difference. "On the cupcakes, we get half gluten-free and half-vegan."
Flavors can change from week to week. "They keep it fresh and exciting," Brown says. "They follow trends and they create their own."
Brown is proud to carry The Bearded Lady products, and feels strongly about supporting local suppliers.
"I try to get as many local people as I can in here," she says, and begins rattling off a list of local vendors, including San Francisco Street Bakery, Montlake Mousse, The Essential Baking Company, Olympic Mountain Ice Cream – the list goes on and on.
Brown says she likes to go local because Stormans – owner of both Bayview and Ralph's Thriftway stores – is local itself. "We're a family-owned business that's been here for years and we like to support our local economy because it keeps bringing them back to our stores."
Johnson's Smokehouse & Sausage Company
Adam Beasley has been the meat and seafood manager at Ralph's Thriftway for nearly a dozen years – and for 10 of those years, he's been proud to carry Johnson's Smokehouse & Sausage Company products.
Family-owned and operated since 1983, Johnson's Smokehouse & Sausage Company uses only the freshest, highest-grade meats and the highest quality spices to create jerky, dry-aged pepperoni, salami, chorizo, and more. They also offer wild game processing for local hunters.
"We carry a variety of their pepperoni, beef jerkies, and gourmet sausage links," says Beasley, who has known Johnson's Smokehouse & Sausage Company owner Ron Johnson personally for many years. "That's how we started to do business here together."
"We make our products the old-fashioned way, which is small batches at a time to ensure consistent high quality," says Jody Eygabroad, whose parents Ron and Sue Johnson founded the company.
On top of providing a phenomenal product, Johnson's Smokehouse & Sausage Company is also easy to work with, according to Beasley. The company works around Thriftway's needs, offering specific products and different pack sizes for items, as needed.
"And the business name is familiar in the area, so it's a win-win situation," says Beasley. "People recognize Johnson's as a quality local product and it's nice for the customer to be able to get it when they're in our stores."
"Ralph's was one of Johnson's first customers," says Eygabroad. "We love how Ralph's supports local farmers and companies and are proud to have them sell our products."
OlyKraut
Both Bayview and Ralph's carry a variety of products from OlyKraut, a producer of raw sauerkraut made from local, organic ingredients.
With a range of delicious flavors, OlyKraut is taking fermented vegetables to a whole new – scrumptious and healthy – level.
"Bayview carries our Original, Eastern European, Spicy Garlic Chi, and seasonal flavors, which rotate," co-owner Sash Sunday says of the sauerkraut selection. "Ralph's carries Original and Eastern European."
OlyKraut ferments each batch under perfect conditions, avoiding pasteurization to preserve beneficial microbes that are naturally present in the fermentation process.
"It's really exciting to get a locally sourced and processed food," says Sunday. "It's really, really exciting to find a natural food-source of probiotics. And best of all, it's delicious!"
OlyKraut customers obviously agree. "The stuff has been flying off the shelves," says Sunday.
Ralph's Thriftway
www.ralphsthriftway.com
1908 East Fourth Ave.
Olympia WA 98506
360.357.8011
Bayview Thriftway
www.bayviewthriftway.com
516 West Fourth Ave.
Olympia WA 098502
360.352.4897
Kirsop Farm
www.kirsopfarm.com
855 Trosper Road SW
Tumwater WA 98512
360.352.3590
Bearded Lady Food Co.
www.beardedladyfood.weebly.com
412 Franklin St.
Olympia WA 98501
360.943.6235
Lynch Creek Farm
www.lynchcreekdahlias.com
P.O. Box 2109
Shelton WA 98584
Johnson's Smokehouse & Sausage Company
www.johnsonsmokehouse.com
8212 Diagonal Road
Olympia WA 98501
360.459.8169