By Anne Larsen
When the cherry trees start blooming, it's time to get out and enjoy everything spectacular about living in Thurston County. Sure Northwest weather can be tricky…there are certainly days when you head out on a run in the sun only to be pelted with hail within 15 minutes, which may change to a rain storm, and then you'll end in sunshine. But when we get those days when we start dry — and end dry — with the sun shining down on us, oooooohhh, nothing is better!
For those of you that live in Thurston County, a few of these runs may be very familiar to you. But, if you have guests coming from out of town, or just want to take a little running "staycation" around town, these running routes will remind you of why you put up with months of rain.  Click on the run for a complete map.
Farmers Market & Priest Point Park Trail Run – The Farmers Market is an awesome place to start and end a run. The market has free parking for 2 hours – so you'll have to keep that in mind when you head out. But, with a host of yummy post-run munchies and coffee available at the end, I'm sure you can make it back in time to eat, drink, and stretch before heading home. Nothing like the power of coffee to add an extra kick at the end of your run!
This run takes you along scenic Marine Drive before heading north on East Bay Drive. Running along Marine Drive, jump onto the flat gravel path along the water, taking time off the concrete is great for those legs! Check out the Olympic Mountains and Puget Sound – BEAUTIFUL! As you coast down East Bay Drive be sure to stop at the water fountain, bench, and dog water stop that's along the way. It is a  great place to rehydrate before hitting the park. Follow East Bay Drive past the Priest Point Park exit and about 100 yards on your left you'll find the entrance to the Ellis Cove Trail. Trail running is "ok" in Priest Point Park (technically June – September) but I've never had a problem running in there the other months of the year. General rules of common-sense and manners apply (aka – don't run people down) and say "hi" to walkers and other runners.
Once you are in Priest Point Park, the options are limitless! I mapped a trail that would give you plenty of time to get back to the Farmers Market, but if you find you like getting off the streets and onto the trails, Priest Point Park is a great place to start trail running. This route has you popping back out of the trail on Flora Vista Road, and then following East Bay Drive back to Marine Drive to the Farmers Market. Check out the Capital on the way back. On a side note, the Olympia Trail Runners meet every Thursday night at 6pm on Flora Vista Road to run in Priest Point Park, followed by beer at Fish Brewing Company. More info available on our Running Clubs link below.
Free and Easy Parking – YES
Bathrooms – YES, during operating hours.
Water – YES, during operating hours.
Bathrooms and water are also available at Priest Point Park.
Marathon Park Lake Loop Run – This is the "classic lake loop" that every runner in Thurston County has done, but there are a few little fabulous things about this classic run that never get old, and are fun to show off to out-of-towners. Typically there is ample parking at Marathon Park (located off Deschutes Parkway). With bathrooms, water and picnic benches it's a great spot to start and end a run.
After you park the car wander over towards the wooden bridge and check out the Marathon Park Plaque – a great way to catch up on your running history! Before you head out on your run, look on the sidewalk – right next to the gravel walking path and you'll see the number 1 (it's right across from the bathrooms, near the entrance). You will find these "mile markers" all along the path I have mapped out. Number 2 is missing (but the white square is still there). I know where they all are….do you?  These mile markers are great for runners tying to keep equal mile split times or for doing interval workouts off  the track.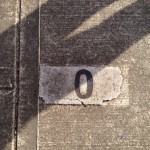 Along the lake portion, you will even find quarter mile markers. The mapped route takes you along Deschutes Parkway under the freeway, over the Custer Bridge, up Custer Road and then following Capital Way. You will take a left on Union, a right on Columbia and head towards Olympia Supply. Take a left on 7th (where the "0" marker is), and veer onto Water Street. Take a left on 5th and then merge onto Deschutes again for the home stretch. The classic lake loop is a great mix of historical neighborhood, Capitol building, downtown, and nature. There is something new to see every time!
Free and Easy Parking – YES
Bathrooms – YES, during park hours.
Water – YES
Bathrooms and water are also located in across from the Water Street Cafe.
Priest Point Park & Eastside Run – There is a beautiful, beautiful world in Thurston County and this run highlights just a portion of  it! For those needing longer runs you can easily add on to this run and get as many miles as you need in. The options are endless – but bring water if you go long, since there are not a lot of options out there.
Parking at Priest Point Park you are going to head north on East Bay Drive, then take a right on 36th. Follow 36th to Libby Road and take a left on Libby Road.  Libby is nice and flat. Take a left on 46th and follow it down till it connects again to Boston Harbor Road. Take a right on Boston Harbor Road and follow it down to 53rd. Turn around at 53rd and follow Boston Harbor Road all the way back to Priest Point Park. This run has some rolling hills and you will certainly see more cyclists and runners than vehicles if you go early on Saturday or Sunday morning. This route is a portion of the Capital City Marathon (May 20th this year).
Free and Easy Parking – YES
Bathrooms – YES, during park hours.
Water – YES 
Hill Repeats in Tumwater – Spring really kicks off the season of local fun runs and races. (Go to www.ontherunevents.com for current listings.) Nothing gets you race ready like hill repeats. The combination of speed and hills get you ready to conquer any course – and being in Western Washington most courses are hilly!
I will start now by saying this is not a fun workout and it is not scenic, so bring a friend to push you – because sometime misery does love company. Park at Ingersoll (the Olympia High School track). In the Spring and Summer you can typically find a portable toilet located at the corner of the parking lot, but often it's tipped over (very frustrating).
Run down North Street towards Capital Blvd,  cross Capital Blvd and take the bridge over the freeway. Once you are over the bridge take a left on 2nd Ave SW…..and this is where the "fun" begins. The first hill you are going to run up is Division Street SW. It's a long one. Run all the way to the top, and coast down. At the bottom go right on 2nd till you are at the base of B Street SW. Charge up B Street, coast down, take a right at the bottom and head over to C Street. You will repeat this pattern for D and E Streets. (You can reverse the hills at this point, going E, D, C, B and Division Street if you are feeling like a beast.) After E Street turn left down 2nd Ave and head back to Ingersoll the way you came. It's not glamorous, but you'll feel like a super star when you kick some competitors trash in an upcoming race.
Free and Easy Parking – YES
Bathrooms – Sometimes
Water – Sometimes if the bathrooms are open in the stadium
Check out the Thurston Activities section for more outdoor adventures.  Thurston County is an absolute playground for athletes of all disciplines. Send me your suggestions – submit@thurstontalk.com
For more information on local running clubs, read this previous article.  
Local Fun Runs and Races – www.ontherunevents.com