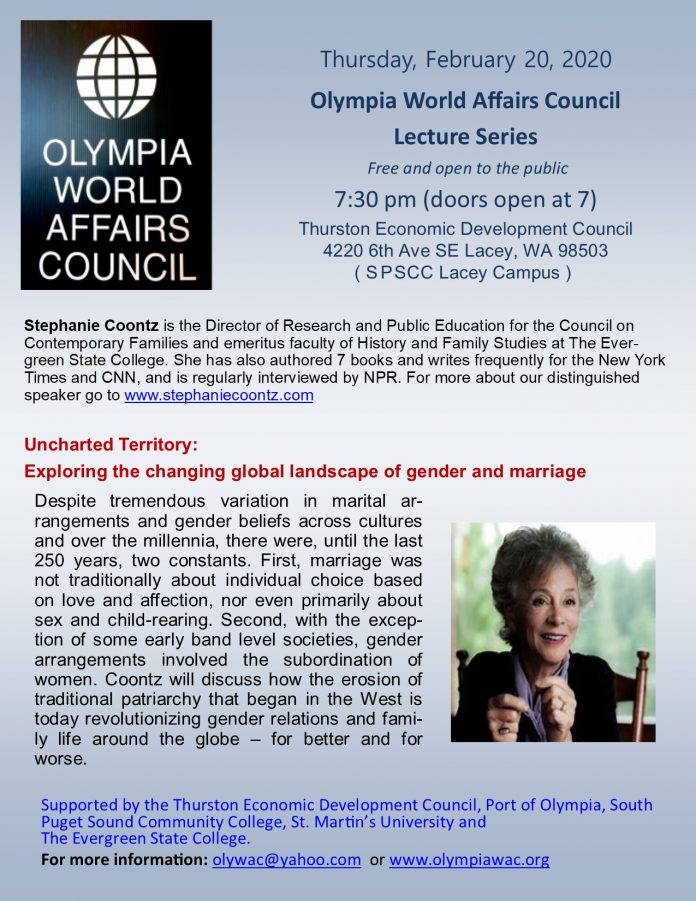 When:
February 20, 2020
all-day
2020-02-20T00:00:00-08:00
2020-02-21T00:00:00-08:00
Where:
Thurston Economic Development Council (SPSCC Lacey Campus)
4220 6th Ave SE Lacey
WA 98503
Contact:
Olympia World Affairs Council
3609515249
Uncharted Territory:
Exploring the changing global landscape of gender and marriage
Despite tremendous variation in marital arrangements and gender beliefs across cultures and over the millennia, there were, until the last 250 years, two constants. First, marriage was not traditionally about individual choice based on love and affection, nor even primarily about sex and child-rearing. Second, with the exception of some early band level societies, gender arrangements involved the subordination of women. Coontz will discuss how the erosion of traditional patriarchy that began in the West is today revolutionizing gender relations and family life around the globe – for better and for worse.