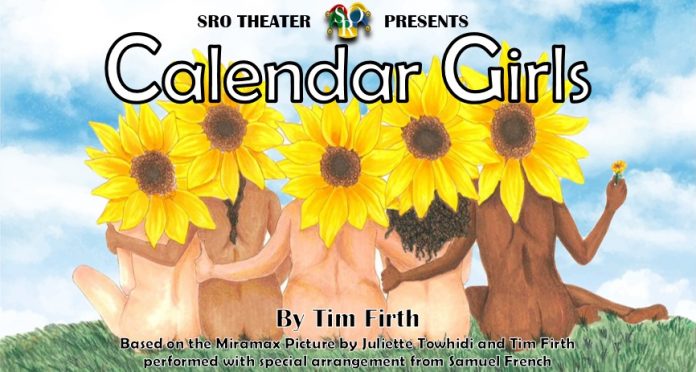 When:
2020-03-06T19:30:00-08:00
2020-03-06T19:45:00-08:00
Where:
Wellspring Wellness Center
9144 Burnett Rd SE
Yelm
WA 98597

YELM, WA SRO Theater presents the heartwarming and funny play, CALENDAR GIRLS by Tim Firth. Directed by Dawn Emilia Young.
CALENDAR GIRLS is a stage play by British dramatist, screenwriter, and songwriter, Tim Firth, based on a true story of eleven Yorkshire women of the Womens Institute (WI) who posed nude to produce a calendar to raise money for Leukemia Research. This story inspired by the 2003 film starring Helen Mirren and Julie Walters.
When Annies husband, John, dies of Leukemia, her and her best friend Chris resolve to raise money for a new sofa in the family room where they waited while John had his chemotherapy treatments. They persuade fellow WI members to pose nude with them for an alternative calendar in Johns memory and raise money for Leukemia research. The news of the womens charitable venture spreads like wildfire, and hordes of press soon descend on the small English village of Knapeley, where hilarity ensues.
The cast features women and men from all around our community to share the meaning of transformation and growing together. SROs production of CALENDAR GIRLS by Tim Firth will feature Rae Simpson as Chris, Kelley Birdeau as Annie, Toni Montez as Cora, Anne Schuchmann and Molly Carmody as Jessie, Rebekah Bonnett as Celia, Michelle Gipson as Ruth, Dawn Wadsworth as Marie, Valerie Cawley as Lady Cravenshire, Karie Fountain as Brenda/Elaine, Ed Thorpe as John, Joel Derefield as Rod, Matthew Tolar as Lawrence and Steve Harshfield as Liam.
Our production of this wonderful play be presented in SROs new Pop Up Black Box Theater located in the upstairs facility of Wellspring Wellness Center at 9144 Burnett Rd SE, Yelm.
Performances take place March 6th through March 29th with shows starting at 7:30 PM on Fridays and Saturdays and 7:00PM on Sundays. "Gather" Gastro-pub is located in the complex and is open prior to the shows for dinner and drinks (reservations strongly suggested)
General admission tickets are $20.00, Senior/Military tickets are $17.50 and Student tickets are $15.00. GROUP RATES of 10 or more are available. You can find more information about tickets and upcoming shows by checking out www.srotheater.org.