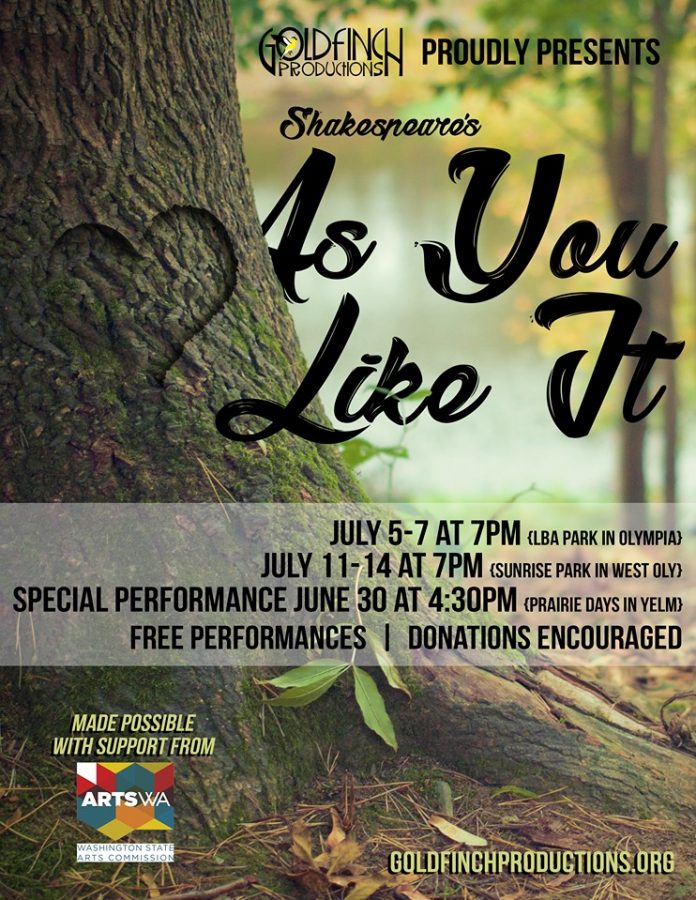 When:
2019-07-13T19:00:00-07:00
2019-07-13T19:15:00-07:00
Where:
Sunrise Park
505 Bing NW
Olympia
WA

Contact:
Goldfinch Productions
360-999-0412
Beyond the walls of the city, past a brash and unforgiving brother, near the camp of a deposed Duke, among shepherds and their flock, there lives a love story.
A young woman named Rosalind, heart full of fire, yearning to find her missed connection. Orlando, a stifled youth, poised to erupt with passion and potential. In Shakespeare's pastoral comedy, love at first sight is brought to life.
Goldfinch Productions is proud to present our inaugural project, As You Like It.
DETAILS:
July 5-7 @ 7pm in LBA Park – (3333 Morse-Merryman, East Oly)
July 11-14 @ 7pm in Sunrise Park – (505 Bing, West Oly)
COST:
FREE (donations encouraged)
LEARN MORE:
GoldfinchProductions.org
(360)999-0412