Knowing the lay of the land and the face of the people fosters community connections, and that foundation has been a long-time strength for Hometown Property Management. Owner Andrew Barkis has nearly 30 years of first-hand, property management knowledge in Thurston County. Over the years, Barkis and Hometown have invested in the community that turns to them for finding a house to rent or a professional resource to handle their investment home.
Hometown and Barkis Started Property Management in Lacey
Barkis grew up in Chehalis and entered the property management world as a college student in Seattle in the 1980s, managing the apartment building in which he lived. In 1992, he moved to Spokane to work for a large Property management firm. Returning to the South Sound in 1996, he signed on with Century 21 Hometown in Lacey to run their property management department. With his part-time accounting assistant, he began managing around 40 homes and worked hard to build a clientele. In 1998, Hometown Property Management became an independent company. In 2004 Barkis bought Hometown Property Management.
Over the years, the company began to grow quickly, growing to 22 employees and 1,100 homes under their management at the height.
"The key is how long we have been in business and the long-term owners and clients we have," Barkis says. "It is a testament to great business practices when you cannot just survive but thrive in the marketplace and continue to do that for over 25 years. We have owners who have been with us for over 20 years. We have tenants who became property owners and then in time turned their homes over to us to manage."
After a 15-year relocation to Olympia, it was time for a new fit in 2023. Barkis looked again to Lacey, choosing the old Lacey South Sound Chamber of Commerce building, a perfect fit for a Lacey return and a building in which Barkis worked in when he was once the chamber president.
Thurston County Property Management: Wrapping Around Services
Searching for a rental has changed a lot since Hometown Property Management began in the late 1990s. Attracting and connecting with new tenants expanded with technology. Hometown continues to meet with clients at their properties but also provides valuable tools for flexibility. Communication and account information through the AppFolio online portal allows owners to access details about their property easily. Searchable listings, photos, home details, application requirements and viewing appointments through ShowMojo are available at the touch of a finger.
Acting as their own general contracting company and keeping an in-house maintenance team of carpenters, plumbers and electricians means better efficiency in solving issues. Hometown can act as the immediate responder should an issue arise.
Whether homeowners are veteran landlords or new to the game, keeping abreast of current law may or may not fit in their schedules. Laws change, and Hometown Property Management staff are knowledgeable with current landlord-tenant laws and support clients with all current information to assure peace of mind. Hometown assists with contracts and rental agreements and provide expertise to negate potential problems.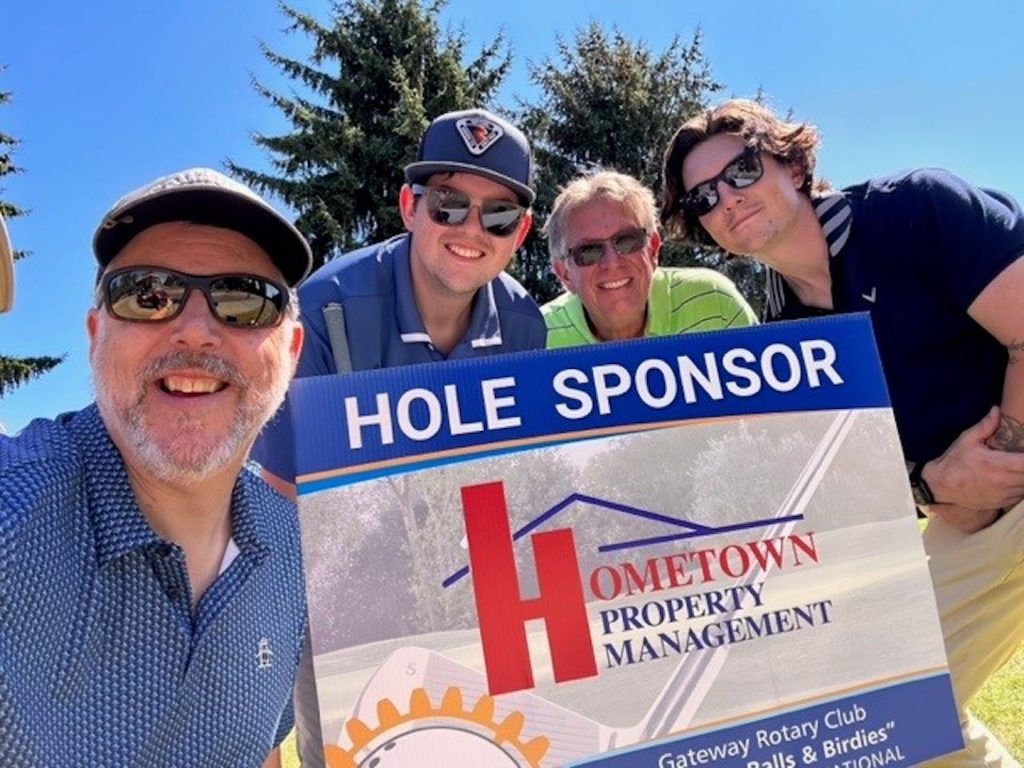 Hometown Property Management Has a Long Record of Community Involvement
Barkis and Hometown Property Management jumped into community service with the long-standing Lacey Sunrise Lions Club. Activities such as the Lacey Spring Fun Fair, a fishing derby and the American Cancer Society Relay for Life are just a few examples. Barkis joined the Lacey South Sound Chamber of Commerce, eventually served on the board, later acted as chamber president and continues to keep Hometown involved. Since 2016, his biggest contribution has been serving in the Washington State House of Representative for the 2nd Legislative District.
Hometown community outreach also extends to Barkis' service on the Boys & Girls Clubs of Thurston County board, actively participating and donating philanthropically to the Club, Boys Scouts of America, North Thurston Public Schools Foundation, the Lacey Senior Center and more. Through sponsorships, doing business with other local companies and donating philanthropically, Hometown maintains its philosophy of giving back to be part of the upward motion of prosperity.
"There are so many great companies in this region, and there are a lot of great examples," Barkis says. "I believe we are one of those because it has to be a symbiotic relationship for a company to survive but to also thrive and to be a long-lasting company. You can't be in business for over 25 years if you're not doing something right. It's very difficult to do unless you are part of the community because it's that give and take. The community supports us – we do very well. My philosophy is, 'You get back what you give.' We believe that we have been very blessed with what we've had here in the community, and so we want to make sure we are giving that back at various levels."
Hometown Property Management has Thurston County property rental down to a science. That's the effect nearly three decades of rental market experience, customer service insight and legal knowledge have. Visit their Hometown Property Management website for more details or stop by to see the new Lacey headquarters.
Sponsored