Get ready for pumpkin patches, hot apple cider, and fresh fallen leaves as summer comes to an end and fall breezes in. Trade in your flip-flops for hiking boots and get ready to experience some breathtaking fall foliage around Thurston County. Expect rushing waterfalls, tons of wildlife, and lush red, orange, and yellow leaves galore on these various trails. Whether you're a novice or expert hiker, check out these 10 hiking spots that are sure to WOW you this season. Don't forget your camera! Here is where to go fall hiking in Thurston County.
Easy Fall Hikes Near Olympia
Yelm Tenino Trail
Easy
Yelm, Washington
This 13.7-mile point to point trail located in Yelm, Washington, is fully paved, providing visitors with great accessibility and a smooth ride from beginning to end.  While hiking the trail, keep an eye out for local plants and wildlife, which can be spotted from all directions. If you're into bird watching, don't forget your binoculars, this trail is a hot spot for birding! If you're driven enough to complete this lengthy 4 hour, 12 minute hike, you'll get to visit the cool little town of Tenino, which is full of public art and sandstone architecture.
Nisqually Estuary Boardwalk and Twin Barnes Trail
Easy
Olympia, Washington
Located in the Nisqually National Wildlife Refuge, this simple 4.6-mile out and back boardwalk trail is another popular birding and hiking spot. Expect tons of estuary creatures and plant life along the path including seals, bald eagles and deer. This flat trail is well-maintained and easy to follow, thus making it a perfect fit for scenic family strolls. Be sure to leave your pups at home, though, they're not allowed on the trail!
Frye Cove County Park Loop
Easy
Olympia, Washington
The Frye County Park Loop is only 0.9 miles, but don't pass on this stunning route. There's plenty to see as you hike through the forest, including wildlife, a playground area, and peek-a-boo views of the Puget Sound and Mount Rainer. A built-in staircase is also along this route, making it a low intensity workout for beginners. This trail only takes about 30 minutes to complete, making it perfect for shorter family hikes or morning strolls with the dog.
Millersylvania Northwest Loop
Easy
Tenino, Washington
Take the 4.6-mile loop near Tenino and experience hiking in the majestic Millersylvania State Park forests. This easy route is perfect for trail runs, camping, and hikes and takes about an hour and a half to complete. The area is shaded, well groomed, and has great views of the wetland among the tall trees. If you need a short rest, there are picnic tables, concessions and even a beer garden to provide a comfortable and rewarding experience after the hike.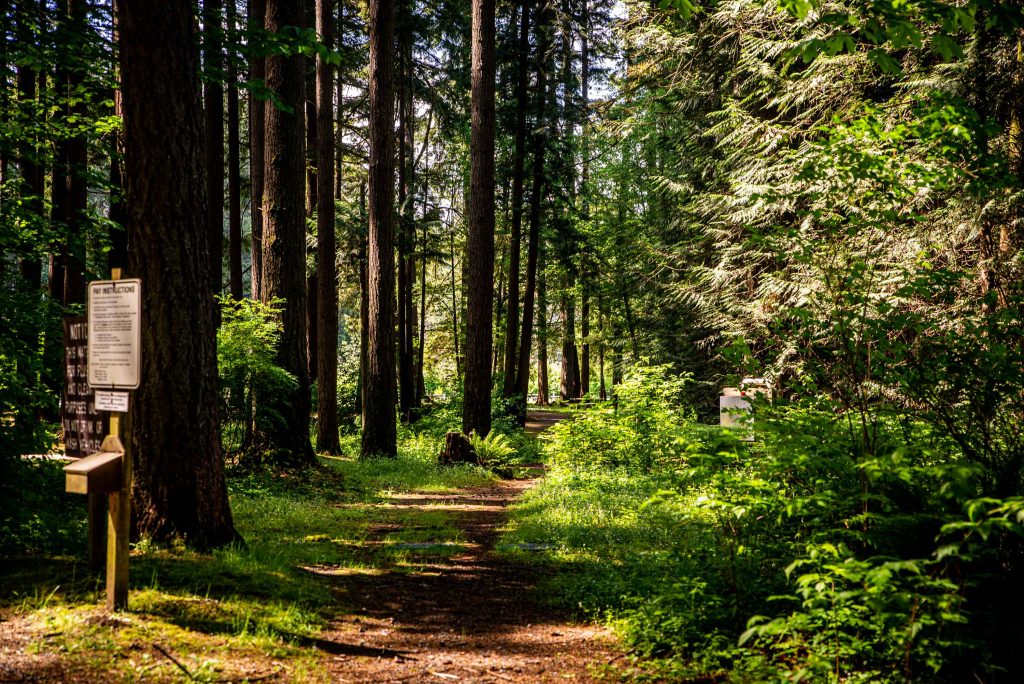 Squaxin Park Loop
Easy
Olympia, Washington
Who says you can't visit the beach in the fall? Check out the Squaxin Park's 1.6-mile loop trail and hike along the shoreline of Ellis Cove Beach or in the shady forests nearby. This path takes 34 minutes to complete and is a popular spot for hikers. It's also considered easier to navigate due to its well-maintained trail and low elevation throughout. Expect tons of plant and animal life along the beach and in the woods, such as herons, crabs, wildflowers, and even poison oak!
Deschutes Falls
Easy
Yelm, Washington
Head out and back on this 1.3-mile trail near Yelm, Washington and get lost in the waterside forest views. This hike provides tons to see in a short amount of time without wiping you out before getting to the end. Deschutes Falls is a hidden gem that is popular among hikers and photographers. Bring the whole family along for this rewarding 37-minute hike and capture stunning photos of the falls and the historic log cabin.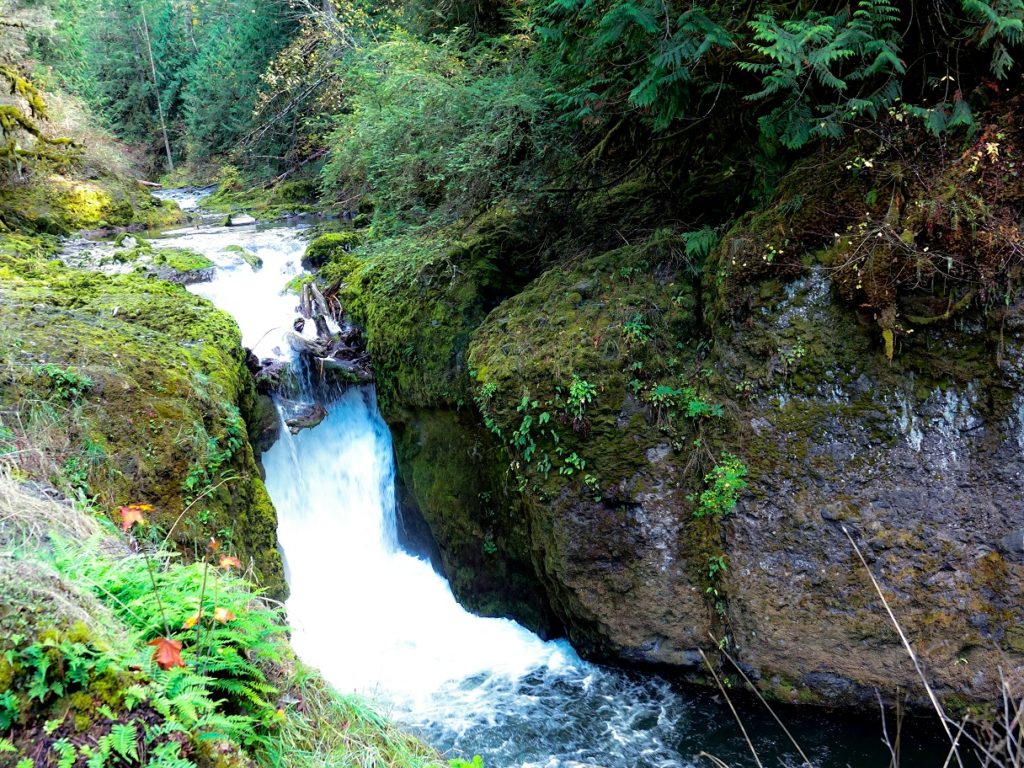 Wetland Forest Loop Trail
Easy
Olympia, Washington
The lush Wetland Forest Loop Trail located on the Darlin Creek Preserve is about 2 miles and takes an average of 44 minutes to complete. The easy-to-read maps, well-maintained trails, and lack of elevation make this a simple path to navigate for kids and leashed dogs. This route has plenty of places to stop and admire the changing leaves and views of the wetland life.
Moderate Hikes Near Olympia
Greenline Climbing to Wedekind Trail
Moderate
Rochester, Washington
Travel to Capital State Forest and experience the 9.3-mile Greenline Climbing to Wedekind Trail. This moderately challenging loop trail rewards hikers with incredible views of trees, greenery, and even a waterfall. Plan to spend about 4 hours and 11 minutes on this route and arrive early, it's a popular spot for hikers, runners and mountain bikers. Check out the views on the Continental Bridge and take scenic photos of the nearby creeks, mountains and carved trees.
Four Cedars Outer Loop
Moderate
Olympia, Washington
Tolmie State Park is known for its rich vegetation, thriving wildlife, and bordering saltwater beach. Located in the forests of Tolmie State Park is the Four Cedars Outer Loop, a 1.8-mile trail with views of massive cedars and local fungi. It's generally considered a moderately challenging hike, so strap on some comfortable boots and expect to spend about an hour on this route. If you're looking to view some breathtaking fall foliage, this is one of the best places to be.
Challenging Hikes Near Olympia
Mima Falls, Lost Valley, and McKenny Loop
Challenging
Olympia, Washington
Looking for a more challenging hiking experience? This lengthy trail is 21.7 miles long and takes about 9 hours, 30 minutes to complete, so plan for an all-day trek in the woods. Take in the gorgeous views of the flora and fauna on this shady trail while getting in a good workout on the inclines. Bring your dog along on this scenic route and immerse yourself in the tranquility of nature. Don't forget to check out Mima Falls along the way!
The start of the fall season doesn't have to mean the end of outdoor fun. Check out these awesome trails throughout Thurston County and get the most out of Washington State fall foliage. For more information on the trails listed, including parking fees, seasonal tips, and pass requirements, visit the All Trails website.