There are hidden gems and retreats around the Olympia Regional Airport in Tumwater. From the road one may see a rather industrial façade of warehouse buildings and airplane hangars, but a closer look reveals breweries, manufacturing shops, healthy food sources and neighborhoods both suburban and rural. Living near the airport also means being where history happened. As a matter of fact, the Oregon Trail passes through, and much of the airport land was the land claim of a very early and notable settler.
Where to Eat Near the Olympia Airport
Artisan breads, fancy pastries and craft beer are being made by breweries and bakeries in those warehouse-looking structures. The 8 Arms Bakery operates out of the Deschutes Industrial Park specializing in wholesale and special-order baked goods. You may have seen their octopus logo on the last loaf of yummy sweet bread or happy Hiker Bar you picked up at a local coffee shop or market.
Award winning Triceratops Brewing Company opened a tasting room in the same industrial park, and now they've just redone their outdoor seating.
"I have a lot of regulars that live close, and I've gotten to know them because I work the taproom at the brewery," says Rob Horn, owner and operator of Triceratops Brewing. "We're really fortunate to have people in the local area that support us so that we can give them a place to come and recreate, to come and have a couple of beers, hang out and have some fun."
Neighborhood beer aficionados can also walk around the building and visit Matchless Brewing, which also has outdoor seating, plus an indoor taproom and food trucks often on site. To pick up a few groceries or treats for an event, Spuds Produce Market II has common, quick-grab grocery items as well as local meats. Luv Cookies next door has pure ingredient cookies reportedly so good that their website has a cookie alert, a goodness warning about the effects of their cookies.
Things To Do Around the Olympia Airport
A lot is happening in the industrial parks around the airport. Whether it is a business open to the public or a manufacturer, there is a buzz of activity, and people who both live and work in the area don't have a long commute. Just to name a few, the Timberland Regional Library headquarters is near the airport and a number of state agency offices. Kiperts Korner Feed keeps the area supplied with farm equipment and animal feed. Glass is being made. Spa supplies are being sold, and many companies have an office and a retail location along with warehouse space.
Open spaces allow for activities that require some elbow room. Yearly airshows at the airport are very popular, and residents in the area need not travel far to look up and see the activity or visit the Olympic Flight Museum nearby. Kids can exert their energy indoors at the Sky Zone Trampoline Park. In the fall the Rutledge Corn Maze is another popular destination. The Capitol Little League fields are a great place to get to a playground and to watch both airplanes and baseball games. Airport Golf and Batting Center has a heated and covered driving range, covered batting cages and a taproom with snacks.
Neighborhoods Near the Olympia Airport
Living around the Olympia airport can feel a bit remote in some places but also feel a bit on the verge of where all the urban activity is happening too. Bridlewood neighborhood has its own internal park and sidewalks throughout the single-family home subdivision. Joggers and dog walkers take advantage of the neighborhoods connecting, making their routes through more than one. Nearby Deschutes Ridge and Parkwood neighborhoods have larger homes with bigger lots and also back up to the Deschutes River area.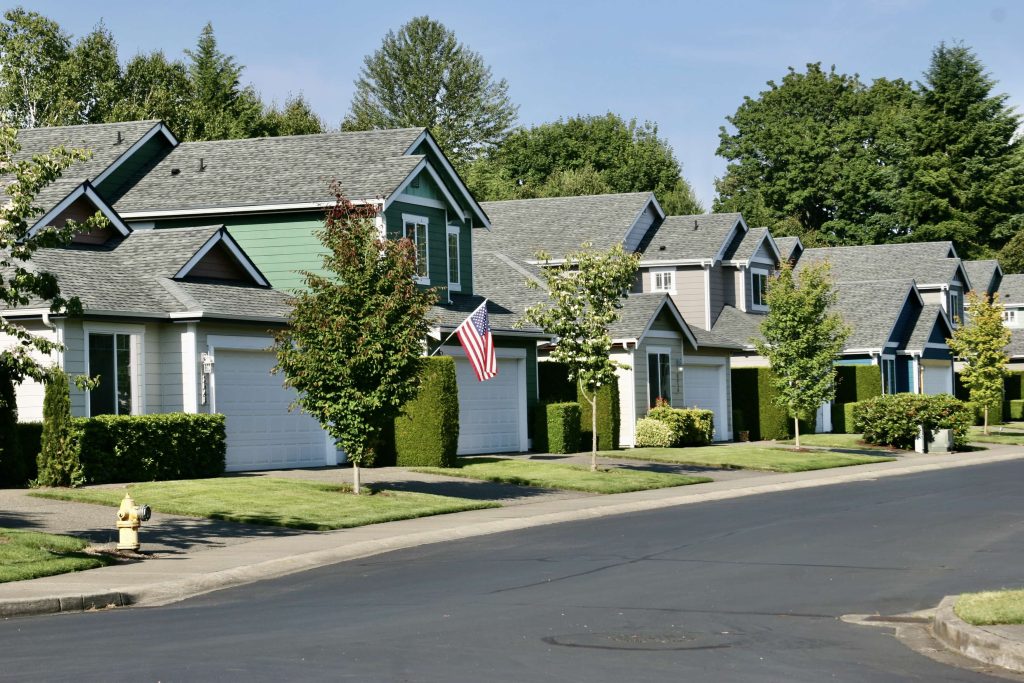 South and southwest of the airport there are many large tracts of forested areas shading the roads. Custom homes on larger lots with mature landscaping and tall trees give the feeling of being a bit rural. However, access to services and the interstate are still not far. New construction homes and small subdivisions are tucked here and there to the east and southeast of the airport. George Washington Bush Middle School is to the southwest of the airport where both newer subdivisions and older neighborhoods meet.
Commerce, Community and Opportunity
George and Isabella Bush settled on a 640-acre land claim that now includes Olympia Regional Airport land. The Bush family was known for their generosity and support of subsequent settlers who needed help after the long journey to the West. The remaining portion of their farm, the Bush Prairie Farm, is now protected by an agricultural easement through Capital Land Trust, which ensures that it only be used for agriculture. Two historical markers at the intersection of Highway 99 and 88th Avenue signify the end of the Oregon Trail and the Bush Family history.
Making a living, being welcoming and living a good life have been themes in the area since the Bush family set the precedent. Businesses are growing, and families are making a home in the same place where early Thurston County settlers first started.
Ready to move to the area? Find homes for sale near Tumwater's Olympia Regional Airport at the the Olympic Sotheby's International Realty website.
Sponsored