If you've driven down Division Street on Olympia's westside, you may have caught a glimpse of Headless Mumby Brewing. It's hard to miss the bold signage. You also might have asked yourself, "What's a mumby anyway? Is it some kind of mummy? Or a reference to the Wizard of Oz?" If those were your guesses, well… not quite. The story of how this brewing company got its name is just as fun as the community events that take place within its taproom.
Headless Mumby Brewing Emerged From the Thurston County Brewing Community
Alex Maffeo, Owner and CEO, has had more than a few opportunities to explain the name. He laughs and says, "The name came from joining forces with my former business partner Keith."
Before they co-founded the company, Alex and Keith were part of the local home brewing community. "Keith's home brewery was called Headless in reference to a song by Warren Zevon, and mine was called Mumby after the neighborhood that I live in," Maffeo explains. The roots of the name Mumby are related to a logging and shingle mill that operated nearby in the early 1900s. Keith is no longer an owner, but he still pops in to say hello now and then. As for the combined name, it has certainly stuck.
Maffeo has a whimsical tone when talking about the taproom, and that's reflected in the atmosphere of the space. "We like to have fun and we want the customer to experience that too," he says.
The back of house is also pretty remarkable. Stacey O'Conner is the head brewer at Headless Mumby and is eager to explain this brewery's unique attitude. "Focusing on lagers is a point of pride," O'Conner shares. "Beyond that, there aren't a lot of brewing operations with women in leadership roles, and just as few that are unionized." These thoughtful team dynamics result in an inclusive and charismatic brewing space.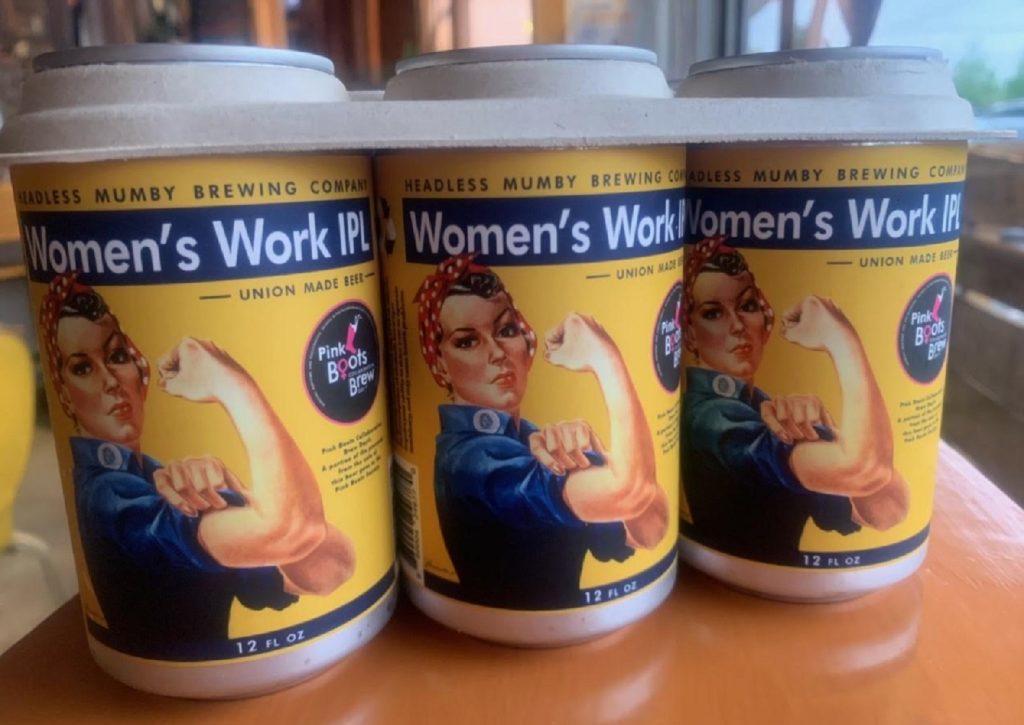 Community Events at Headless Mumby Brewing
Headless Mumby Taproom is a vibrant hub of community engagement and connection. From educational presentations to comedy nights, there's something for everyone. Kaylee Zimmerman, taproom manager, helps coordinate many of the events that take place. She describes some upcoming events, "We have recurring events like happy hour Wednesdays, Thursday Taproom Trivia, monthly comedy nights, and monthly DnD game nights. We're also excited about Samantha Elie's critical botany fundraiser, an upcoming cookie decoration class with Karen Taylor from Love and Cookies, as well as a Mother's Day market!"
Samantha Elie's Critical Botany Fundraiser with Homeward Bound
Although the first fundraising event for Samantha Elie's trip to Antarctica already happened, it's not too late to contribute. Elie is a local botanist who will be traveling with a cohort of STEM professionals to conduct field research in Antarctica. This prestigious experience is organized by Homeward Bound, which is a group that aims to empower women and improve equitable leadership in STEM. You can find out more about Elie's mission and how to donate at her website. There's a good chance there will be a follow-up event once Elie has returned, so make sure to keep track of when the next critical botany lecture will take place.
Laughs and Lagers Comedy Night
Get ready for an evening filled with laughter and great beer at the Laughs and Lagers Comedy Night. Headless Mumby Taproom will be hosting a comedy event on the last Saturday of the month in May and June. Grab a pint of your favorite lager and prepare for your funny bone to be tickled. The taproom's cozy and down-to-earth vibes create the perfect ambiance for a night of comedy and camaraderie.
Check out Headless Mumby's event webpage to keep tabs on all the details of these upcoming events and more.
Enjoy Local Lagers and Community Events at Headless Mumby Taproom
Headless Mumby Taproom is more than just a place to grab a pint. It is a thriving community hub that brings people together through its delicious lagers and exciting happenings. Don't hesitate to follow Headless Mumby Brewery on Facebook and Instagram to keep tabs on their stellar lineup of events.
Sponsored