With any routine chore, it is always a perk to have it be quick and cost-effective. Now that both Fast Fuel locations are open and operational again, refilling your gas tank is easier than ever. Open to card-holders and community members alike, Fast Fuel makes getting fuel for your daily driver and specialty equipment a cinch. Fast Fuel can cover all of your fueling needs conveniently in downtown Olympia and off of Lilly and Stoll Road in SE Olympia.  On your next refill, pull up and refuel at one of the longest-standing local gas stations in the area!
Fast Fuel Reopens to Continue Legacy of Local Refueling in Thurston County
Fast Fuel originally started in 1925 as Acme Fuel Company delivering coal and wood. It wasn't until the 1980s when the second-generation of ownership introduced the first Fast Fuel brand, which was an essential change in the business model considering society's growing dependence on gasoline. The first location was downtown Olympia, with the Lilly Road location following a few years later. Third-generation owner Christophe Allen worked alongside his father for many years, learning the industry and eventually taking over the family business in 2012. "I worked there during high school cleaning the gas stations, and then returned to the business after college in 1995," recalls Christophe. "My dad stayed in until he was about 70, and I told him to go enjoy his retirement."
Four years after his dad's retirement, Christophe and the Fast Fuel team decided it was time to update their locations. In 2016, they did a complete renovation of their Downtown location. The Lilly Rd. location underwent major remodeling and renovations in 2020 and due to a major contractor error, had to be completely rebuilt in 2022. It recently reopened in September of 2022. It has been a huge relief to finally have the space operational again to serve the community they love. "We are so glad to be open again to the general public," Christophe shares. "We really try to differentiate ourselves with our service, and as a small, local business we strive to keep our prices competitive for all of our visitors."
On top of accepting major credit cards for one-stop refueling, Fast Fuel offers the ease of paying for fuel with their fleet card. "You use the Fast Fuel Card instead of your Visa when you're at the pump, which saves you $0.15 per gallon," explains Christophe. "Then we charge bi-monthly for what was used, and if you go on auto-pay, you can save an additional $0.05 per gallon." With the rising price of gasoline and diesel across the board, becoming a Fast Fuel cardholder is a great way to lower your monthly expenses as a regular commuter or business owner. Additionally, these fleet cards can be used at many other gas stations such as other CFN stations, Chevron and Texaco in case you are out of town away from the Fast Fuel locations, making it easy for you to refuel no matter where you are. You can apply for your card online to start saving today!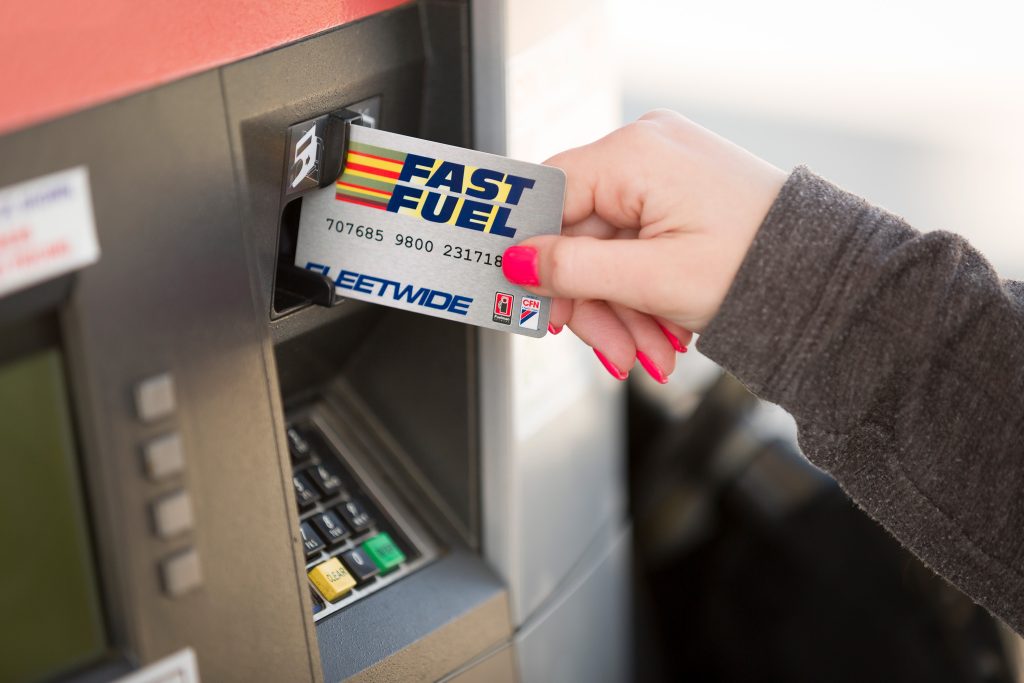 Fast Fuel Provides Solutions for All Vehicles with Specialty Fuels and Charging Stations
For the regular commute, Fast Fuel is a convenient solution for refueling your personal auto. In addition to regular gasoline, Fast Fuel also offers specialty fuel options for diesel engines and non-ethanol equipment such as lawn mowers and yard equipment. "Ethanol will kind of ruin the engines," explains Christophe. "It is amazing how much more stable and long-lasting it is too. I have had a generator for about three years that uses non-ethanol fuel, and I fired it up for the first time recently with no problems." In addition to premium diesel and diesel exhaust fluid (DEF) for trucks, Fast Fuel also provides off-road diesel for contractors or landscaping work done off the main roads. The fuel is the same, but the distinction matters because of how the fuel is taxed based on usage. Rather than paying road taxes on your tractor diesel, you can easily get off-road diesel at Fast Fuel and save yourself additional costs.
Specialty fuels aren't the only thing that sets Fast Fuel apart from other local gas stations. They have now added to their energy sources by providing Charge Point charging stations at their Lilly Road location. "More and more vehicles are becoming electrified, and we need more gas stations with charging options that are quick and easy," Christophe says. "With Charge Point, your car can be charged in about 20 minutes or so, which is great if you don't have time to sit overnight." As the wave of energy-efficient vehicles and environmentally conscious drivers continues, Fast Fuel will be there to offer solutions for drivers to charge their electric vehicles on the go.
Choose Fast Fuel to Make Refueling Quick and Easy
With electric charging stations and top-tier certified gasoline options, Fast Fuel truly has all of your energy needs covered in one place. Their two convenient locations in Downtown Olympia and Lilly Road are ready for you, so stop by on your next commute or drive through town and fill up on quality right here!
Fast Fuel
303 Thurston Ave NE, Olympia
501 Lilly Rd SE, Olympia
360.338-0622
info@fastfuelcard.com
Sponsored