You will find Empowerment 4 Girls offers practical, engaging, real-world programs that support the development of our children to be confident and empathetic community members. "We support girls to speak their truth, stand up for themselves and be confident," says Michele Drake Hyde, E4G board president and public-school teacher. It's a challenging, complex world. These courses are designed to have girls and their peers connect with themselves and each other through evidence-based activities and education.
Programs provide all girls and non-binary youth ages 10-15 with life skills and supportive networks to succeed academically, socially and emotionally as they move through adolescence and beyond. Safe spaces are created for girls to get information, ask questions and learn.
Empowerment 4 Girls Programs
"Empowerment: Social Emotional Learning"
Youth spend time with peers in a nurturing environment learning about self-care, and engage in community-building games, yoga, art, mindfulness and physical movement. They learn strategies for navigating the turbulent waters of adolescence. Those who attend this program will discuss topics such as social media moderation, positive body image, and self-accountability. Guest teachers show up to inspire and educate youth, often by sharing stories about their paths to success in male dominated fields and overcoming gender stereotypes. Empowerment 4 Girls encourages youth to find their voices and move forward in life with confidence.
"Conscious Minds Conscious Bodies: Sexual and Reproductive Health Education"
Conscious Minds Conscious Bodies is comprehensive sexual health education. Courses include Anatomy and Puberty, Consent and Boundaries, Gender Identity, Sexual Orientation, Stages of Pregnancy, Building Confidence, Social Media Moderation, and Pregnancy and STI Prevention. Empowerment 4 Girls goes beyond traditional sex-ed by including social emotional learning components. For example, participants will walk away understanding the harmful psychological effects on body image stemming from the propagation of manipulated photos, influencers, and photo filters,
"I never had an opportunity for any of this kind of programming," says Jeannine Anderson, executive director of development." Programs are designed to meet these youth where they are in the moment and to reinforce that 'you are enough.' As youth progress, Empowerment 4 Girls offers a variety of tools.
Facilitators Help Youth Develop in a Healthy Way
The skilled team has extensive experience in social emotional learning, sexual health education, outdoor ed and facilitating programs for those with special needs. All are well-educated, experienced with youth and have strong beliefs that education and connections are powerful tools for life-long well-being. Find more details about each facilitator: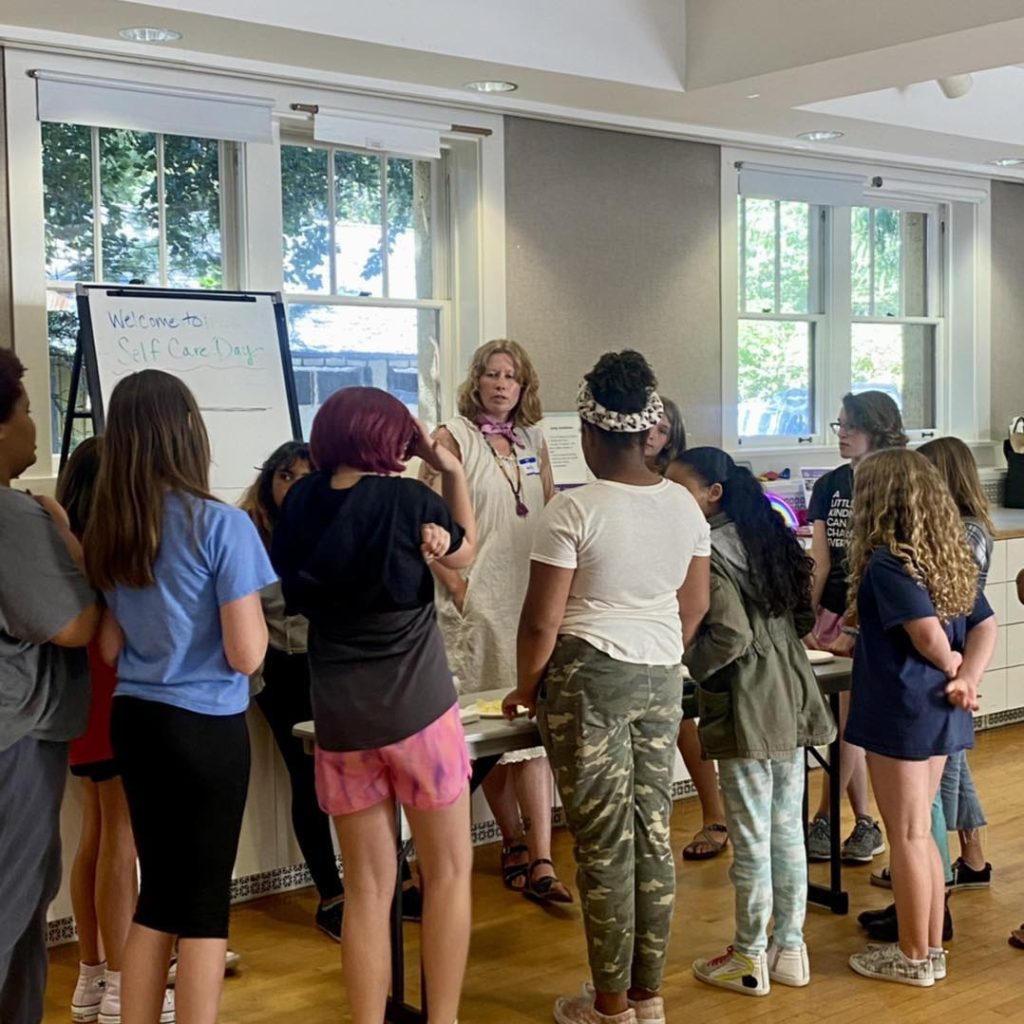 Youth Courses in Thurston and Grays Harbor Counties
"We are thrilled to announce our largest program schedule yet," explains Philip Hyde, executive director of operations. Between Olympia and Grays Harbor counties, Empowerment 4 Girls will be hosting nine Saturday programs, one spring break program, and eight weeks of summer programs.
There are also more scholarships available. Last year 27 awards totaling over $4,000 were awarded. This year there is $15,000 for scholarships for Olympia programs. With the generous support from the Grays Harbor Community Foundation, 132 full scholarships are available to Grays Harbor residents on a first-come first-served basis. No application is required.
Empowerment 4 Girls Program Locations
Olympia programs will take place at Huber's Gasthaus. Grays Harbor programs of single-day take place at Events on Emerson and week-long at Lake Sylvia State Park (Legacy Pavilion).
Volunteer Opportunities for Adults and Teens
There are 54 program days in Olympia and Grays Harbor. Along with a team of enthusiastic, qualified facilitators, Empowerment 4 Girls encourages adults to volunteer. "I wish I would've had programs like this while I was growing up," says volunteer, Ellinor Grace. "It would have changed my life. It thrills & excites me to see what this next generation will be cultivating, creating and expressing within our world."
Teen volunteers provide peer-to-peer support and can receive community service credits. "I've always been drawn to this program because of the accepting environment and the information shared to truly help young girls accept and appreciate themselves," says Sarah Walz, participant and teen volunteer. "Having gone to this program before, I have found myself thinking about it a lot and what I had learned. This program truly stuck with me after years and years."
The world is stressful for all ages. Parents do their best. Unfortunately, many people find intimate or vulnerable conversation hard or even impossible to begin, let alone progress through. Empowerment 4 Girls is on your side. The programs provide additional support and information for the girls and nonbinary youth in your family to engage with peers, learn from other adults, talk about what's on their minds and learn self-care skills to better maneuver our fast-moving world. With abundant scholarships available, your financial risk is low. Realizing we are in the midst of a mental health crisis with our children, we can all use helpful support. Find out more details on the Empowerment 4 Girls website.
Action Steps for Empowerment 4 Girls Registration and Information
Sponsored