There are phases in every life where a new page turns. Whether starting a career, family or business, these are times to celebrate change and look towards an exciting future. Then there are the chapters which end so we can look ahead to something new, fresh and exciting. For Dr. William Peterson of Olympia Orthopaedic Associates, his years of tireless service are winding down so he can enjoy a new stage of life as he retires and takes a well-earned break from caring for Thurston County's surgical needs. Peterson is currently finalizing the care and treatment for his existing surgical patients. He plans to wrap that work up by the end of March 2023. New to the practice but with solid experience in orthopaedics, Dr. Richard McLaughlin then steps up to assume care for Peterson's ongoing patients.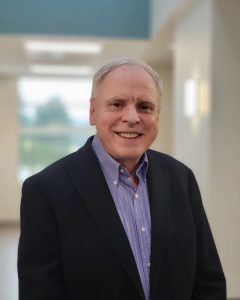 Olympia Orthopaedic's Surgical Jack-of-all-Trades
Peterson is a board-certified orthopaedic surgeon who is a true jack-of-all-trades. His specialties ran the gamut from athletic and sports injuries to shoulder and knee trauma or surgical replacement. "Dr. Peterson is an excellent clinician that really listens to the patient and provides excellent orthopaedic care," according to staff.
"Dr. Peterson's retirement marks the end of an era at the organization," agrees Dr. Trent McKay. "He has been a valuable and respected member of the OlyOrtho team, and I have been fortunate to call him a partner for the past 16 years."
Caring for Patients, Staff and the Community
OlyOrtho's CEO Ben Shah agrees that both Peterson's professional and personal impact have been tremendous. "Although he does not like the limelight, Dr. Peterson has been instrumental in this community his entire career," says Shah. "He has not only led this company through tremendous growth, but he spent years on the sideline for Olympia High School football, volunteered for medical coverage at the Capital City Marathon and gave hundreds of free sports physicals to our community high school students."
In-house, his impact was equally strong. McKay explains that Peterson made a significant impact in the field of shoulder surgery, even developing techniques that made him a game-changer in the industry. "He traveled across the country to learn and master the new technology," says McKay, "and was always generous in sharing his knowledge with his colleagues and I have benefited greatly from this knowledge. This selflessness and desire to always improve and help others was a testament to his character."
Leaving a Lasting Legacy at OlyOrtho
Some of the greatest legacies are from those who combine performing at a high level, caring for those around them and passing down all they've learned over the years. McKay says that Peterson is all that and more; not only a skilled surgeon but also an excellent leader.
"His work ethic, dedication, and kindness were an example for us all to follow," says McKay. "I will forever remember the lessons that he taught me about not only shoulder surgery, but life in general and how to always improve as a doctor and person. It was a privilege to work alongside Dr. Peterson and to have learned from him. Although he is retiring, his impact and legacy will remain, and he will always be remembered as a pioneer in his field."
Just because he's stepping away from the clinic, doesn't mean Peterson is slowing down. He is looking forward to spending more time with his family, plenty of biking, remodeling around the house and even learning how to fix cars in his spare time. "I can't wait for him to enjoy retirement fixing cars and houses," says Shah, "he deserves the best life has to offer."
Having learned so much from Dr. William Peterson over the years, OlyOrtho's staff remains at the ready to tackle any issues with bones, muscles and joints. Full-service musculoskeletal treatment takes place at their Westside and Eastside clinics, Olympia Surgery Center or the Spine Center locations. If you're tired of living with pain, limited mobility, surgical and injury recovery, give them a call at 360.570.3460 or make an appointment online.
They also offer an informative video education library, topical and informative blogs, or total joint experience for those seeking replacement. Follow OlyOrtho on Facebook, Instagram and Twitter for the latest news and updates. Have questions? Read through their FAQs then turn the page to pain free movement in your own life today.
Sponsored