College sports are a game changing part of the school experience. Even if you're not a player, there's nothing better than cheering on the home team as they battle their way across the finish line. For those who participate, however, it's more than just sportsmanship, fun and the camaraderie of a team. College athletes can earn scholarships, sponsorships and the opportunity for advancement within their chosen sport. South Puget Sound Community College's new eSports team is taking the internet by storm.
Clipper eSports Take the Stage at SPSCC
eSports head coach Michael Nguyen is no stranger to the world of competitive gaming. An Olympia native who graduated from Western Washington University, he played semi-pro eSports in high school. "I never attended SPSCC but it's been a nice experience to come back to my hometown and be a part of this community and help build esports in the area," he says. The Clipper team officially kicked off in Fall 2022 with their first season participating in the National Junior College Athletic Association Esports (NJCAAE).
This type of gaming is unique because it levels the virtual playing field, so to speak. "With smaller schools it allows more opportunities to recruit from a broader group of students," explains Nguyen. "It also opens up competition across the board as now you get interactions, scrims and matches between smaller two-year schools and large four-year colleges and universities."
SPSCC invested in 13 new gaming PCs, two Nintendo Switch consoles and tailored coaching where student athletes work with professional players and coaches who specialize in their chosen game, no matter what level they are at the outset.
SPSCC's Clippers Compete in Valorant, Smash Bros and Fortnite
The team currently competes in three different games: Valorant, Super Smash Bros and Fortnite, though is open to several other titles. Nguyen says anyone is welcome to contact him regarding tryouts. The teams are more focused on competitive league play, so spots are highly competitive. They do offer rolling recruitment and interested players can email him directly at mnguyen1@spscc.edu.
Though their roster has fluctuated since things began in the fall, the SPSCC's Clippers are seeing marked improvement overall. "Two players last season hit their peak of Radiant (top 500) players in North America, while the others peaked Immortal (top 10,000)," Nguyen explains. "Also making it to playoffs our first season as a team was a huge accomplishment for us. We are constantly scrimming against larger schools with more recruiting power, students on scholarships and semi-pro teams that help us prepare for our league matches in the NJCAAE."
Catch SPSCC eSports on Discord, Twitter and Twitch
Up next the team will be competing in Valorant, a first-person shooter-style game played in teams of five. Off to a great start, having placed fourth overall in the NJCAAE Invite division last fall split, they are hoping to extend their run and – fingers crossed – win the championship this spring. Matches take place every Thursday at 4 p.m. and are streamed online on Clipper eSports' Twitch. You can also learn more or find highlights on their Twitter or Discord.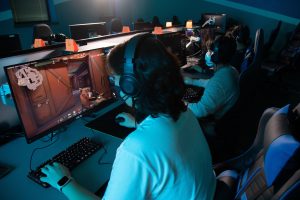 With a little luck and plenty of hard work, Nguyen hopes their dedication pays off. "I am hoping that we can bring home a championship," he says, "and further set my players up for success by helping them transition forward after their time here at SPSCC to either pro play, full ride scholarships to larger schools or along their desired career path."
Industry insiders predict eSports will be viewed by nearly 35 million Americans in 2026 with a projected revenue of $1.8 billion last year alone. On the college level, participation in eSports is proven a win/win. Studies show that gamers succeed in analytical problem solving, time management, collaboration and teamwork. As well, eSports experience promotes STEM learning and offers an unparalleled glimpse into the gaming industry.
SPSCC strives to instill in students several crucial abilities. These include communicating effectively, computation, critical thinking, ethics and multicultural awareness. eSports and computer gaming are a great way to do that because not a minute goes by without juggling all of those and more. Often while being attacked by enemies and working towards a common goal. So, pull up a stream and cheer on your Clippers as they battle their way to #1.
Sponsored