Stepping away from full time service to retirement can be a big transition for firefighters, as they move away from the family they had at their station. No one at Olympia Firehouse 5 expected to be meeting for Monday morning coffee surrounded by a half dozen vintage firetrucks in their retirement. Once word got out that there was a place to go refurbish fire engines, talk shop and share stories, everything started to come together. Beginning their week at Firehouse 5, helping with vehicle projects or participating in community events, keeps retirees connected.
Belonging and Involvement at Olympia Firehouse 5
In 1998 the Olympia fire chief designated the retired members as Firehouse 5, the name being next in line after Olympia firehouse 1,2,3 and 4. After Ray McDonald and Larry Dibble retired from the Olympia Fire Department, both had purchased antique fire engines. Wanting a place to store his 1962 American LaFrance, OFD engine 7, Ray and his wife Renee bought property in southwest Thurston County. With five oversized garage bays, McDonald had room for Dibble's vehicle too, a 1928 REO Speed Wagon. Soon after, member John Brown wanted to add his 1924 Seagrave, Olympia engine 2. Then, the City of Olympia sold engine 3 to the group, a 1937 Seagrave, because it didn't have storage for it.
"We were just going to store a couple of fire engines, then it just grew," McDonald says. "Pretty soon we had a full house for coffee. People started bringing badges and helmets to display them."
In the firehouse "beanery" two large dining tables serve as a meeting and coffee area. Surrounding walls are decorated with old fire alarm bells and boxes. Donated bunker gear hangs from coat hooks on the wall, topped with helmets and accompanied by framed photo memorials of members who have passed away. Pictures of notable fires and notable individuals all hold memories that many members made on calls together. Memorabilia grew to encompass Olympia, Lacey and Tumwater, 12 departments and members spanning Vancouver to Seattle. Parked full with engines, under high ceilings and having a newly acquired brass flagpole all make it feel like an active fire station.
Firehouse 5 Tradition Includes Camaraderie and Support with Retirees and Recruits
An ongoing project of videotaping members talking about their careers and passing along knowledge draws from 134 members ranging in age from 30 to 90. With firefighters, mechanics and members from 12 different organizations, there is a lot of history and insight to benefit future firefighters. New recruits even visit to hear stories and see what tradition is like. The voices around the beanery table share insight, provide leadership and often just a listening ear.
"Retired members come down here to connect," Dibble says. "Some of the members have retired early because of medical conditions, and they're not ready to retire, so it's kind of a PTSD decompression area. We have some, who are currently working, come down here just to unload because they know it's safe, that it doesn't go any further than here, and so they feel better when they leave. We're just open for anything and anybody. It's really like a safe fire station. If somebody calls up and says, 'Hey, can I come down? I want to talk,' we will be here especially for somebody who wants to debrief a call or conditions at work, and that could be 24-hours a day, seven days a week. Anytime they want, we will be here."
Sharing Olympia and Tumwater Firehouse History with the Public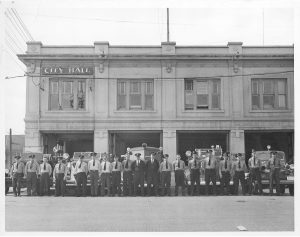 Maintaining and refurbishing retired engines is a focal point at Firehouse 5, one that provides the historical preservation of traditions for the community. Engine 1 was the first motorized fire vehicle in the Tumwater Fire Department. The 1928 REO Speed Wagon was discovered in a deteriorated state by member Jerry Hall. Dibble bought engine 1 and refurbished it. He and other members had responded to calls on it during their careers. In a shop building behind Firehouse 5, heavier, dirtier repair and restoration work is done.
"I have guys in their 80s out here laying under a truck," McDonald says. "They have a blast working on that engine. It's enjoyable to watch them get out there and talk."
Every engine at the firehouse is from Olympia and Tumwater fire departments, and they are used in various community functions from parades to car shows including the Tumwater Pile-Up-on-the-Hill, trunk-or-treat events and to lead the Olympia High School outdoor graduation procession.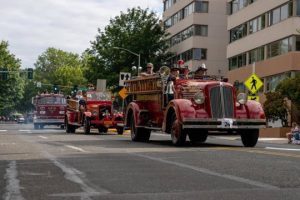 Partnering with the Olympia Firefighter Foundation and the Olympia Arts Heritage Alliance, Firehouse 5 aims to display restored engines and artifacts at the former Olympia Fire Department Headquarters State Avenue and Capitol Way location. Up until its closure in 1992, many Firehouse 5 members worked there, and the partnership will extend their resources and knowledge to the downtown community.
Unexpectedly, McDonald's storage space became a place for retired Olympia Fire Department firefighters to reconnect with and be part of a department. Now, the 501(3)c organization includes retirees from more departments and gathers its board in the beanery to manage donations and financial issues. The storage space turned firehouse is a refuge, an outlet and a testament to the care members have for one another and their traditions.
Sponsored