We live in a world of housing challenges where finding a place to live or finding a roommate can be fraught with anxiety, fear and doubt. Being able to age in place is another concern. Senior Services for South Sound's Home Share Program can help with both sides of this equation. It thoughtfully matches providers with seekers for long-term living arrangements. It might be simply renting a bedroom in a home. It could be more complicated with lowered rents in exchange for services like shopping, cooking or driving. "Every arrangement is unique," says Home Share Manager Rebecca Hutchinson.
Home Share Program Handles Rental Applications
The Home Share Program accepts applications, does background and national sex-offender checks and contacts three personal references. Interested parties must be at least 18 years of age. People also provide information on their lifestyles and living preferences. "We are looking for compatible lifestyles and functional needs. We want people to get along." explains Rebecca.
Agreements are made in writing and kept on file with Senior Services. In the event of a conflict, Rebecca will set up an on-site visit. She has been trained in mediation with the Dispute Resolution Center and aims to work out a satisfactory arrangement for all parties. To align with a focus on seniors, Senior Services requires that one side of the match, either provider or seeker, must be a senior.
Happy Match for Provider and Seeker
The program has been a rousing success for Jane and Liz. "I love my home," says Jane, who completed some remodeling to make it easy to live in as she aged. Fascinated with tiny houses, she had the idea to build one on her property for a future caregiver, which she accomplished. When her first tenant moved, Jane considered her renting options.
"I heard about the program from a neighbor," says Jane. She was attracted to Home Share because a reliable third party would do the screening and interviewing. "They have dispute resolution," she added, not expecting problems but glad to know there was help when it was needed. She was introduced to Liz.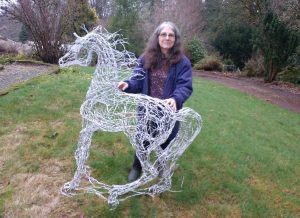 "I've been both a homeowner and a renter," says Liz Berrien, who is an internationally renowned wire sculptor. She loves taking care of landscape and in the past that had been part of her tenancy agreement. Liz had posted her own ad on Craigslist and looked at a number of possible housing situations but didn't find the right place. She had in mind a semi-rural setting with a garden that needed maintaining and rental rate within her price range. She was curious when she heard about the Home Share Program. "I was very impressed with the complex interviewing process," relates Liz. A feel-right relationship with her new landlord was also one of her criteria for moving into the right place.
Liz was given Jane as a potential match, though she wasn't sure a tiny house would be enough space for her. "Jane sounded like my kind of person," says Liz. They are both flexible, humorous, intelligent and really like cats. Jane has two inside cats, Oliver and Emma. She cares for two outside TNR (trapped, neutered, released) cats named Mamma and Raider. Liz lives with her cats, Essie Mae and Kiwi.
They met at the tiny house. Liz was delighted to find the space was already "catafied." There was an enclosed space for her two cats. Liz had a small catio that would fit perfectly on the deck. There was plenty of outside work: hedges to prune and blackberries to remove. All this was great, and even better was their connection with each other. "I enjoyed Jane as a friend, as if I had known her all my life," recalls Liz. "We hit is off so well," agrees Jane. Their similar interests in politics, philosophies, art and animals were well aligned.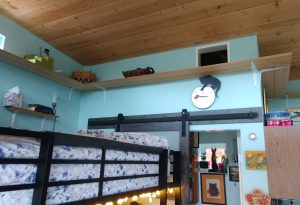 The tiny home is a compact 200 square feet. Fortunately, they worked out an arrangement for Liz to use half of the carport space, which will ultimately become an on-site studio space. She also has access to Jane's laundry and is welcome to use the kitchen and oven. Liz has a tiny kitchen, but it's limited. The two signed a three-month, no-fault rental agreement. The time flew by, and they are ready to extend their agreement.
Are You Considering Renting?
Maybe you are considering renting out a room in your home, which is the most common scenario. Perhaps you have a mother-in-law unit. The Home Share program has rented single family houses and RV's. Consider what tasks you have that require help, if any. Interested parties can fill out the application online. The cost is $35 per participant. When a match is secured, the Provider pays an additional $50. "The program is wonderful. It fills a need because so many have been priced out of the housing market," says Jane.
There are Senior Center locations in downtown Olympia and in Lacey. Both have amazing programming, classes and more. Check it all out on the Senior Services of South Sound website.
Sponsored