Jim Greene started a career in real estate in 1994 and brought with him a philosophy learned in childhood: take care of those around you. He opened the Green Realty Group in 2005 and passed the theme on to his agents, who in turn continued his community nurturing spirit by helping to establish and contribute to the Greene Giving fund.
"I had this idea where I felt it would be great to get everybody within Greene Realty involved together, to where we can all sit together, plan together about what we want to do as a brokerage, not just as an individual agent," Jim Greene, owner of Greene Realty Group says in a Greene Realty podcast. "The reason I did that is I think there is strength in numbers. I think that we have a capability to make a greater impact in numbers when we can all unify and say this is what we want to do."
The Greene Giving Origins
Greene Realty agents were already giving financially and supporting organizations when the concept of a combined fund arose. Inevitably, the question presented itself of where they would direct the collective donations and fulfill their primary goal of helping the community. They settled on three main categories of community need: housing and homelessness, children in need and military veterans. Greene Giving began in 2015, but it really started with an idea long before that date.
"I just remember very vividly, from the time I was a young kid, speaking with my grandfather, maybe at 6 or 7, and he would tell me that if I am not taking care of the people that are taking care of me, I am not nurturing the relationship," Greene says. "He put it in the form of an apple tree, and he said, 'If you are not fertilizing that apple tree, it's not going to produce any fruit.' I didn't really know what that meant at that age, but it became very apparent over time just through my relationship with him, and then my dad, who is also a business owner, said it's the same thing with the community. If you are not nurturing the community, you're not going to produce fruit as a company and as a person. It was instilled in me at a very young age, that if I'm going to be a business owner, that I need to not just take care of myself. I need to make sure I give back."
Greene Realty decided to partner with the Community Foundation of South Puget Sound that would act as an advisor for its fund. Such a move made Greene Giving the first company-owned, company donor advised fund with a community advised fund.
Agents at Greene Realty Group give to the Greene Giving fund. "Over time I've just built that philosophy, and I've asked the agents that come to work with us to have the exact same philosophy. They have to be involved," Greene says. "They have to be involved in the community. They have to give back to the community in some shape or form. If we do that, and the more we do that, the greater this community is going to be."
Around February each year, the board members review grant requests, choose applicants and the Community Foundation issues money to recipients. Originally started in 1989, the Community Foundation provides a valuable function of vetting recipient organizations, advising funds like Greene Giving and distributing grants and scholarships, which total more than $19 million over their history. So far, $60,000 has been given out to 24 nonprofits and charities from the Greene Giving such as the Thurston County Food Bank, Boys & Girls Clubs of Thurston County, Homes First, All Kids Win and Raise for Rowyn in Tenino.
The Greene Giving Fund Reaches Across Thurston County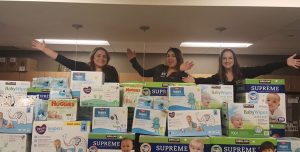 One of the organizations Greene Giving supports, Raise for Rowyn, provides outreach to families who have lost a child. Funeral costs are alleviated with small grants. The nonprofit also offers outreach such as referral services, emotional support through a podcast about grief and coping, care packages and handwritten letters of support.
Thurston County Food Bank is another recipient of Greene Giving. In addition to general operations, gardening at local farms, gleaning and holiday distribution programs are supported by donations from Greene Giving. Each year Greene Realty agents spend time packing food boxes for families at the food bank.
The Boys & Girls Clubs of Thurston County receives funds as well. The after-school program provides academic support and a safe place to build character and citizenship skills. Boys & Girls Clubs also keep kids healthy with nutritious foods and opportunities for sports activity.
"The other reason why we created this fund is I just wanted to be able to in the future have something that can run in perpetuity," says Greene, "something that we can leave as a group, a legacy for the community."
Wonderful news for all the many nonprofits and organizations that are out there making a difference. For more information, visit the Greene Giving webpage.
Sponsored