The City of Lacey offers amazing outdoor recreation opportunities. With 26 developed parks and trails – including natural and ADA-accessible paths – everyone has a variety of places to go and have fun. Bring your friends, dogs, kids, or the whole family – there's something for everyone to enjoy! Community events, casual outdoor recreation, and sporting programs are just a few of the activities Lacey Parks, Culture & Recreation offers. Add picnic and barbecue spaces, playgrounds, shaded walking paths, skateboarding, and the list would still continue. Lacey parks are accessible, fresh escapes, and make getting outside for fun and recreation, readily accessible.
"The City of Lacey Parks, Culture & Recreation creates exceptional events, experiences, and environments that delight, educate, and inspire the human spirit, connect people, and build a strong, healthy community," Director of Lacey Parks, Culture & Recreation Jennifer Burbidge says. "Lacey parks and programs matter because they help increase social and emotional well-being, physical health and wellness, environmental resilience, job and volunteer opportunities, and economic benefits. You can't have a great city without great parks!" 
As of their 2021 annual report, out of 1,180 acres of the Lacey parks system, 776 are undeveloped. Some of the undeveloped land means natural-space preservation that isn't accessible to people, but is important for natural habitat and the environment. It also means natural spaces where people can spend quality time outdoors. The new Greg Cuoio Park, slated to open to the public in 2024, will allow access to a natural park with opportunities for preservation, and passive and active recreation. To learn more about Greg Cuoio Park, visit the Lacey Parks website.
Check out these popular Lacey parks to play or watch a game, take a walk, or let the little ones enjoy the playground.
Rainier Vista Community Park: Skateboarding, Pickleball, and More!
5475 45th Avenue SE, Lacey
Hours: 7 a.m. until dark
Also accessible from Ruddell Road, it's easy to make a quick stop for the playground or the skatepark at Rainier Vista Community Park. Often the picnic shelters are buzzing with birthday parties, barbecues, or other celebrations. During soccer season, families and friends bring picnic blankets and lawn chairs to settle in with a great view of the playing field. 
Beginner and intermediate skaters have sharable space in the skatepark. For volleyball players, the park has sand courts with nets. Visitors can drop-in and use the basketball, pickleball, and tennis courts or book one of the baseball or softball fields in advance. Dog walkers, joggers, and people out for a quick, fresh-air stroll can frequently be seen along the paved paths throughout the park.
A popular highlight of the year is the July 3 Lacey Fireworks Spectacular, which features live music, vendors, and a big fireworks display.
Ball Games and Soccer at the Regional Athletic Complex
8345 Steilacoom Road SE, Lacey
Hours: 7 a.m. until dark
Happy cheers from baseball, softball, rugby, and soccer games at the Regional Athletic Complex (RAC) resound in nearby neighborhoods. People walk over with their dogs and kids in tow to visit the 70 acres of sports fields, walking paths, and more. Situated on the corner of Marvin and Steilacoom Roads, the park is accessible for locals and out-of-towners, alike. There are 26 undeveloped acres across Marvin Road from the current RAC which is slated for future park additions.
Looking for a place for a big soccer, softball, or baseball game? The RAC is a popular host. Five softball and baseball fields branch off from the concession plaza. On the other side of the park are six regulation-size soccer, football, and rugby fields with graded hills surrounding them where spectators can sit on blankets to watch games. The main soccer field is turf and illuminated with stadium lighting. A large playground, covered picnic shelters, grassy areas, and half-sized basketball courts are situated between the park's major field areas.
Created with consideration for environmental impacts, both during construction and for the long-term, graded dirt was used for topsoil and extra dirt was used to create a natural-looking kite hill at the RAC. The efforts eliminated trucking traffic from transporting large quantities of fill dirt during construction. The pervious asphalt and concretes used on trails and in the ball field complex, along with native oak trees and surrounding undergrowth, minimize the need for extensive storm-drainage accommodations at this park.
Wonderwood Park Walking Trails, Trees, and Playgrounds
5304 32nd Avenue SE, Lacey
Hours: 7 a.m. until dark
Wonderwood Park, a community gem tucked away between College Street and Ruddell Road, provides a welcome respite for anyone who wants a quiet park experience. In 1971, the City of Lacey purchased the parkland which started off as 20 acres and later doubled in size. The park includes two playgrounds, picnic tables and shelters for barbecues, youth baseball fields, soccer fields, and basketball, pickleball, and tennis courts. Nestled in a wooded neighborhood, its park trails are a cool escape in summer months and a nice little off-season walk on woodsy trails.
Bike Riding, Jogging, and Long Walks on the Karen Fraser Woodland and Chehalis Western Trails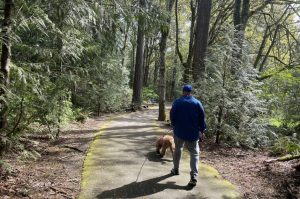 Similar to the wide pathways at many Lacey parks, the Thurston County-managed Chehalis Western Trail follows an old railroad line that was paved and opened to the community. This walking, equestrian, biking, and running path passes open fields and wedges through patches of woods on its way to Puget Sound at Woodard Bay. Trailheads at Chambers Lake and Woodard Bay have parking, restrooms, and picnic areas.
The Lacey-managed portion of the Karen Fraser Woodland Trail, which runs from Woodland Creek Park on the east, straight through the middle of Lacey by the Lacey Depot and train playground, connects to the Chehalis Western Trail to the west at the bicycle roundabout. The Olympia-managed portion of the Karen Fraser Woodland Trail continues traveling west.
Whether you're looking for a quiet break at a neighborhood park, gearing up for a tournament, or something in between, Lacey Parks has a variety of options for you. Check out the Lacey Parks, Culture & Recreation website to find something to discover at one of their parks or events.
Sponsored