Holly berries, mistletoe and poinsettia are as beloved as the Christmas trees that grace our homes, storefronts and businesses. But what if I told you that bleached ruscus, pampas grass and ranunculus could steal the show? Downtown Olympia's Fleurae Floral Design was invited to compete in the 2022 Fleurs de Villes Noël Floral Show and awarded first place for the most creative project using just those very flowers.
The Flowers of the Cities Comes to Seattle
Fleurs de Villes translates to "flowers of the cities" and is a traveling exhibition honoring local designers, unique displays and a love of flowers. Their events encompass more than 50 shows in 23 cities and 4 countries. In 2023, for example, they'll start at the Royal Botanic Garden in Sydney, Australia before visiting Bal Harbour, Costa Mesa, Chicago and Toronto – all by mid-May.
Their Noël Floral Show ran at Seattle's Pacific Place from December 10 through 18. It was a free event featuring 17 pop-ups including reindeer, photo-ready frames and floral mannequins dressed entirely in sumptuous, organically hand-crafted clothing. The public was invited to vote for their favorites.
Fleurae Floral Design Takes the Stage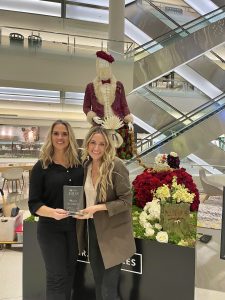 Fleurae Floral Design is located downtown in the 222 Market building on Capitol Way. More than just flowers, they offer beautiful – and fragrant – gifts and goodies like jewelry, candles, air plants, art prints, stationary, skincare, soaps and other delights.
Owners Iana Franks and Amber Geiger were invited to participate in this year's Noël competition and assigned the design of a floral High Fashion Santa mannequin. The outfit must be entirely flowers with at least 60% fresh and no more than 40% dried. Using roses, dianthus, amaranthus, carnations, bleached ruscus, pampas grass, ranunculus and preserved leaves, their modern Scottish Santa won first place for Most Creative.
Inspiration Takes Shape for Fleurs de Villes Noël Floral Show
Franks knew that juggling the competition and hectic holiday season would be tough. "I was so excited at the opportunity to participate, as I've been a huge fan of the Fleurs De Villes shows for years," she says. "I knew I wanted to do something a little out of the box for his design. I loved the idea of creating a Scottish Santa. I think of plaid as such a traditional fabric during the holidays, and a kilt seemed like a festive yet unexpected twist to the traditional image of Santa."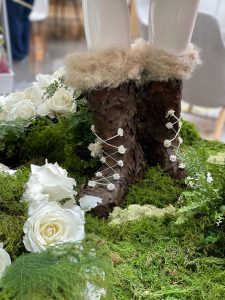 She went with traditional reds, green, burgundy and white shades in hardy florals that would hold up well, such as amaranthus, dianthus and silver brunia. Franks had crafted a decorative cedar skirt for her own shop window but never attempted anything this intricate. "I love to get creative with my floral designs and I love a challenge," she says, "and I was very excited for the opportunity to create something unique. Also knowing I had my employee Amber on board and excited to help made the decision a no brainer."
Maintaining the Spirit of the Holidays One Blossom at a Time
Keeping her design fresh was no easy task, admits Franks. She had to travel back and forth to Seattle multiple times to water and replace wilted flowers over the course of the show. But that also gave her time to enjoy the other pieces on display.
"This year's exhibit in Seattle's Pacific Place Mall was full of so many talented florists," says Franks. "We loved getting to see everyone's designs, it was truly inspiring! Among some of our favorites were a Mrs. Claus to go with our Mr. Claus that was created by BeFluera. She had the cutest Christmas cookies made out of dried florals. Also the floating Rudolph the Red Nosed Reindeer was complete perfection and so beautiful, created by Melanie Faun. Oh, and the design by Natalie Parks Floral was absolutely stunning. To be honest they all were incredible!"
Fleurae Floral Design in Olympia
Fleurae has been a staple of downtown shoppers since the opening of 222 Market in 2016. They can create arrangements and centerpieces for weddings, elopements, thanksgiving and holidays, custom requests and events as well as wearable flowers, corsages crowns and more.
To order your next piece call the shoppe at 360.556.1281 or drop by Tuesday through Sunday from 11 a.m. to 5 p.m. Follow them on Facebook and Instagram for gift ideas, new in-store items and photos of their work. Because if they can invent an award-winning, dapper, tartan-wearing McSanta, they can tackle anything with confidence.
Fleurae Floral Design
222 Capitol Way N, Olympia