Experiences during youth often have lifelong positive effects, and many find themselves returning to take on career roles in those special places. Selena Rodocker, office coordinator at the Garden Raised Bounty (GRuB) farm in West Olympia was once a member of the youth crew. She returned as an adult working in a variety of roles and helping to support the next generation of young people at GRuB.
Learning Job Skills and Teamwork in the Olympia GRuB Program
Rodocker lived near GRuB when she was 16 and was looking for a job opportunity. She applied, interviewed and got hired. Continuing her position into summer, she worked the yearly soiree fundraiser. Her duties included soliciting contributions from downtown Olympia businesses, collecting those donations and writing follow up communication.
"I learned how to be a public speaker and was able to speak at our auction in front of all the guests," Rodocker says. "I learned how to build and take part in the current building I work in; customer service through our weekly farmstand; how to create a bouquet; how to be a leader; and what it takes to keep a farm going from seeding, to weeding, harvesting, to eating fresh produce. We used produce from the farm to make a meal for the whole crew weekly."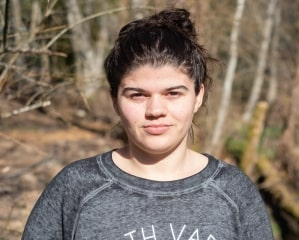 Other hands-on experiences included participating in the demolition of the original farmhouse as well as taking part in the rebuilding. Anything a youth could be part of she did, such as painting, assisting in build retaining walls, oiling beams and helping to create a mosaic with clay.
GroundEd and GRuB Community Programs
Wearing many hats and fulfilling many roles at GRuB comes with the territory of offering multiple programs that reach out into the community. The GroundEd program supports youth ages 16-21 who are studying for their GED and provides an opportunity for them to earn a stipend working on the farm.
In fact, the GRuB farm has multiple programs. Low-income families apply yearly for raised garden beds to be built through the garden bed program. Additional activities include a wild food and medicine program, a pollination program and a victory farmer program for veterans. Various sources, grants and the yearly fundraising soiree make the programs possible.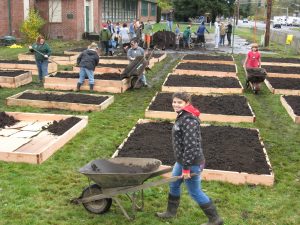 After leaving the youth program at GRuB, Rodocker went on to gain more experience with youth and build her education. She worked toward an associate in applied science degree at South Puget Sound Community College. Employment with the Boys & Girls Clubs of America and also as a PCB specialist at Joining Hands Visitation transporting children to and from supervised visitation appointments gave her good experience with families and kids. It was her desire to work with youth who were not engaged with as much as others that brought her back to GRuB.
Rodocker has held various roles at GRuB. More recently she has been more behind the scenes working on daily income and state tax reporting, hiring and onboarding new staff. During pandemic closures, she helped host a family on site who wanted to volunteer. She is still working the soiree, and she plans to return to working part-time with youth in the future.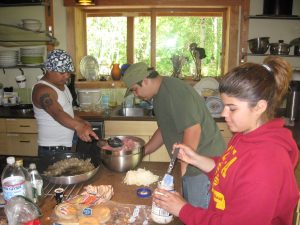 "I like engaging with and making an impact with people and having the ability to cross train in all parts of our work," Rodocker says. "Being outdoors is one of my favorite things to do and of course cooking and learning how to use the food that we grow."
GRuB Alumni Re-engaging
Making an overall dynamic entity like GRuB successful in all its ventures takes a dedicated group of people, and Rodocker enjoys the small team structure and environment within the organization.
"I think this job is unlike any other you could be at," Rodocker says. "There's a uniqueness of them being able to treat me as myself and allow me to be who I am, the skills they taught me about communication, how to be job ready. There are a lot of things we get to do here that we wouldn't be able to do at other jobs like the ability to have my voice be heard, to be able to get an idea out and say, 'I think this might work better.' The in-depth relationship building we are able to have because we are a small staff team, the variety of work and almost everyday tasks are different and the way I felt as a youth, like GRuB was my second home."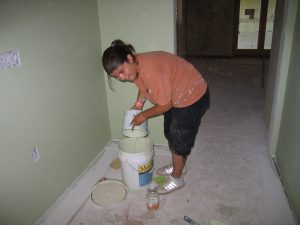 For Rodocker, future plans include moving out from behind the scenes, building relationships with GRuB partners and drawing alumni back for reunions, gardening or attending as a guest chef. She is one of a number of employees who were once in the youth program themselves, and the hope is that youth alumni will re-engage as employees, bringing with them their experiences and knowledge.
To learn more about GRuB, GroundEd and additional programs at the farm, visit the GRuB website or call 360.753.5522.